gfssecurities.com Broker Review
Warning Reason
Information provided by the French FSMA indicate that on 07/05/2015 the company gfssecurities.com received a warning citing non-compliance with the Belgian financial legal system.  The French FSMA therefore highly recommend against any trading with gfssecurities (also known as GFS Ltd).
Gfssecurities.com is a forex broker who offer the MetaTrader4 and Mobile forex trading top platform. GFSSecurities.com provides over 50 forex currency pairs, indices, oil, stock, commodities, cfds, gold, silver and other precious metals for personal investment and trading options.
On 7 May 2015 the company gfssecurities.com received a warning for disobedience with the Belgian financial legal system. The authority mentioned that GFS Limited, trading under the name GFS Securities, is not an authorized investment firm or credit institution in Belgium. As a consequence they are forbiddento provide banking and/or investment services in or from Belgium.
It was noticed by the regulatory bodies that the broker is fraudulent and manipulative and has also been negligent in observance and compliance of the statutory requirement in conduct of its business as a forex broker. And it was found out that the company uses anonymous services to hide their identity, there are no contact details available on the internet.
Furthermore, The Financial Services and Markets Authority (FSMA) warned the public against the activities of Gfssecurities, as the company offers highly risky investment instruments in Belgium without complying with Belgian financial legislation.
The broker has never published any kind of prospectus that has been approved by the FSMA which is a legal requirement before trading can commence under Belgian law. Therefore, the FSMA strongly advises partaking in any offers of financial services or any public offers of investment instruments generated by GFS Limited (GFS Securities).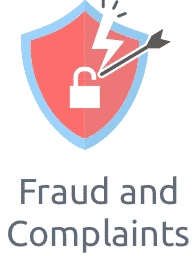 What is your experience with this broker?
With over 4,000 brokers active globally, it's good to share your experience with others. Spread the word on good or bad brokers. Disclaimer: Comments on this site are not the opinion of WeCompareBrokers and we are not responsible for the views and opinions posted by site users. If you are unhappy with any comments, please email complaints @ wecomparebrokers.com
Important: You (the person writing the comment) are responsible for any comments you post and use this site in agreement with our Terms.
Please select the second broker
Get Further Details About To Your Inbox