Please select the second broker
Author: Alan Little
Date: 2020-09-01
Apple (AAPL) and Tesla (TSLA) shares up after stock split
Apple (AAPL) and Tesla (TSLA) both made share gains on Monday after the two companies' recently announced stock splits came into effect.
Apple revealed its plans for a four-for-one stock split in its Q3 earnings report in late July, a move that is designed to increase appeal to a wider base of investors.
Tesla followed suit with a five-to-one split in early August.
Both became effective after the first bell on Monday, and the two tech giants eased higher in early trading.
At 1:50pm ET on the Nasdaq, Apple shares were up 4.79% to $130.73.
Tesla went a bit higher, rising 10.04% to $486.86 on the Nasdaq.
The latest gains follow a historical trend that shows that splits generally lead to stocks outperforming the market in the days after the distribution.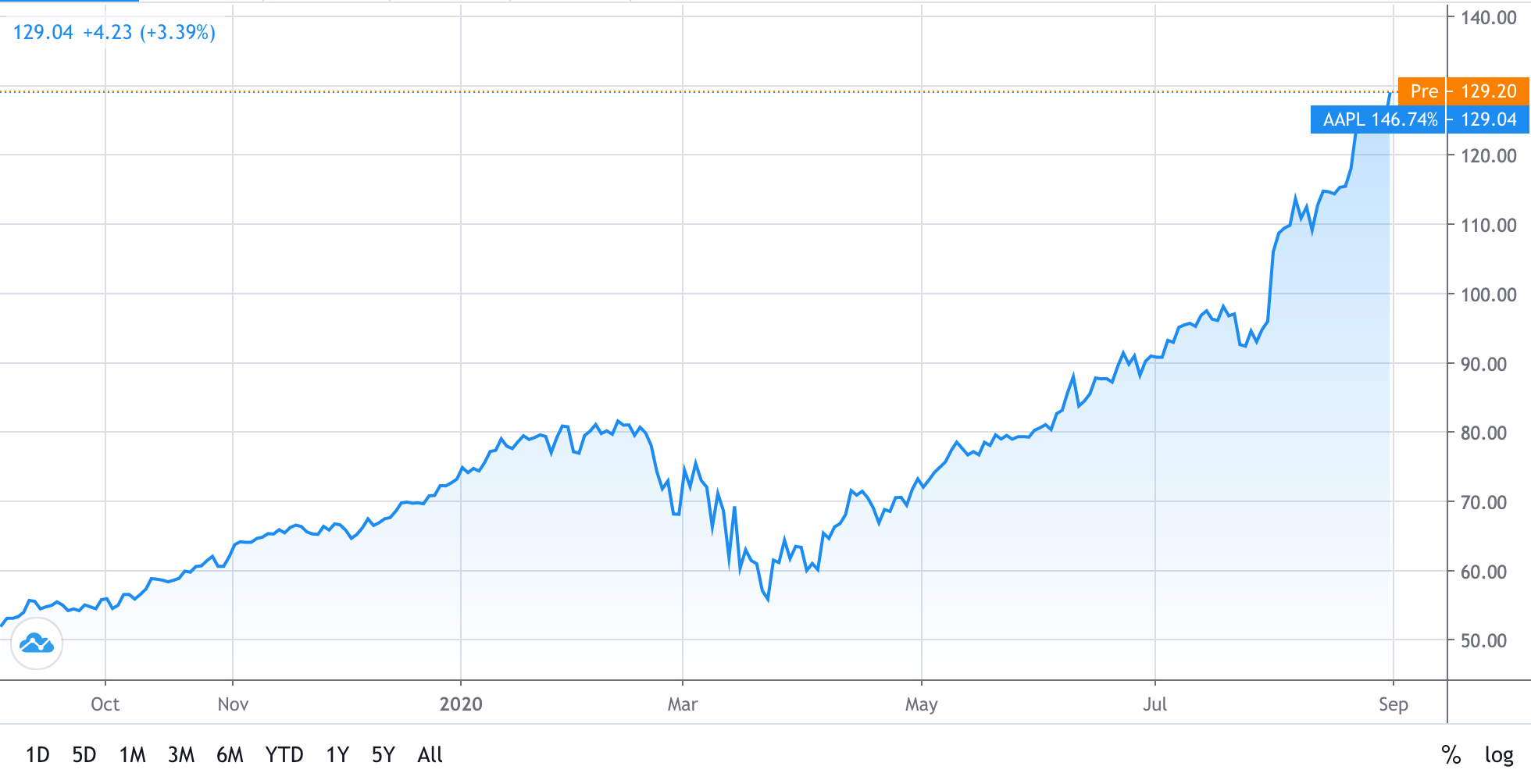 This is because investors look favourably on splits as a bullish signal for long-term growth.
Since the stock splits were announced, Apple has climbed 32%, while Tesla has soared by more than 70%.
However, billionaire investor Leon Cooperman warned that the latest runs on AAPL and TSLA stock could be concerning as the splits do not add value in themselves.
He noted: "Look at Tesla and Apple: Everybody understands that splits don't create value. My dad once told me if you gave me five singles for a $5 bill, I'm no better off."
There was a large volume of Apple shares being traded on Monday morning.
During the first 90 minutes of the session, 82.7m AAPL shares had changed hands – a surprising number considering that its 30-day volume average is 178.588m.
Tesla traded 37.4m shares during the same period against its 73.369m 30-day volume average.
Scam Brokers, Broker Complaints
Are you aware of a scam broker or want to make a broker complaint?
We want our site users to find good brokers to trade through and to be warned off bad brokers. We encourage you to use our complaints tool to let us know about your experiences.
We have categorised the common complaints to make it easier for you and we have provided some guidance on what you may want to try before submitting a complaint, if our suggestions do not provide you with a resolution then by submitting a complaint, our team will attempt to take up your case with the relevant Broker and if needed, submit a formal report to the regulators.
We use the information you give us to decide if we want to continue to promote a broker on our site.
Your scam broker complaint not only helps you, it helps others and it helps us determine if we continue to support the broker.