Please select the second broker
Author: Alan Little
Date: 2020-08-13
Tesla (TSLA) shares soar 9.34% after tech giant announces stock split
Tesla (TSLA) attempts to attract young investors with a five-for-one stock split, but analysts caution that the move won't add any value to the company moving forward.  Tesla (TSLA) shares were climbing steadily on Wednesday after the electric carmaker revealed its intentions to split stock five for one later this month.
The split, which will come into effect after the close of play on Friday 21st August, will see each stockholder get four additional shares of common stock.
Tesla's move was warmly received by investors, and the company's shares soared 9.34% to $1,502.73 in early trading on the Nasdaq in midweek.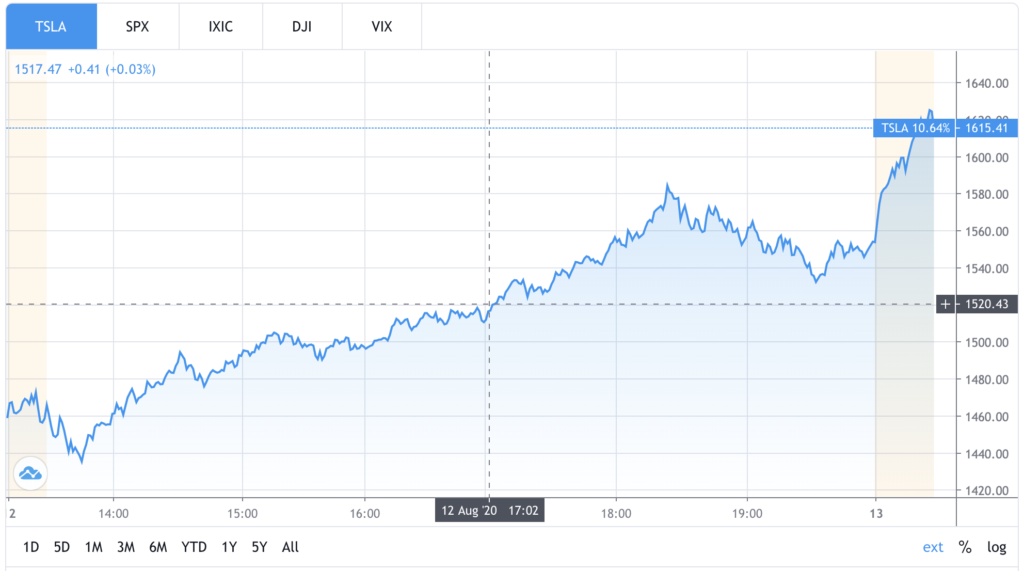 The stock split is seen as a net positive for smaller investors who may not be able to stump up large sums for equity as the Elon Musk-headed company prepares to enter the S&P 500. However, analysts said that the potential pool of new investors is dwarfed by major institutions and that new traders already have other options available to them to buy portions of expensive stocks.  It continues Tesla's recent upswing though following on from its impressive Q2 report.
Tesla posted GAAP earnings of $0.50 and more than $6bn in sales for the latest period, which handily beat the Wall Street consensus.  It also said that its economies of scale will enable it to hit 500,000 vehicle deliveries in 2020.
Tesla shares have skyrocketed this year, advancing 228.54% since 1st January through to Wednesday morning.  The company has weathered the downsides from the global pandemic and a dip in demand for luxury vehicles, which stands it in good stead for Q3 and Q4.
Is now the right time to buy into TSLA?  Jim Cramer advised against buying Tesla stock before the end of the month as he believes that the five-for-one split does not really add any value. Tesla currently has a consensus rating of 'hold' with five 'buy' ratings, 13 'sell' ratings and 16 'hold' ratings.  The consensus price target is $850.06.
Scam Brokers, Broker Complaints
Are you aware of a scam broker or want to make a broker complaint?
We want our site users to find good brokers to trade through and to be warned off bad brokers. We encourage you to use our complaints tool to let us know about your experiences.
We have categorised the common complaints to make it easier for you and we have provided some guidance on what you may want to try before submitting a complaint, if our suggestions do not provide you with a resolution then by submitting a complaint, our team will attempt to take up your case with the relevant Broker and if needed, submit a formal report to the regulators.
We use the information you give us to decide if we want to continue to promote a broker on our site.
Your scam broker complaint not only helps you, it helps others and it helps us determine if we continue to support the broker.