Please select the second broker
Author: Alan Little
Date: 2020-07-27
Vodafone (VOD) set to take advantage of 6% share price
In 2019, Vodafone reduced its dividend due to worries over rising debt levels.
The company took a £1.9bn loss in November because of problems in India that saw a court agree with a government demand for a payment of $4bn (£3.11bn).
More optimistically, management guidance for 2020 was raised following performance improvements in countries such as Italy, Spain and South Africa.
In May, when Vodafone's full-year numbers were released, the company announced that group revenues had increased to just below €45bn (£41bn).
This was a rise of 3%, which was a little lower than predicted.  Operating profits increased to as much as €4.1bn (£3.74bn), although the majority of this was diverted to provide for 2019's enormous losses in India.
The total revenue for the year was helped by the acquisition of cable assets from Germany's Liberty Global, which should continue to drive Vodafone's growth in what has now become their largest market.
Germany contributed revenue of over €12bn (£10.93bn), with the UK coming a distant second with €6.5bn (£5.92bn).  The numbers were also boosted by the sale of the company's operation in New Zealand.
Vodafone continues to play catch-up with its peers at a time of big deals and consolidations in its sector.
Despite this, the Q1 update on Friday showed a better-than-expected performance from the company, with a lower-than-anticipated decline.  This is largely attributable to the coronavirus crisis and decent gains in fixed revenue.
There seems to be no threat to the 6% current payout level, though it is still uncertain if the company's share price can recover to the levels it was at in early 2018.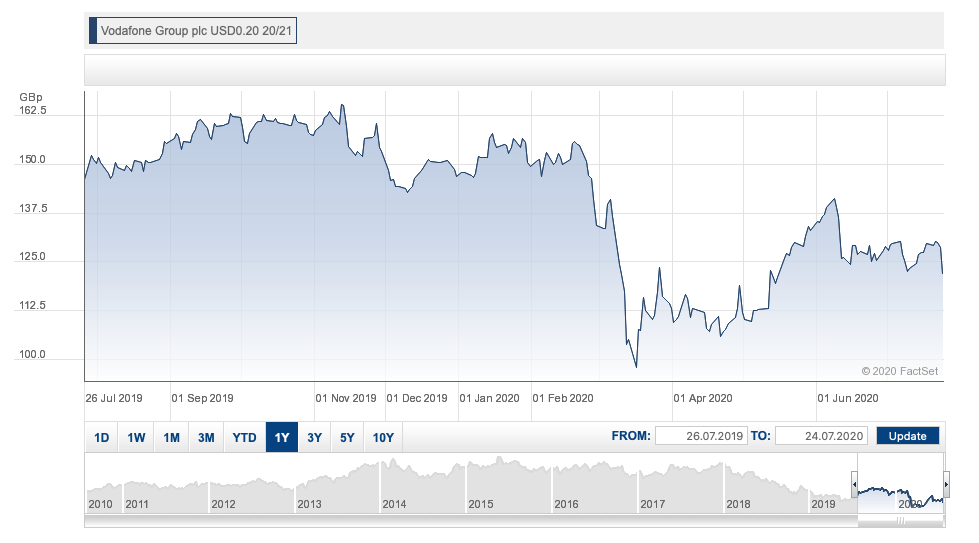 Scam Brokers, Broker Complaints
Are you aware of a scam broker or want to make a broker complaint?
We want our site users to find good brokers to trade through and to be warned off bad brokers. We encourage you to use our complaints tool to let us know about your experiences.
We have categorised the common complaints to make it easier for you and we have provided some guidance on what you may want to try before submitting a complaint, if our suggestions do not provide you with a resolution then by submitting a complaint, our team will attempt to take up your case with the relevant Broker and if needed, submit a formal report to the regulators.
We use the information you give us to decide if we want to continue to promote a broker on our site.
Your scam broker complaint not only helps you, it helps others and it helps us determine if we continue to support the broker.