As a wholly-owned subsidiary of the Commonwealth Bank of Australia, CommSec is one of the most well-established online forex brokerages having been in operation for over 20 years. They pride themselves on offering one of the fullest featured and robust mobile trading platforms.
It is a service which has primarily been aimed at the Australian, broader Australasian and Pacific market. CommSec aren't just a forex brokerage, however, and users can trade and acquire CFDs, ETFs, equities, and numerous other securities and financial instruments through the platform.
Based on our experience from the demo account, spreads typically fall around the 0.8 pips on EUR/USD trades. This is a surprisingly decent spread and compares favourably to the industry average of around 1.5 pips. For equities trades, there are some fees, and commissions levied on trades depending on whether it is executed by phone or online.

A full schedule of these fees can be viewed easily in the support section of the website. Additionally, users also might find other miscellaneous charges and fees applied to their account for services such as account statements and account management services.

CommSec has one of the most comprehensive customer support offerings of any broker on the market. They have customer support agents who can be contacted through phone, email, or live chat via the website. Also, they have a comprehensive FAQ section, the answers and guides to these are well-written, thorough, and should cover most issues you might have.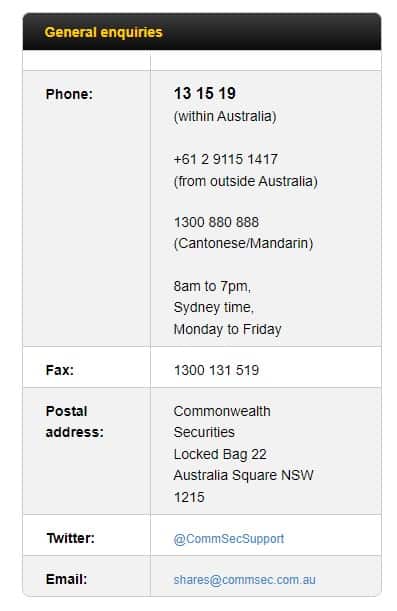 Additionally, all customer support information is centrally located on the website and easy to find, which makes resolving any account issues you might have a relatively seamless and pain-free experience.
Regulatory details
Comsec is directed and available to and for the benefit of Australian residents only. © Commonwealth Securities Limited ABN 60 067 254 399 AFSL 238814 ("CommSec") is a wholly owned, but non guaranteed, subsidiary of the Commonwealth Bank of Australia ABN 48 123 123 124 AFSL 234945 and both entities are incorporated in Australia with limited liability.
Final Thoughts
As a subsidiary of the Commonwealth Bank of Australia, CommSec is one of the most stringent players on the market when it comes to regulatory standards and compliance. From a customer protection standpoint, this is a big plus and gives you a level of confidence you don't get with every broker. Having said that, the features on the platform itself are a little behind the cutting edge in contrast to some of the other major brokerages. Despite this, the accessibility of the platform, educational resources on offer, and stringent customer protection standards make CommSec an easy recommendation for newer and intermediate traders.
GO TO THE compare brokers