Take Me To Broker
73.42% of retail investor accounts lose money when trading CFDs with this provider.
FXCM Broker Review
Address: 20 Gresham Street, 4th Floor, London EC2V 7JE, United Kingdom
forex
cfd
crypto
commodities
*As per FXCM's spread report (April 1, 2020 to June 30, 2020)
**Leverage is a double-edged sword and can dramatically amplify your profits. It can also just as dramatically amplify your losses. Trading foreign exchange/CFDs with any level of leverage may not be suitable for all investors.
Spread
From 1.4 pips*
Max. Leverage
1:30**
Deposit Protection
£85,000 GBP
Min. Deposit
£300 GBP
Spread
From 0.4 pips
Max. Leverage
1:200
Deposit Protection
£85,000 GBP
Min. Deposit
£300 GBP
Spread
From $0.1 USD
Max. Leverage
1:2
Deposit Protection
£85,000 GBP
Min. Deposit
£300 GBP
Spread
From 0 points
Max. Leverage
1:10
Deposit Protection
£85,000 GBP
Min. Deposit
£300 GBP
Likes
Choose from the best trading platforms on the market
System upgrades and institutional grade quality of execution
Excellent client support in terms of research, analysis and customer services
Strong regulatory framework
High-spec mobile trading functionality
Dislikes
Limited number of markets to trade
Review Sections:
Open Demo Account
73.42% of retail investor accounts lose money when trading CFDs with this provider.
Our FXCM Broker Review 2020 has found FXCM to be an established and powerful trading platform. Over its 20-years in operation it has found success by keeping up with the latest trends and shifts in customer appetite. In line with this, the firm is now offers one of the strongest regulatory and compliance frameworks and considerable substance in the form of a range of global bricks-and-mortar offices, not to mention an owner with deep pockets.
This hasn't distracted them from focusing on the trading experience. An eyebrow-raising number of top-class platforms are on offer. These offer self-trading and systematic trading in all shapes and sizes with the underlying focus on tight spreads and quality execution.
Some of the magic is due to technology which is by its nature hidden in the background. Scratch the surface and its possible to see the infrastructure FXCM operate is institutional grade. In fact, the platform caters to the wholesale market as well as the retail one. Getting a better understanding of what is on offer offers traders a chance to see what is possible. Our FXCM Broker Review Panel checked the awards below and they are all current.
Clients of FXCM can take a lot of comfort from the low level of commissions, fees and other charges applied by the broker. They aren't necessarily the lowest around but FXCM does not compete on price alone. The robust nature of the execution service is in terms of trader confidence worth a few pips.
Different account types trade on different price tariffs and those which move up to an Active Trader account ($25,000 minimum) see a market improvement in terms. UK and Ireland clients might also want to check out the spread betting function as spreads on there are sometimes tighter.
This competitive pricing should come as too much of a surprise. FXCM group after all supports wholesale trading by institutional investors, but it's nice to see the benefits of that trickle down to the retail accounts as well.
The firm is set up to accommodate high volume trading. Technical services such as ECN, various free API's and VPS are all offered, and all go towards building the 'flow' that the broker sees.  With bid-offer pricing bigger tends to be better, and with FXCM this is definitely the case.
The broker space is hypercompetitive and FXCM's response has been to offer its clients the choice of four state-of-the-art platforms. Trading Station, NinjaTrader, MetaTrader and ZuluTrade are all top-tier means of trading the markets. Each one has a different 'feel' and might be favoured for trading particular markets or strategies. The good news is that FXCM clients can move between the different platforms as they please and trade through them using just one account.
Trading station offers a comprehensive range of tools which equip traders to research and trade the markets with ease. It comes with custom indicators, strategy optimization tools, back-testing, and robust charting. It has an attractive aesthetic and intuitive feel but still has the advanced tools needed to support the needs of serious traders. The special add-ons include the Real Volume and Trader Sentiment services. These give an insight into the inner-workings of the market. The valuable metrics are pre-loaded on Trading Station and directly help traders P&L by giving a real-time insight into the nature and direction of market sentiment.
NinjaTrader offers users a professional-grade charting package and the dashboard and monitors can be extensively personalised to ensure traders set up their screens just the way they want them. Neat features of NinjaTrader include being able to load multiple time-frames and markets on a single chart, which makes it easier to spot evolving patterns. Bid and ask prices are streamed simultaneously and there are hundreds of indicators and screen formats available.
The Meta Trader MT4 platform is for very good reasons the most popular retail trading platform in the world. It is exceptionally intuitive and comes with crystal clear charting graphics. The execution interface has a reassuringly industrial feel to it which allows traders to ensure their execution is error-free. Designed and developed to support technical analysis means MT4 is packed with indicators and signals. The default offering includes all the major aids for determining trade entry and exit points. There are hundreds more which can also be brought in to complement a particular approach or strategy. Some of these add-ons command a fee but most are free and developed or influenced by other traders.
MT4's position in the trading community is well established and a lot of brokers offer it. FXCM, however, offer a few extra upgrades to encourage traders to run their Meta trades on the FXCM platform. Most notably is the offering of a Virtual Private Server (VPS) service. These are provided by third-parties rather than FXCM but it's to their credit that FXCM has gone to the trouble of making them available. Using servers which are located in proximity to specific markets can bring about a considerable boost to trading returns.  are provided by third parties. These third parties are not owned, controlled or operated by FXCM. It is also possible to access the services of expert programmers to help automate strategies.
FXCM score very highly in terms of customer service. It's one of the aspects of their offering where they are firmly in the 'market-leader' category.
Demonstrating confidence in their ability to cater to client needs the firm offers free-phone support hotlines in 42 countries. In nine of these countries they also have a physical office. Our reviewers found email and Live Chat response times were extremely good. In all instances the staff were proficient, professional, and resolved our queries in one session. Another nice-to-have feature is that support is also offered via SMS/text messages.
Having support so readily to hand and offered in a format to suit each individual saves time. It can also save money. This is because being able to contact the trading desk directly is very positive from an operational risk point of view. There are times when system glitches create uncertainty and being able to call someone and establish portfolio positions and trade them can be crucial. System problems are of course rare occurrences, usually due to an issue at the client's end, and often when markets are moving around dramatically. Having a direct line to a trading desk, which is on hand to step in and help manage your account is not to be underestimated.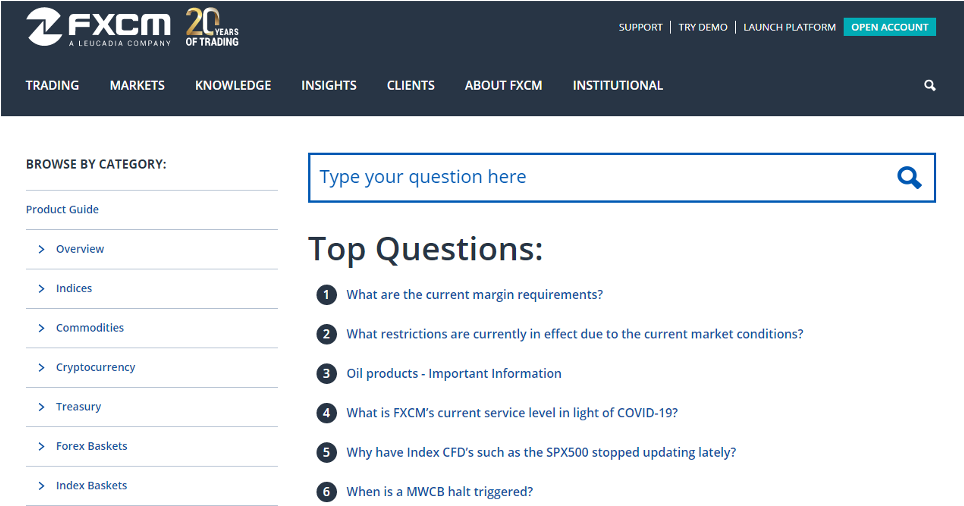 Levels of customer support are exceptional. A nice reflection on the firms' approach to helping their clients is that the FAQ section comes up as a secondary item on their site. Many brokers are over-reliant on FAQ's to help resolve queries. FXCM clients are instead guided to the direct one-to-one support offered by their staff. This is a positive in terms of both time and money.
Are you finding our FXCM Broker Review 2020 Useful?  We would love to hear from you.  Please help us help other traders make good choices with broker selection. Let us have any comments on FXCM as a Broker.
The Research package on offer is comprehensive and well thought out. Broken down into two sections 'Knowledge' and 'Insights'.
The 'Knowledge' section offers resources for clients to use to develop their trading skills. The material comes in a range of formats and the 'online classroom' is particularly impressive. There are lots of ways for clients to work on becoming better, more successful traders.

The 'Insights' section leans more towards current market events. There are guides on 'drivers' of the markets such as OPEC and central banks and 'how-to' sections covering popular trading strategies. Countless other features such as risk management, pivot points and Bollinger Bands are all covered and represent the final piece of an impressive and comprehensive package.
There is also a hook up with Trading View. This third-party site offers a social network for traders and investors. It offers live quotes, stock charts and expert trading ideas which FXCM clients can utilise through their own Demo and Live trading accounts.
Each of the trading platforms is well thought out. Navigation between screens is intuitive and preference regarding the different aesthetics come down to personal preference.  They are all established in the market and can put their success down to giving traders what they want when they want.
Considering the range of features offered the main FXCM is pleasingly streamlined. Trading and account reports reflect that the firm has been operating for decades and are easy to access and understand.
Order Execution
FXCM demonstrate that they are well aware that quality of execution is about more than the headline bid-offer spread. The firm's stated approach towards 'enhanced execution' appears genuine and is backed up by the sharing of slippage statistics (As per the September 2020 Slippage Statistics Report). Slippage is crucial to investors of all size and even the biggest institutional investors monitor it closely so FXCM's decision to share the information with its clients is a good sign.
·         59.46% of all orders had NO SLIPPAGE.
·         28.34% of all orders received positive slippage.
·         12.19% of all orders received negative slippage.
·         72.78% of all limit and limit entry orders received positive slippage.
·         43.03% of all stop and stop entry orders received negative slippage.
FXCM's mobile trading platform ranks very highly. The default platform is 'Trading Station Mobile' and this offers such a comprehensive approach that many users may not get around to trying out the other mobile platforms. Navigation is smooth and fast. Its possible to swipe across different screens as well as go forwards or back and it has an attractive aesthetic.
The mobile charting package is one of the best available. The range of indicators which transfer over from the desktop version is particularly impressive and applying them to the monitors is made easier by magnification functions that allow point-point charting even on a small screen.
Mobile execution is of the same high standard as the desktop version. Complex instructions such as trailing stops can be built into orders.
Robo Trading
ZuluTrade is a peer to peer auto trading platform which is available to FXCM clients. It ticks the box for those who want exposure to the markets but feel they don't have enough time to dedicate to day-to-day management of trades. It is also an ideal solution for traders who simply want to remove the emotions from trading, whilst at the same time learn from the ideas of others. Other signal providers operate in the space but ZuluTrade is an established operation with a strong reputation. For example, the sophisticated 'Sorting' features allow FXCM clients to fine-tune the signals on offer and make sure they match their own personal approach to risk-return.
NinjaTrader offers automated trading services which range from 'semi-manual' to 'fully-automated'. Our testers appreciated that the degree of automation was variable and found being able to match the service to their personal preference gave a strong degree of comfort.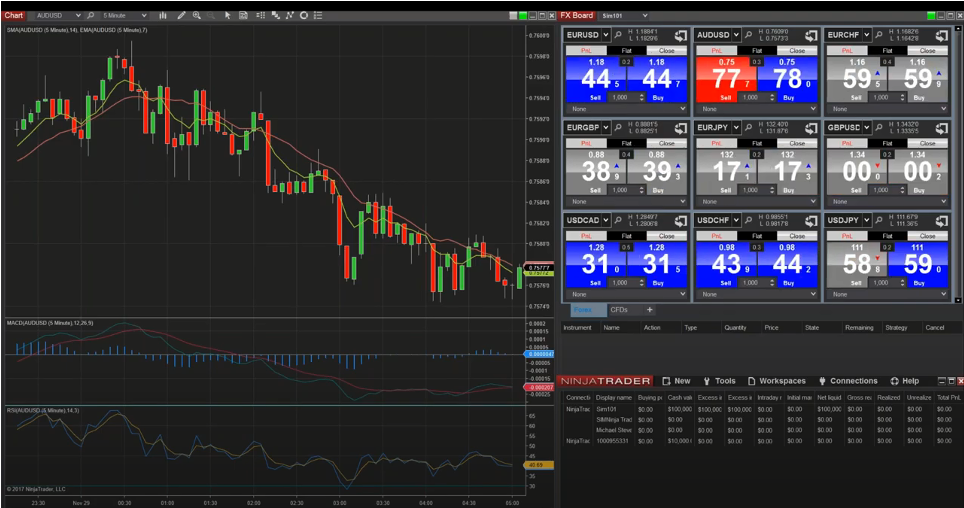 One well-received feature was the 'point-and-click' strategy building tool which allows traders without a programming background to use the modular functionality of the platform. Then design, test and employ new automated strategies in the live market. It was possible to link strategies to indicators to the extent that automated order execution was possible.
Programmers are also catered for, especially by NinjaTrader's C# trading dialogue. This can be used to custom build apps which serve nearly any purpose, from trade recognition to order entry.
Are you finding our FXCM Broker Review 2020 Useful?  We would love to hear from you.  Please help us help other traders make good choices with broker selection. Let us have any comments on FXCM as a Broker.
Crypto Currency
FXCM's Bitcoin Spreads are among the tightest in the industry and can be half those of competitors.
There is a live-spread monitor on the firms' site. It keeps traders up to date with the spreads in the different markets and transparency of this sort is welcomed.
The temptation for some brokers is to take advantage of the volatility in the crypto markets and widen bid-offer spreads. FXCM buck this trend and run spreads tight enough to bring trading crypto trading in line with other markets.
By providing synthetic markets in crypto's FXCM enables traders to go short as well as long – a chance to profit from downwards price action. It also means that specialist crypto-wallets are not needed, instead, traders can trade eight different crypto markets from the same account they trade other instruments. It is also possible to trade using leverage which is a differentiating factor for FXCM as some other brokers restrict traders to 1:1 deals.
All the crypto majors are available. For those looking to gain some broader exposure to the sector rather than trade individual names, there is a Crypto Basket benchmark index on offer. This is being made up of a basket of crypto majors: Bitcoin (BTC/USD), Ether (ETH/USD), Ripple (XRP/USD), Litecoin (LTC/USD) and Bitcoin Cash ABC (BCH/USD).
Another neat feature of the FXCM offering is their transparently laid out note on the risks of trading the crypto markets. There are some risks which are specific to the crypto space and by addressing them openly the broker is offering its clients a chance to prepare before entering the markets.
Regulatory details
FXCM Prohibited countries:
Afghanistan | American Samoa | Aruba | Australia | Belarus | Burundi | Canada | Central African Republic | Congo | Cuba Europian | Union | Guam | Hong Kong, China | Iran | Japan | Liberia | Libya | Marshall Islands | Montserrat | New Zealand | North Korea | Puerto Rico | Russia | Saint Vincent and Grenadines | Singapore | Somalia | South Korea | Sudan | Syrian Arab Republic | Timor Leste | Turkey | Ukraine | United States
FXCM covers the major global markets. It holds a strong position in the forex markets and covers a range of markets stretching from the major pairs down to Mexican peso. There are 39 currency pairs in total. Commodity markets are also well represented. As well as the standard metals and energy names there are markets in copper and soft commodities such as Soya beans.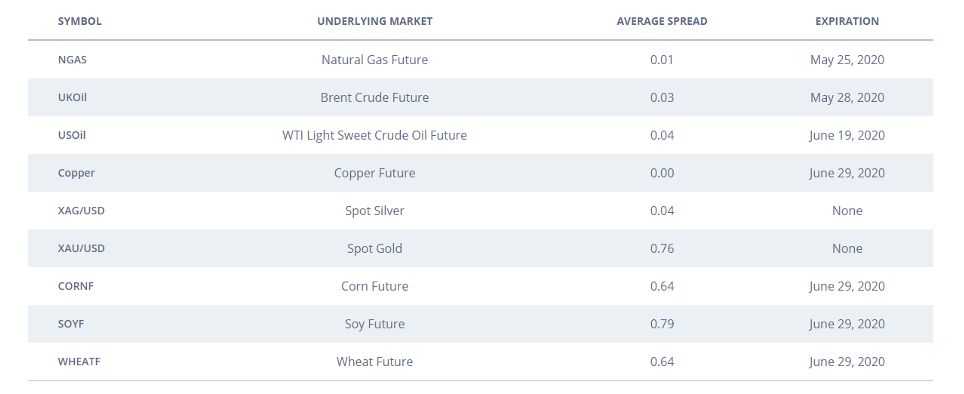 FXCM don't have the tens of thousands of markets some multi-asset brokers do. This could work against those looking to trade single stock equities, but all the major global equity indices are covered.
The offering is focused rather than extensive but will cover the needs of most traders. FXCM appear to take the view that focusing
on a modest number of markets allows them to offer cost-effective, high quality execution.
The good news for clients of FXCM is that the firm sees its regulatory and compliance structure as a selling point. This means the FXCM group of companies (collectively, the "FXCM Group") has companies registered and regulated by many of the most respected regulatory bodies in the world.
Forex Capital Markets Limited (FXCM LTD) is regulated by the Financial Conduct Authority (FCA) in the UK. FXCM Australia Pty Limited is regulated by the Australian Securities and Investments Commission. It operates under Australian Financial Services License Number, 309763.
FXCM South Africa (PTY) LTD is an operating subsidiary within the FXCM group and is an authorized Financial Services Provider, regulated by the Financial Sector Conduct Authority under FSP No 46534.
Having invested so heavily in its regulatory structure FXCM has also taken the further step of gaining approval for French clients. Operating in France is notoriously demanding for brokers and many avoid it for that reason. FXCM though operates in France through a branch registered with the registre du commerce et des sociétés de Paris ("Paris Trade and Companies Register") (SIREN 509 690 905) under the trade name of FXCM France.
It is subject to the control of The Autorité des marchés financiers (AMF) – Règles de conduite et Principes d'Exécution (Rules of Conduct and Principles of Implementation). Interbank Code: 19843.
The firm also has bricks and mortar offices in Germany, Italy, Greece, Hong Kong, Canada and Israel.
This all translates into high-quality protection for clients. According to FCA regulations, FXCM Ltd must meet strict capital adequacy requirements and submit financial reports to regulators. Importantly, the terms of the license require FXCM Ltd to keep client funds in segregated accounts. This means that in the unlikely event of default, client funds are protected, and cannot be used to benefit other creditors.
FXCM is a Leucadia Company, which is the former name of Jefferies Financial Group Inc. which is listed on the New York Stock Exchange (Ticker, NYSE: JEF). Being part of the Leucadia / Jeffries offers some reassurance. Jefferies Financial Group Inc. knows a thing or two about the markets. It operates the only independent full-service global investment banking firm headquartered in the U.S., together with an established merchant banking business with a proven track record.
From their website:
CFDs are complex instruments and come with a high risk of losing money rapidly due to leverage. 73.42% of retail investor accounts lose money when trading CFDs with this provider. You should consider whether you understand how CFDs work and whether you can afford to take the high risk of losing your money.
Final Thoughts
Having been operating in the market for so long the firm has systems which have been tested to destruction and a reputation it wants to maintain. There is a strong focus on trading and execution. The add-on software packages ensure clients can access the market however they want to. The quality of execution is market-leading and pricing competitive compared to the peer-group.
Research, educational materials, regulatory frameworks, and corporate structuring are increasingly important to traders. It's important to be given the right kind of support when setting up to go into the markets and the good news is that FXCM scores highly in these categories too.
There aren't as many markets on offer as at some other brokers. That appears to allow the firm to focus on its core offering and make it top-grade. Should the markets covered by FXCM match the ones you trade they would definitely be worth checking out.
---
Before you go…. have you spotted any data in our review which you think is inaccurate? If so please tell us
FAQ
Welcome to the We Compare Brokers FXCM review. To help you decide if they are right for you, we cover every brokerage aspect in detail.
GO TO THE compare brokers
Ratings
Commissions & Fees
Platforms & Tools
Customer Service
Research
Ease of Use
Mobile Trading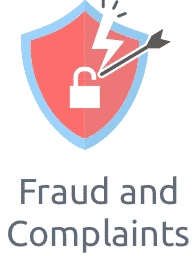 What is your experience with this broker?
With over 4,000 brokers active globally, it's good to share your experience with others. Spread the word on good or bad brokers. Disclaimer: Comments on this site are not the opinion of WeCompareBrokers and we are not responsible for the views and opinions posted by site users. If you are unhappy with any comments, please email complaints @ wecomparebrokers.com
Important: You (the person writing the comment) are responsible for any comments you post and use this site in agreement with our Terms.
Please select the second broker
Get Further Details About To Your Inbox