FXPrimus Broker Review
Address: Office 102 Zavos Kolonakiou Center 25 Kolonakiou Street 4103 Limassol Cyprus
forex
stocks
cfd
crypto
commodities
Spread
From 0.03 pips
Max. Leverage
1:500
Deposit Protection
£85,000 GBP
Min. Deposit
$100 USD
Spread
From 0.82 pips
Max. Leverage
1:10
Deposit Protection
£85,000 GBP
Min. Deposit
$100 USD
Spread
From 0.1 pips
Max. Leverage
1:500
Deposit Protection
£85,000 GBP
Min. Deposit
$100 USD
Spread
From 0.1 pips
Max. Leverage
1:5
Deposit Protection
£85,000 GBP
Min. Deposit
$100 USD
Spread
From 0.04 pips
Max. Leverage
1:250
Deposit Protection
£85,000 GBP
Min. Deposit
$100 USD
Likes
Tight spreads
Superfast and reliable execution
Addresses client concerns relating to account security
Top quality trading platform with a lot of scope for high-grade auto-trading
Dislikes
Limited number of non-forex markets
Supplementary services are acceptable but not market leading
FXPrimus is a well-regarded global broker with a focus on providing traders with institutional grade trade execution. Founded in 2009 it now has a client base of hundreds of thousands of traders. It has achieved this growth by taking advantage of being relatively new to the space and designing an operational framework which focuses on the essence of the trading experience. Technology, education and safety are the three touchstones of the service.
The trading experience is based off the tried and tested MetaTrader MT4 platform and in the area of technological trading frameworks FXPrimus has a lot to shout about. The firm has set up its trading structures to allow traders to get as close to the markets as possible. This includes in the physical sense as well with data centre locations being well thought out and API and VPS trading services being offered to clients with relatively small capital balances. This leads to a trading experience which is fast and robust, with excellent flow and using spreads as tight at 0.1 pips.
Trade execution fees start at levels as low as 0.1 pips and the firm offers a live dashboard of spreads. Tools such as this are a sure sign that a broker is comfortable with its pricing and FXPrimus is certainly placed at the more competitive end of the sector.
The fondness for live reporting extends to FXPrimus offering a table which shows real-time spreads on both 'ECN premier' and 'variable spreads'.
What is refreshing is that FXPrimus extend the same transparency to financing costs. The Swap rates section is subject to a daily update rather than live pricing but even so is a step up on a lot of other brokers in the peer group. With the difference between profit and loss sometimes being down to marginal differences the provision of an accurate and easy to use matrix is a real benefit.
FXPrimus provide all their clients with access to the world's most popular retail trading platform, the MetaTrader MT4 platform.
MT4's popularity stems from it offering traders access to top quality analysis and execution tools which are a combination of power and agility. The dashboard has a clinical feel to it. Execution can for example be adjusted to 1 click trading. Position reporting also shares the same functionality with all the information close to hand, but not in the way.
The analytical tools on MT4 are much loved by members of the trading community. The powerful software tools which help identify market trends and trading opportunities can be easily incorporated into analysis and strategy development. They are also easily removed which is particularly useful as there are so many of them. MT4 provide a number of indicators as part of the standard package. There are then hundreds more which have been developed by others and are available free of charge. Those who still haven't found the tool they need might want to then consider one of the off the shelf indicators which can be purchased.
FX Primus account types vary
The MT4 platform's sweet sport is trading of forex. FXPrimus accordingly offer a range of major, minor, crosses and exotic pairs. A nice to have feature is the Trade Forex Now section which details the trading terms of each pair.
There are also 3 energy instruments to trade, 8 global equity indices and 3 metals. The rest of the markets on offer are made up of single stock names. 
The FXPRIMUS MetaTrader 4 platform supports multiple base currencies including USD, EUR, GBP, SGD and AUD. The dashboard can be set to over 30 different languages and there is also the MetaTrader community on hand where traders and analysts share ideas and information on markets and strategies.
FXPrimus customer support is offered in a variety of formats. Live Chat, telephone and email are all available. The Live Chat response times were very good. In our tests we were directed to a genuine operator within 15 seconds. During instances when our query was in a queue, our testers were still up and running within that time. The staff were knowledgeable and professional and 92% of questions were resolved on the first occasion.
One glitch which relates to screen functionality rather than the support team was that the Live Chat window did 'disappear' and prove hard to find. In some instances, our testing team had to restart the Chat. Whilst this didn't derail the process it was frustrating.
Support is offered on a 24/5 basis and the support team advised they have access to a translator tool which means their expertise can be applied across the globe. This is obviously useful considering the claims that they have clients in over 200 countries.
FXPrimus demonstrate a genuine desire to use research and learning tools to develop the trading experience of its clients. The range and quality of resources backs up their stated aim of making trader education a cornerstone of their service.
The offering covers the whole range of trader profiles. There are 'How To Trade' style videos, webinars, expos and research notes which cater to getting novice traders up and running. Significantly the firm also offers resources for intermediate and advanced traders as well. Not all brokers cover the more experienced members of the trading community so FXPrimus deserve recognition for doing so.
Research notes, Daily Market News reports and the Weekly Market Review feature are all designed to empower traders.
Those which are already up and running might consider testing the trading signals which are provided for no charge. The firm also offers an 'Expert Guest' feature where an experienced trader shares their thoughts on the markets.
The onboarding process at FXPrimus uses some heavy-handed tactics to steer the curious towards Live accounts. Whist there isn't anything necessarily wrong with this it does make finding a demo account trickier than it could be.
The onboarding process for Demo and Live accounts is very straightforward. The firm obviously takes its regulatory responsibilities seriously as the Know Your Client part of the process is what would be expected of a broker operating under license from a top-grade regulator.
Payments in to accounts and withdrawals out can be made using a variety of payment methods. All card transactions are processed by Primus Global Ltd.
Robo Trading
FX Primus offer their clients the opportunity to take part in high spec automated trading. Hooking up to the Expert Advisors area of the MT4 platform is a standard enough route for traders on platforms which have a relationship with MetaTrader. FXPrimus though allow their clients to benefit from VPS grade technology and ECN levels of market flow.
Using the FXPrimus VPS Service improves the MT4 trading experience by offering clients low latency connectivity between MT4 trading accounts and the market servers. It looks like the firm might even be engaging in co-location in some data centres. This increases the chances of getting filled at the best price.
The Platinum API takes the experience up another notch by providing access to even deeper liquidity pools.
This service is different from the more mainstream robo, copy or social trading services available at other brokers.
Regulatory details
FXPRIMUS prohibited countries:
Australia | Belgium | Canada | France | Iran | Japan | North Korea | Singapore | United States
The firm claims to be the 'safest place to trade'. This is a worthy target to aim for and the firm must be commended for getting some of the way to achieving its goal. It promotes client education and operational risk management but trading however involves casting a critical eye over situations and this review would say they don't quite meet all the criteria required to make such a claim. They do well, but with client protection being such an important issue the grading of brokers must be consistent.
If the firm is keen to meet its stated aim, then it could demonstrate greater transparency and share for example the details of the auditor and the banks which hold segregated client funds.
The claim to be 'safest' is helped by the firm ticking a lot of the boxes associated with client protection. It is true some less-desirable brokers don't have features such as 'Negative Balance Protection' but many others do. The segregation of client funds and upping of client protection through the use of professional indemnity insurance (up to EUR 2.5 million) is really good to have.
It might be just that the firm appears to over-sell its safety credentials. Safety and security are recurring themes across the site and instead of appreciating the genuine efforts towards making trading safer does raise the question of 'exactly what is so special?'
FXPRIMUS is the brand name used by Primus Global Ltd, regulated by CySEC, with licence no. 261/14. Primus Markets INTL Limited, regulated by VFSC, with registration no. 14595; and also, Primus Africa (Pty) Ltd, regulated by FSCA, with licence no. 46675.
The details of the firm's Safety Factsheet can be found here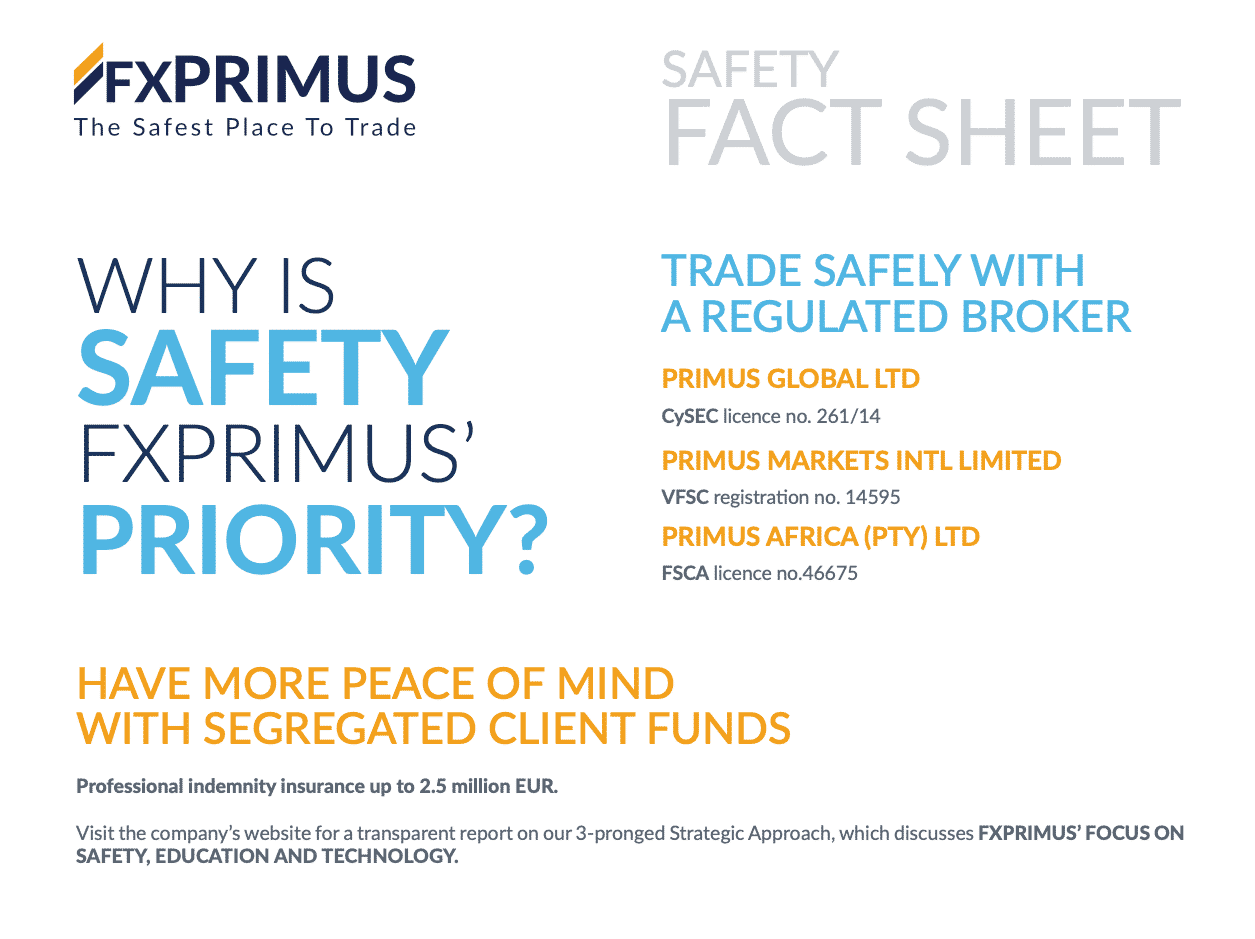 From their website:
CFDs are complex instruments and come with a high risk of losing money rapidly due to leverage. 68.02% of retail investor accounts lose money when trading CFDs with this provider. You should consider whether you understand how CFDs work and whether you can afford to take the high risk of losing your money.
Final Thoughts
One very interesting statistic which the firm can point to is that 64.54% of retail investor accounts lose money when trading CFDs with this provider. This number is at the lower end of the sector so the firm must be doing something right.
The low number of 64.54% suggests that the firm's willingness to promote trader education might be working though the lofty aim of being the 'safest' broker is not quite merited. The intention is there, but in reality, there are some aspects of the regulatory framework which could be upgraded.
The educational services and newsletters are very useful, and the firm also manages to offer an array of special promotions and partnership services which will appeal to some.
It's clear to see why FXPrimus is so popular. The access to the markets is of the highest standard. The number of acronyms on hand effectively spell out that execution will be fast, reliable and low cost. The ECN / API / DMA grade service also appears to be hosted very close to, if not co-hosted with the servers generating the trade flow.
---
Before you go…. have you spotted any data in our review which you think is inaccurate? If so please tell us
FAQ
Welcome to the We Compare Brokers FXPrimus review. For your reassurance, we have tested all platforms from customer care through to trades.
GO TO THE compare brokers
Ratings
Commissions & Fees
Platforms & Tools
Customer Service
Research
Ease of Use
Mobile Trading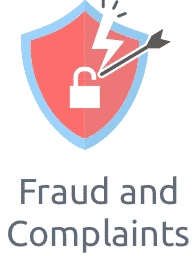 What is your experience with this broker?
With over 4,000 brokers active globally, it's good to share your experience with others. Spread the word on good or bad brokers. Disclaimer: Comments on this site are not the opinion of WeCompareBrokers and we are not responsible for the views and opinions posted by site users. If you are unhappy with any comments, please email complaints @ wecomparebrokers.com
Important: You (the person writing the comment) are responsible for any comments you post and use this site in agreement with our Terms.
Please select the second broker
Get Further Details About To Your Inbox