Global Prime Broker Review
Address: Suite 604, 35 Grafton St Bondi Junction, 2022 Australia.
Spread
0 pips
Max. Leverage
200:1
Deposit Protection
£85,000 GBP
Min. Deposit
$200 AUD
Spread
9.88 pips
Max. Leverage
1:1
Deposit Protection
£85,000 GBP
Min. Deposit
$200 AUD
Spread
0 pips
Max. Leverage
100:1
Deposit Protection
£85,000 GBP
Min. Deposit
$200 AUD
Likes
Institution grade trading infrastructure
Tight spreads
Transparent pricing
High quality customer service support
Dislikes
Minimal research services
Tier-2 regulatory protection for certain entities
Introduction
Global Prime was founded in 2010 and is an Australian owned and operated Financial Services Provider. It has since then carved out a niche in a very competitive market and built a strong global client base. The company appeals to retail and institutional traders and offers a choice of two trading platforms and forex and CFD markets.


The brokers success comes from being in-line with what traders really want. There aren't many add-on services, but the execution function has a feel of being designed by traders, for traders. There is also some extra transparency offered in terms of fees and commissions which has allowed the broker to build a relationship with its clients. Those looking to set up an account with the broker will note the firm's efforts to develop an ethos of being 'on your side'.
The brokers headquarters are at Suite 604, 35 Grafton Street Bondi Junction Sydney, NSW, 2022, Australia.
The brokers emphasis on putting its clients in a good position to trade is backed up by very competitive fee structure. The average spread on Bitcoin for example is as low as 22.29. For Ethereum its 1.32 and for Ripple 0.13.
A lot of brokers have spreads in EURUSD which come down to as little as zero pips. Global Prime match that but extend the zero pips over other forex majors as well. Aussie (AUDUSD), Cable (GBPUSD), Loonie (USDCAD) and Swissie (USDCHF) are all at times traded at zero pips. Even some of the exotic forex pairs, such as EURNOK and AUDSGD are reported to trade as low as zero pips.
There may not be a wide choice of equity-based markets but those that are – come with super-tight spreads.
Global Prime achieves these tight spreads by combining tier-1 bank, non-bank and ECN liquidity. This means not only do the numbers stack up but that traders can take advantage of good quality trade flow.
Another nice-to-have feature which might not grab the headlines – but which can certainly help the bottom line, is that Global Prime offer competitive financing charges. The overnight swap rate they charge is based on the interbank rate.
Global Prime offer their clients the choice of two trading platforms. The market leading MetaTrader 4 is available in desktop version for iMac and Windows operating systems. It can also be used in WebTrader format. MetaTrader 4 is the worlds most used retail trading platform. Its popularity is a based on the functionality which is razor sharp, and the trade execution interface which has an institution grade feel to it.

MetaTrader 4 launched in 2005 and as a result of being developed over many years the trading experience is provides everything a trader needs and little that they don't. It is still hard to beat in terms of charting tools. There are over 30 powerful indicators as standard and this will cover the needs of most traders. Those looking for something extra have the option of choosing from hundreds of other modelling tools which can be bolted on, usually for no additional charge.
The 'community' of MetaTrader 4 users actively share ideas and signals and the platform remains the 'go-to' option for those looking to run their own models in the markets.
The relatively recent addition of the TraderEvolution platform is a big plus for Global Prime. Trader Evolution is described as "a next generation multi-asset trading platform designed for serious traders who demand advanced functionality for order entry, analysis, and Algo trading".
TraderEvolution has similarities to MetaTrader, it comes equipped with the same market leading pricing and execution as MetaTrader. In some ways it takes trading a step closer to institutional grade by offering greater transparency over the available liquidity, Level 2 pricing, and Volume analysis.
Markets
The number of markets available at Global Prime is limited. As with other brokers who base their trading on MetaTrader4 suite of platforms trading is focussed on forex with some exposure to equity indices, commodities and cryptocurrencies.
In total, Global Prime currently offer 48 forex pairs 5 cryptocurrencies, 12 equity indices and 18 commodities. It can take a lifetime to become an expert in one single market and there is a range of instruments but some will find the choice limiting.
Our testing format found the customer service provided by Global Prime to be at the higher end of the scale. Staff were professional, knowledgeable and resolved our 'test' issues during the first call.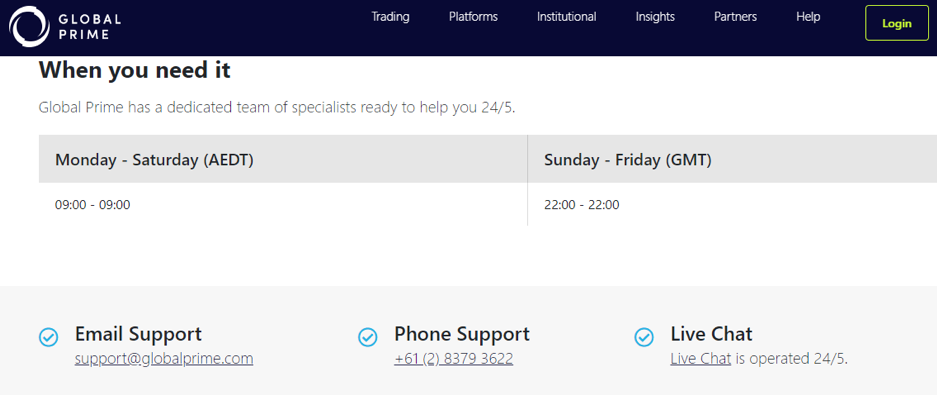 Support is offered on a 24/5 basis which is in line in terms of office hours though the provision of Live Chat, email and Phone Support allows traders to use their preferred form of communication.
Cross-referencing to online comments made by members of the trading community backed up our researcher's findings. Any broker which engages with its clients enough to earn a four-star rating on the Forex Peace Army site is doing something right.
"I have been a trader for over 13 years now and I have NEVER thought a day will come when we have serious genuine forex brokers out there. Overall, the company seems to be run by genuine and honest human beings who tell you as it is… In particular, their customer support is just awesome." (Source: Forex Peace Army)
"I've used about 3 different brokers and Global Prime is by far the best of them all. They have an excellent team that stay in touch through online community" (Source: Forex Peace Army)
There is limited research available at Global Prime and 'how to …' style resources are non-existent. What is provided are however quite useful. The Daily Edge report offering an example of how the Insight section of the Global Prime site is designed to provide clients with research which is very much tradable.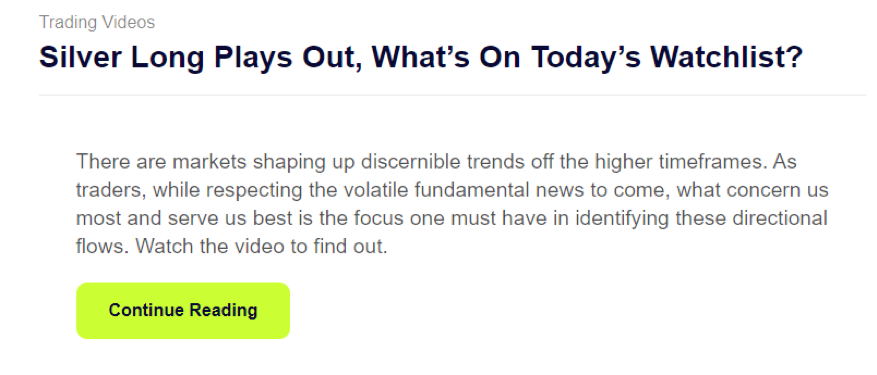 The 'Discord' chat room is a neat addition and allows traders to discuss daily trading events and share analysis and views on the market. The service is reported to have more than 2,500 subscribers and its popularity suggests other brokers would do well to consider something similar as currently Global Prime stand out from the crowd by offering this service.
The onboarding section of the site is very user-friendly. There are different trading options available to traders who can tailor the technical details of their account according to trading styles. These extra services are 'bolt-ons' and those setting up on the platform face the refreshingly simple situation of being able to set up an 'all in one' style account. Accounts can be denominated in a choice of six base currencies: AUD, USD, EUR, GBP, SGD, and CAD.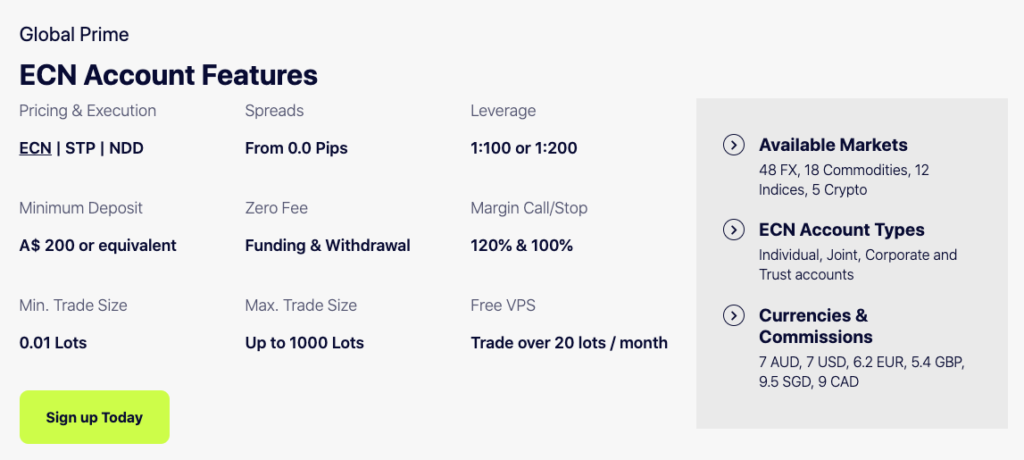 The firm supports Individual and Corporate Trust accounts. The minimum balance is A$ 200 or equivalent and funds can be deposited and withdrawn from the broker via Bank Wire, VISA, MasterCard, BPAY, Neteller, Skrill, Fasapay, DragonPay, local bank wire and currency solutions (QR/Zotapay/Accentpay: already offering local currency/bank wire funding for South Africa, Malaysia, Thailand, Vietnam, Indonesia, Nigeria) and Poli.
The list of restricted countries (see "Regulatory Details") is in line with the market standard but we could find no specific evidence of the firm supporting Islamic / Sharia trading practices. It is also possible to generate a secondary income via the affiliate programs which are on offer.

Order Execution
To say Global Prime stands out in the area of trade execution is something of an understatement. The speed and quality of market access is quite simply at another level when compared to some more mainstream brokers. This tallies with the 'About Us' area of the site which reports how Global Prime was built by traders looking to take their own trading to the next level.


A lot of the execution tools are institutional grade but even the 'basic' package, using manual trading in MetaTrader4 is a quality service.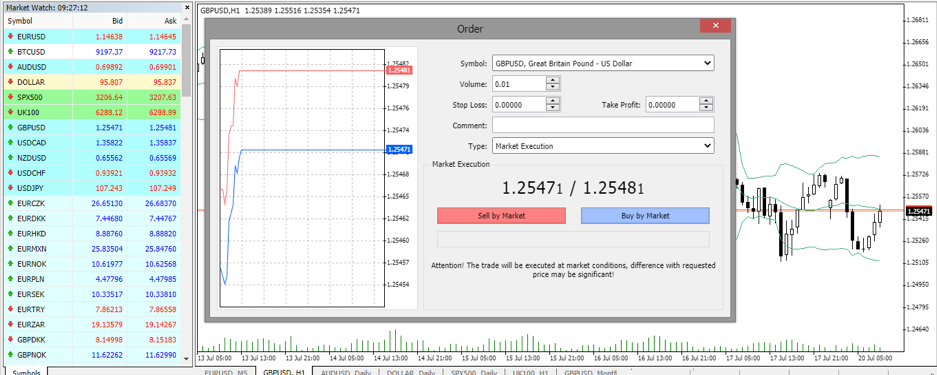 Outlining how the features on offer benefit clients of the site soon starts to involve a lot of techie talk, but that is a good thing.
Global Prime is very proud of its management of trade 'slippage'. It maintains fill ratios with Liquidity Providers which are greater than 90% and uses 'no last look' when supported for improved execution and reduced slippage on trades.
The VPS service improves the quality of execution and is free to clients who trade more than 20 lots per month. This service taps into liquidity providers to provide the best price, depth and response times to clients. Access to the Equinix NY4 (New York) tech and platform hosting + cross connects means that trades are executed with the trading counterparties which offer the lowest latency.
The firm also offers FIX API under the brand name 'SKOUT'. FIX is designed specifically with professional investors in mind and lets traders customise their trading models to implement automated execution strategies.
Average fill times of just 30ms make Global Prime one of the fastest brokers in the world. Another nod to the firm's client base being made up more experienced traders is that leverage on offer goes up to 1:200.
Global Prime offers iOS and Android mobile trading applications for its MetaTrader platforms, available directly from developers on the iTunes Store and Google Play.
MetaTrader 4's mobile platform carries over most of the functionality of the desktop version. There are 30 of the most popular technical indicators and 24 analytical objects.
This is quite an achievement as the desktop platform comes with an extensive range of indicators and charting tools.
The app allows you to have complete control over your trading account, anywhere, anytime. The free chat option is a welcome addition and allows users to communicate with other traders. There is also a news service and access to trade history.
The MetaTrader app is particularly strong in that it facilitates in depth research and analysis even on smaller screens. Lines, channels, geometric shapes, as well as Gann, Fibonacci and Elliott tools can all be applied and users can open up to 10 windows at one time. This is a higher spec than found on most trading apps and allows traders the opportunity to gain maximum advantage.
Robo Trading
The top-tier trading infrastructure offered by Global Prime really comes to life in terms of supporting automated trading programs.
MetaTrader 4 has a long and deserved track record of supporting algo trading. The Expert Advisors service offered by MetaTrader allows clients of Global Prime to directly take trading signals from third parties.
The more experienced can easily bolt the models on to the platform and those just starting out in the field can take advantage of a host of advisory services. From 'wizards' to chat rooms, MetaTrader 4 has most bases covered and has helped millions of traders start out on their 'Robo trading' journey.
Once set up models can take advantage of the incredibly impressive virtual hosting and ECN trading functionality of Global Prime. Automated models thrive on quality trade flow, minimal slippage and tight spreads and Global Prime's 'behind the scenes' work in those areas makes them a great place to trade systematic models.
Crypto Currency
There are five cryptocurrency markets on offer. This is by no means market leading in terms of number available but the big coins are covered and possibly as importantly the spreads on execution are very tight.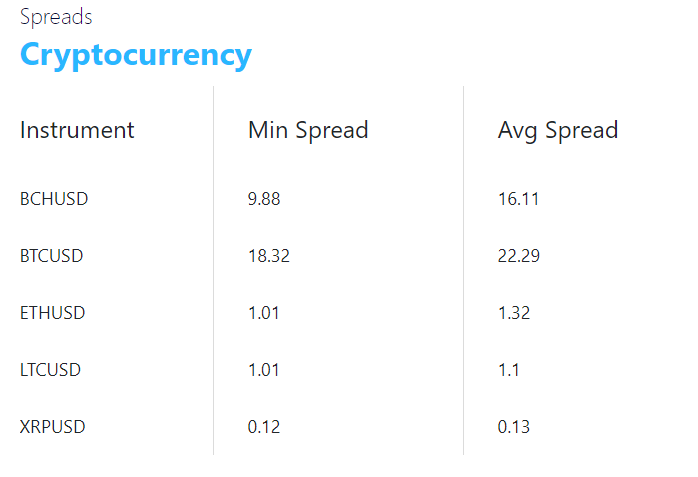 Tight spreads help everyone. Those with 'buy and hold' in mind also benefit from low financing charges. Traders looking to run strategies with a shorter holding period will find the tighter spreads open the door to trades they may not be able to take on with brokers who operate wider spreads.
Regulatory details
Global Prime Prohibited Countries
North Korea | Iran | United States of America | Cote d'Ivoire | Ontario (Canada)
The structure of the Global Prime group of companies makes it slightly heavy going for traders carrying out the necessary due diligence associated with opening an account. The disclosure and legal documents are readily accessible and demonstrate a high degree of transparency. It's just that there are a lot of them because the different entities operate under different regulators. As the firm site states. "Please note that our legal documents vary depending on which Global Prime entity you hold your trading account with and the regulations that apply to you."
Global Prime comes under the umbrella of Australian Securities and Investments Commission (ASIC). Global Prime Pty Ltd, ABN 74 146 086 017, Global Prime holds an Australian Financial Services Licence (AFSL) to carry on financial services business in Australia, limited to the financial services covered by its AFSL no.385620
Gleneagle Securities PTY Limited trading as Global Prime FX is a registered Vanuatu company (Company Number 40256) and is regulated by the Vanuatu Financial Services Commission (VFSC). The move to operate certain parts of the business under this regulator (rather than ASIC) is explained by the company to be following "guidance that its regulated brokers need to ensure they are legally allowed to accept clients from each jurisdiction their clients come from". The firm goes on to offer the reassurance that "it's still the same people running the show and looking after the liquidity."
Global Prime FX Ltd is a registered Seychelles company (Company Number 8412189-1) and holds a Securities Dealers Licence SD057 issued by the Financial Services Authority of Seychelles (FSA)
Global Prime's service happily accommodates traders of all abilities but parts of it are pitched at more advanced traders. Those with a bit more experience of trading and indeed running an eye over protection offered by different regulators, will likely take a more pragmatic view of the inclusion of VFSC and FSA. Whilst ASIC is a top-tier regulator on an international scale, the Seychelles and Vanuatu authorities aren't held in quite such high regard.
Smaller regulators are aware of the need to demonstrate 'best practice' and they work hard at building their reputations. The details of the protection offered by VFSC and FSA are in line with the peer group but for some, Global Prime would benefit from scaling up certain aspects of its regulatory infrastructure.
From their website:
Trading derivatives is high risk. Losses can exceed your initial investment. You should only trade with money you can afford to lose. Any Information or advice contained on this website is general in nature and has been prepared without taking into account your objectives, financial situation or needs. Past performance of any product described on this website is not a reliable indication of future performance. Please read our PDS and other legal documents and ensure you fully understand the risks before you make any trading decisions. We encourage you to seek independent advice. The information on this website is not intended to be an inducement, offer or solicitation to any person in any country or jurisdiction where such distribution or use would be contrary to local law or regulation.
Final Thoughts
It's clear to see that Global Prime has been built by traders, for traders. The Prime Brokerage aspect of their business illustrates how the service is of a high enough quality to support institutional investors.
The focus is on trading using quality trade flow, super low execution times and in some markets, market leading spreads. The platforms on offer reflect this and provide enough powerful software to support traders during pre-trade analysis and execution. The feeling that the broker is on the trader's side is also supported by the firm going above and beyond what is legally required of it when it comes to reporting transparency.
There isn't too much "touchy feely" stuff on offer. Research and educational tools are limited and instead a lot of the good things about Global Prime are 'under the hood'. The trading infrastructure includes ECN (Electronic Communication Network), DMA (Direct Market Access), FIX API and VPN services; and the liquidity providers used move trade quality towards 'institution grade'.
The corporate structure includes licenses with tier-two regulators but this doesn't appear to be putting people off to any extent. In fact, the firm looks to be entering a growth phase and products due to come through the pipeline include more (multi-asset) markets and a new CFD 'liquidity solution'. It looks like these will be provided through the TraderEvolution platform which supports Equities, ETFs, Futures, Op-tions, Bonds, Forex, CFDs.
---
Before you go…. have you spotted any data in our review which you think is inaccurate? If so please tell us 
FAQ
We Compare Brokers are proud of our Global Prime review. Every brokerage aspect is covered in detail to help you decide if they're right for you.
GO TO THE compare brokers
Ratings
Commissions & Fees
Platforms & Tools
Customer Service
Research
Ease of Use
Mobile Trading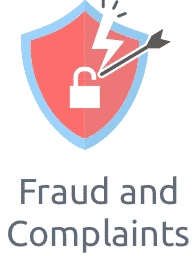 What is your experience with this broker?
With over 4,000 brokers active globally, it's good to share your experience with others. Spread the word on good or bad brokers. Disclaimer: Comments on this site are not the opinion of WeCompareBrokers and we are not responsible for the views and opinions posted by site users. If you are unhappy with any comments, please email complaints @ wecomparebrokers.com
Important: You (the person writing the comment) are responsible for any comments you post and use this site in agreement with our Terms.
Please select the second broker
Get Further Details About To Your Inbox