IG Broker Review
Address: Cannon Bridge House, 25 Dowgate Hill, London EC4R 2YA
forex
etf
stocks
cfd
spread_bet
Spread
Max. Leverage
1:300 Pro
Deposit Protection
Min. Deposit
UK £250 / EU€300 / AU$450
Spread
0.6
Max. Leverage
1:300 Pro
Deposit Protection
£50,000
Min. Deposit
£100
Spread
1 Point
Max. Leverage
1:300 Pro
Deposit Protection
£50,000
Min. Deposit
£10
Spread
0.6
Max. Leverage
1:300 Pro
Deposit Protection
£50,000
Min. Deposit
£100
Deposit Protection
Min. Deposit
Likes
Transparent and competitive pricing
High quality trading experience
Great charting package
Extensive range of markets and instruments
Regulatory and operational strength
Dislikes
Limited research on some instruments
Few promotions / bonus schemes
Our IG Broker Review details all aspects of using the IG platform for your trading.  Should you have any personal experience that would help fellow traders or indeed think we need to revise any sections of this IG Review please let us know.
IG is a global leader in online trading and investments and is known as a leading stock broker.  In 2018 it reported global trading revenue of £569m and has a market capitalization in the region of £3bn.   Founded as IG Investors Gold in 1974, its London head office is supported by a network of fourteen global offices across five continents.  With almost 200,000 clients worldwide and over 1,600 staff employed it has grown to become a Fortune 250 company. The company operates under the IG brand across the globe, and as Nadex within the United States.
IG offers one of the most comprehensive ranges of instruments and markets to trade.  With a background in CFD and spread betting formats it covers the core global markets and has a reach that extends to include: bonds, derivatives, cryptocurrencies (except in the UK), ETF's, ISAs, SIPPs and social/copy trading.  Offering the significant advantages of being a one-stop-shop IG cements its position further through the application of competitive and straightforward commissions and fees.
The trading platform provided is, as you might expect, a challenger for best in class.  Robust, intuitive and with pleasing aesthetics it can be tailored to individual preference; the pleasing user experience available in both desktop and mobile formats.
Behind the scenes, the trading experience is backed up by one of the strongest regulatory infrastructures out there.  An established operator, dedicated to innovation and customer service, the IG platform is a great option for new or experienced traders alike.
Spreads Info
A key aspect of our IG broker review is taking a close look at commissions and fees, with special attention paid to any hidden charges. IG offers a fairly transparent fee structure, with commission rates dependant on how many trades are made per month, with higher trading volumes associated with improved terms.
Make ten or more trades a month, and your commission rate will be just £5, and clients who open at least two IG accounts (for say, share dealing and CFDs) also enjoy this reduced commission rate. IG charges a quarterly custody fee of £24 on share dealing and ISA accounts, depending on funds and activity on those accounts.
| | |
| --- | --- |
| Share Trading: 0-9 Trades per month | £8.00 |
| Share Trading: 10+ Trades per month | £5.00 |
| Annual Custody Fee: £0 – £250,000 | £96.00 |
| Annual Custody Fee: £250,000+ | £0 |
| Investment Trusts Fee | £8.00 |
| Telephone Dealing Fee | £40.00 |
| Withdrawal Fee | £0 |
| Deposit Fee | Varies |
The table above applies to UK shares. Commissions on international shares will vary. Prices on international shares are offered in local currencies, and the conversion fee (when you convert to your chosen base currency) is 0.3%. For UK ISAs, IG provide free account set-up and free transfers for electronic shares, with a dematerialisation fee of £100 for physical shares. IG SIPPs are administered by James Hay, who charge an annual administration fee of £195. There may also be fees for certain actions within your SIPP, such as arranging an income drawdown or an annuity purchase. There are no fees for transferring your SIPP to IG.
The strength of IG's reputation and product range makes the platform an attractive prospect for many.  It does also means traders looking to benefit from promotional offers and prize competitions will be disappointed.  There is a refer-a-friend loyalty scheme in place but not much more in the way of special offers and bonuses.
Our IG Broker Review details all aspects of using the IG platform for your trading.  Should you have any personal experience that would help fellow traders or indeed think we need to revise any sections of this IG Review please let us know.
IG offers a choice of the industry-recognised MetaTrader4 platform and their proprietary ProRealTime platform.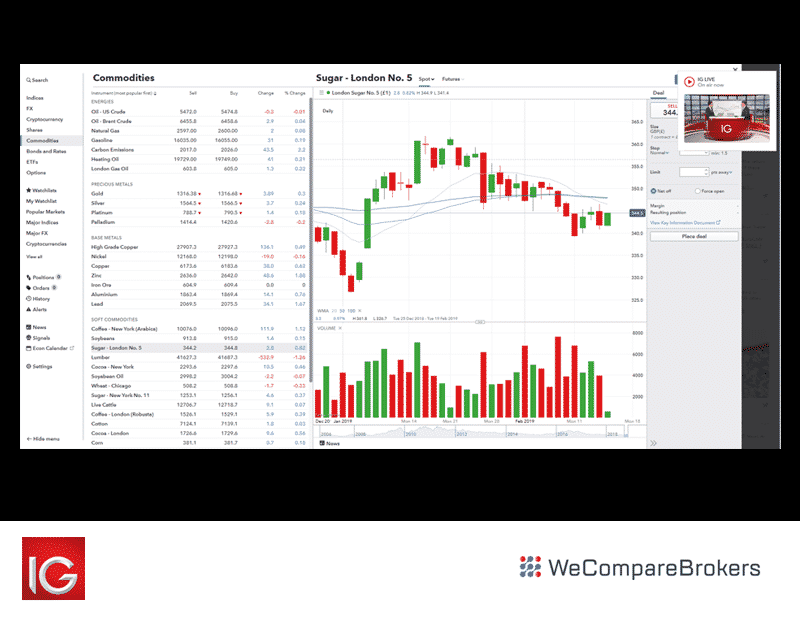 MT4 is a much loved and used stand-alone platform.  Using it to trade with IG allows traders to take advantage of low latency execution, backtesting and the ability of traders to build their own algorithms.  IG also provides 18 free bespoke apps to tailor MT4 charts to trader preferences and the Virtual Private Server offering from IG is a great feature.
ProRealTime is the name given to IG's proprietary trading platform which provides a market leading range of tools and features in a user-friendly, flexible format. The technical analysis tools on offer rival those of any of their competitors and are fully available in the Demo account format which has privileges in line with the live account, meaning traders can easily carry out testing and research prior to executing live trades.
Customisable monitors, price alerts and economic calendars make the platform one that can truly be tailored to the needs of individual traders. Given the number and range of tools on offer, it makes complete sense that traders can build and save a variety of customized screen layouts and then retrieve them as and when required.  The core offering is very impressive but investors can also incorporate into the platform third-party tools from AutoChartist and Trading Central, which offer a complimentary suite of technical analysis, research and trading tools.
IG has won numerous awards both in the UK and abroad. Their recent accolades include:
Best Overall Personal Wealth Provider 2018 – Online Personal Wealth Awards
Best Spread Betting Provider 2018 – Online Personal Wealth Awards
Best Trading Support 2018 – Online Personal Wealth Awards
Best Stocks and Shares ISA Provider 2018 – Online Personal Wealth Awards
Best Multi-Platform Provider 2018 – ADVFN International Financial Awards
Best Finance App 2018 – ADVFN International Financial Awards
Best Spread Betting & CFD Education Tools 2018 – ADVFN International Financial Awards
Best CFD Provider 2017 – Investment and Wealth Management Awards
Best CFD Provider 2017 – Shares Awards.
IG provides excellent customer support via phone, email and live chat. They also run responsive social media accounts, allowing new and existing customers to easily reach out to them in a variety of ways.  To try to set a firm foundation they offer every new customer a personalised walk through the trading platform and going forward provide support in several languages.
Customer service professionals are helpful and knowledgeable, and response times are fairly quick. During our testing the CS team satisfied all of our enquiries at the first attempt and gave the impression that they had something of a feeling for trading.  Some of our test Live Chats featured support staff answering our question by directing us to a hyperlink rather than constructing a written answer.  This came across as being slightly impersonal but the links did contain the information that solved our issues and a quick accurate response is obviously the first priority.
One neat feature is the availability of peer support in the IG Community forum.  This service facilitates the solving of problems through interaction between users.
As any online trader is aware, the user experience can vary greatly from one platform to another. IG offers the ever-popular MT4 platform, as well as their custom ProRealTime platform, and their mobile apps allow easy trading from any device. It should be noted that there is a monthly charge of £30 for the ProRealTime software if you do not make at least 3 trades a month.
What others say
Independent forex broker review sites are usually quick to praise IG in a number of different areas. An IG review on UK Stockbrokers states:
"The technical analysis offering is by far the most impressive compared to the competition in the online stockbroking arena."
This is a fair comment. IG charting tools allow for 21 different technical indicators to be accessed. Their offerings include trend lines and Fibonacci retracements, along with all the major technical indicators most private online investors use daily.
Brokernotes.co also makes an important point in their 2018 IG review:
"As a nice bonus, IG is one of the very few brokers that claim to have no requotes, so you don't have to worry about slippage."
Online investors are naturally wary of requotes and slippage, which is what happens when your trades are ordered at a different price than they were at when you executed them.
BrokerChooser.com also has some positive things to say as part of their independent IG broker review:
"IG's web and mobile trading platforms are simple and user-friendly."
In our quest to deliver a well-rounded IG broker review, we've looked at what other forex broker review sites found out when performing an IG review.
"The account opening process is straightforward and the initial registration only takes five minutes…. It is a nice touch that you can start exploring the trading platform straight after registering and you don't have to wait for identification to be completed."
"IG's size and trading volume allow it to offer some of the lowest spreads and commissions in the industry."
"Extremely impressed with IG over the 3 years I have been using them for my share dealing and ISA accounts. Customer support has been excellent with queries quickly and thoroughly dealt with. The platform has been near perfect in terms of stability and reliability. Fees are also very competitive. They've also added a good range of ETFs and support for taking part in IPOs. Highly recommended."
"The IG trading platform and tools on offer are among the extremely impressive features of the IG online trading account."
UK.Stockbrokers.com
"IG have a BrokerNotes triple AAA support rating because they offer a wide range of languages and support options."
BrokerNotes.co
"All in all, IG provides an excellent offering of trading platforms and tools. The functionality is widespread and serves traders of all experience levels. The broker was a Best in Class category finisher in our 2018 Review, repeating its impressive performance from 2017."
ForexBrokers.com
"IG does not confuse or discriminate based on the size of your account balance. There is one basic account category, as well as a more professionally-oriented account. Each account comes with a free demo system and access to over 10,000 market offerings at competitive spreads and leverage and their extensive library of support materials."
ForexFraud.com
Our IG Broker Review details all aspects of using the IG platform for your trading.  Should you have any personal experience that would help fellow traders or indeed think we need to revise any sections of this IG Review please let us know.
IG offers an extensive range of financial instruments and markets to trade and continues to expand its offering to cater to a wider set of trading and investing needs. The group started out offering leveraged trading in the form of contracts for difference (CFDs) and spread betting. This is still what they are most widely known for and is core to their business, but the group is now branching out to offer a range of other products, including non-leveraged share dealing.
IG also offers a suite of wealth management products, such as Individual Savings Accounts (ISAs) and Self Invested Personal Pensions (SIPPs), which may vary according to the country you are resident in. IG clients have access to over 15,000 global financial markets, providing opportunities to invest in shares, commodities, indices, forex and other instruments.
Other investment options available include online, self-directed and share dealing, with over 9,000 global shares and exchange-traded funds (ETFs) available to clients. There are also tax-efficient savings and pensions offerings, such as ISAs and SIPPs. Clients can also opt for an IG Smart Portfolio, a discretionary managed investment service with full transparency and low costs.
IG provides access to a myriad of markets but it's clear the firm takes the approach that it needs to do things properly and that there should not be token trading opportunities available to their clients. For example, options trading is offered across global markets, but of equal importance, each market offers traders liquidity in an extensive range of expiry dates and strike prices.
In terms of products and markets traded it's possibly easier to outline what IG doesn't offer.  For example, cryptocurrencies can be traded as CFD but not as actual.  On the other hand, a total of ten major crypto and crypto-cross markets are offered (via CFD) which compares well to other brokers in the market. Traders have access to over 15,000 products and the list keeps growing. Please note, Crypto Currencies cannot be traded in the UK.
Like most online brokers, IG provides a range of research and educational services to its investors. Macro fundamental and technical analysis has always been an area of strength for IG.  Away from these subjects, the research offering has traditionally not stood out as much as other areas of the site.  This may be borne out by the recent addition of new products in this area such as Market Screener, a new tool which allows traders to carry out a rigorous financial and fundamental analysis of single stock names.
In terms of educational tools, IG is in the top tier, providing a more than adequate range of tools for both beginners and some interesting features for the more experienced. The IG Academy app offers a range of courses and the app can be downloaded to mobile devices for easy learning on the go.  The layout allows easy tracking of which courses you are studying and where you are within the course material.
Standard market practice appears to be for brokers to align most of their educational courses towards beginners.  IG follow the crowd here and there is not too much in the way of educational tools designed to benefit more advanced and experienced traders.  Whilst in line with the rest of the market it is a mark against IG that they flag up as 'Advanced' educational material that is at best 'Intermediate' and more likely 'Beginner' grade.  The 'Planning your exit' package, for example, has important reminders for all traders about the importance of money management but seasoned traders will be disappointed if this really does mark the upper limit of what educational tools are available.
IG provides various ways for clients to expand their understanding.  The website has plenty of educational videos and more interactive formats such as webinars and in-person seminars are available. New clients also get a personalised walkthrough the trading platform, including instruction on how to place a trade. IG shows a degree of dedication towards providing the necessary educational and training resources to their clients. With such a strong product offering this is a win-win for all parties involved.
Our IG Broker Review details all aspects of using the IG platform for your trading.  Should you have any personal experience that would help fellow traders or indeed think we need to revise any sections of this IG Review please let us know.
Access to IG is gained via a straightforward and user-friendly on-boarding process.  The process takes less than five minutes which is considerably less than with some other brokers.  In line with this, the amount of personal information requested in order to open an account is definitely 'light-touch' which is likely to be welcomed by those keen to get to grips with the actual product.
Once through to the main part of the site the many additional tools and services are positioned so they can be easily incorporated into a trader's customizable dashboard.  Despite there being so many resources available, establishing what you want and where you want it, is made easy by the intuitive nature of the site which has a reassuring and fluid feel to it.
Order Execution
The trade execution and order-building functions can support a wide range of traders and trading styles. IG tools such as 'partial fills' and 'points through current' allow for a more nuanced approach to order building whilst at the other end of the market there is readily accessible one-click trading.
The default layout is somewhat minimalist but the absence of a starter-pack style layout might be more of an issue for novice traders than it is for the more experienced who might actually prefer to start from a relatively clean base.
Regardless of individual trading style, IG offers seamless access to the market with the Deal/Order/Alert options able to be built into the trading dashboard.    Behind the scenes, IG has established a framework that includes DMA (Direct Market Access) and smart order routing technology.  All part of an effort to ensure their clients have access to the best prices and liquidity available.  Those looking to out-source some of their research workload can even take advantage of the free pricing signals provided by third parties: Autochartist and PIA-first.
Our IG Broker Review details all aspects of using the IG platform for your trading.  Should you have any personal experience that would help fellow traders or indeed think we need to revise any sections of this IG Review please let us know.
IG provides a mobile app IG Trading App for both iPhone and Android devices, as well as a dedicated iPad app, to allow easy trading on the go. A separate mobile app, IG Academy, is dedicated to investor training and education and trading services are also available using mobile web based browsers.
As is often the case with mobile apps, there are some features of the desktop platform that are not incorporated into the app, but IG does much better than most in this area, with the majority of the most important tools available on the desktop also accessible from the apps. The apps also allow access to the IG Community to facilitate discussion with other IG traders. Generally speaking, mobile apps can end up being the poor relation of the desktop-based platform, but IG have done a good job of trying to make the apps a fully-functioning extension of the main platform.
Robo Trading
IG provides a variety of automated trading services.  Their Smart Portfolio Accounts service is a highly customisable service that offers robo style trading.  A £500 minimum account balance is needed to open one of these accounts and management fees start at 0.65% and decrease as you invest more.
This is, of course, a fraction of the cost of traditional wealth managers, and the Smart Portfolio account is highly customisable, offering five distinct risk profiles, so your account can be set up according to how conservative or aggressive your approach to risk management is. Your investments are diversified across different assets and sectors according to your risk profile, and the accounts are easy to set up, manage and monitor. IG have partnered with world-leading asset manager, BlackRock, on their Smart Portfolio offering to offer clients extra reassurance and reliability
Automated trading comes with pros and cons, of course, and IG themselves are keen to point out that while robo advisors offer an accessible, low-cost way to manage a portfolio, customers should always be aware that any automated investment system is heavily reliant on the information you provide it with and that complications in your financial situation that a financial advisor may understand perfectly may not be fully integrated into an automated system. As IG put it on their website:
"…a mix of robo-advice and human intervention is often the best option, at least until robo-advice reaches its full potential."
Traders looking to take a slightly more personalised approach to automated trading can utilise the backtesting and algorithmic tools of MT4 or ProBacktest and ProOrder tools provided by IG.  The ProBacktest tool will run a trading strategy against historical data and ProOrder will run a trading strategy on live data and execute trades.
Regulatory details
Customers are rightly wary of making a commitment to a new broker or financial services company, and there are no absolute guarantees, but IG is certainly appropriately regulated, with a strong public commitment to high standards and ethical conduct.
IG is a UK company, regulated by the Financial Conduct Authority (FCA) in the UK, and, other relevant bodies across the globe. Under their Nadex brand in the US, they are regulated by the Commodities Futures Trading Commission (CFTC), and the IG Group are also signed up to the FX Global Code of Conduct, which establishes a common set of guidelines for good practice worldwide.
IG have a transparent conduct strategy in place and actively manage risk, producing monthly Key Risk Indicators (KRIs) and ensuring formal processes are in place to ensure the company's activities meet high ethical standards. The company states its public commitment to the FCAs Treating Customers Fairly (TCF) initiative and pledges to meet its obligations by providing:
Highly competent and well-trained staff
Marketing that is appropriately targeted
Fair margining
Dealing practices that are fair and reliable
Accurate and clear information.
Another operational risk facing brokers relates to web security.  IG uses top-grade 256-bit SSL encryption which is the industry standard for online financial transactions; this puts their encryption security levels in line with that of high street banks.
Our IG Broker Review details all aspects of using the IG platform for your trading.  Should you have any personal experience that would help fellow traders or indeed think we need to revise any sections of this IG Review please let us know.
Final Thoughts
The IG Group provides an excellent trading platform for almost 200,000 existing customers and would be a worthy choice for anyone considering opening a new account.
Possibly due to the length of time, they have been operating they do a lot of the simple things very well and this should not be underrated. They have access to nearly every type of instrument and market to trade. Their commissions and fees are transparent in nature and very competitive and the trading platforms and traders tools are among the best in the sector.  As a result, traders get the feel of having everything they could possibly need in one place and spending time understanding how to get the best out of the platform is likely to be time well spent.
In some areas, the firm is still catching up slightly.  With a background in CFDs and spread betting it has opportunities to improve in terms of the research materials offered on individual stocks.  The new Market Screener software brought in to address this issue displays the firm still has an appetite to innovate and grow.  Perhaps more significantly, being a well-established, the firm has the financial firepower to back up its plans.
Their Most Recent Risk Warning – January 2022
Spread bets and CFDs are complex instruments and come with a high risk of losing money rapidly due to leverage. 75% of retail investor accounts lose money when trading spread bets and CFDs with this provider. You should consider whether you understand how spread bets and CFDs work, and whether you can afford to take the high risk of losing your money.
Comparisons Against Other Brokers:
Our IG Broker Review details all aspects of using the IG platform for your trading.  Should you have any personal experience that would help fellow traders or indeed think we need to revise any sections of this IG Review please let us know.
FAQ
We Compare Brokers are proud of our IG review. We have tested all aspects from trade to platforms for your peace of mind.
FAQ's IG Broker Review
What Crypto Currency does IG.com Offer
Bitcoin, Ether, Ripple, Litecoin, Bitcoin cash, EOS, Bitcoin SV, Cardano, Monero, Stellar

Please note: Crypto Currency trading is not available in the UK
What is the average wait for a withdrawal from IG.com
4 Working Days
Does IG Offer trader education?
The training and education sections in IG are excellent, there is a range of courses and online tutorials to make your trading better. You can get advanced trading and skills through the IG Academy.


How-To Guides
Time needed: 10 minutes.
How to Set Up Alerts & Notifications on IG.com
Go to the 'alert' tab in the deal ticket.

Once in the dealing account – top right there are 3 options "Deal, Order, Alert"

Choose between price change and price level alerts.

The Price tab allows an alert for a change in price, the Indicator tab allows alerts from a multitude of indicators such as Bollinger, MACD, RSI and many more

Enter the market conditions when you want to be alerted and choose the method of being alerted

There are several configuration options between moving averages or when critical lines are crossed

You can manage and cancel existing alerts, go to 'alerts' in the fly-out menu on the left.

Its best to only have a few alerts set or you will be bombarded and could miss a critical change

Set economic calendar alerts to notify you of upcoming announcements and major market calendar announcements.

This is a very useful feature to keep tabs on when major announcements are made
GO TO THE compare brokers
Ratings
Commissions & Fees
Platforms & Tools
Customer Service
Research
Ease of Use
Mobile Trading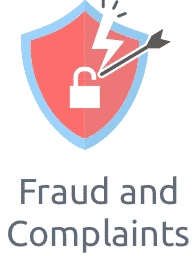 What is your experience with this broker?
With over 4,000 brokers active globally, it's good to share your experience with others. Spread the word on good or bad brokers. Disclaimer: Comments on this site are not the opinion of WeCompareBrokers and we are not responsible for the views and opinions posted by site users. If you are unhappy with any comments, please email complaints @ wecomparebrokers.com
Important: You (the person writing the comment) are responsible for any comments you post and use this site in agreement with our Terms.
Please select the second broker
Get Further Details About To Your Inbox