LCG Broker Review
Address: London Capital Group, United Kingdom 3rd Floor, 80 Cheapside, London EC2V 6EE
forex
etf
stocks
cfd
spread_bet
commodities
Spread
From 0.8 pips
Max. Leverage
1:500 Pro
Deposit Protection
£85,000
Min. Deposit
$1 USD
Spread
From 0.2 pips
Max. Leverage
1:1000 Pro
Deposit Protection
£85,000
Min. Deposit
$1 USD
Spread
From 0.15 pips
Max. Leverage
1:40 Pro
Deposit Protection
£85,000
Min. Deposit
$1 USD
Spread
From 0.7 pips
Max. Leverage
1:500 Pro
Deposit Protection
£85,000
Min. Deposit
$1 USD
Deposit Protection
Min. Deposit
Spread
From 0.9 pips
Max. Leverage
1:100 Pro
Deposit Protection
£85,000
Min. Deposit
$1 USD
Likes
Extensive product range
Research and analysis tools
Quality trading platform
Competitive spreads
Regulatory framework
Excellent 24/7 support
Our LCG review was carried out by an expert trader examining the platform, costs, instruments and benefits of trading with LCG (London Capital Group).
LCG is a UK based broker with a 20-year track record of innovation and success. It offers traders the opportunity to trade over 7,000 markets using favourable trading terms and state of the art technology. Founded on a secure and well-regulated the firm offers top-class client support through its dedicated and knowledgeable team of staff.
The firm has won many awards over an extended period of time. Picking up recognition from third-parties such as Shares and Investors Chronicle illustrates how the LCG offering has an eye on appealing to traders looking for a broker that offers a great service but is also one that aims to instil trust.
LCG offer trading in over 7,000 global financial markets. This is at the top end of the range and means they offer some instruments which other brokers don't. It's possible to trade using CFDs, spread-betting and Swap-Free formats. Markets on offer are: forex, metals, indices, shares, commodities, options, cryptocurrencies, ETFs and bonds and interest rates. In line with standard practise standard accounts have leverage capped at 1:5 and 1:30 though professional clients can look to expand these limits.
The standard pricing is in-line with market norms but those looking to take advantage of what the LCG platform offers but shave some costs can look to upgrade to become a Professional grade client. Pricing on this account is as low as the zero pips bid-offer spread in EURUSD and USDJPY.
Those taking the step up to Professional will see other costs also drop as trading size increases.
Detailing the spreads and costs on so many markets and instruments is not an easy task but LCG embrace it and provide a concise and transparent breakdown of charges. Full details are available here:
https://www.lcg.com/uk/markets/spreads-costs/
Financing fees associated with holding a position might not get the attention they deserve. These frictional costs are part and parcel of trading and overlooking them can be the difference between profit or loss on a trade. Our reviewers were particularly pleased to see these charges clearly laid out and explained in simple language and with examples to follow. Such transparency is usually a sign that a firm is confident with where its pricing sits in the market and with LCG this is certainly the case. The overnight financing rate, sometimes referred to as a rollover charge or "swaps", varies across different products. Indices and equity markets will use an underlying market financing rate, for example Libor in the UK, plus a charge of 2.5% (annualised).
Overnight financing for forex positions works slightly differently, as the applicable interest rate is calculated from the difference between the two base rates of the underlying currencies concerned, plus a charge of 1%.
What do you think of our LCG broker review so far?  Do you have experience of trading with LCG?  If so please let us know?
LCG offer client the choice of two top-grade platforms. Both of which are widely regarded across the industry. The main differentiation between the two products comes down to aesthetics and user preference and its to LCG's credit that they offer their clients a choice.
The LCG Trader platform is supported by cTrader functionality. Its appealing aesthetic backed up up powerful charting and annotation tools. It supports extensive personalisation and customisation and allows for templates to be made of favourite charts. In the background there is a range of over 70 of indicators and oscillators. They are kept close to hand but in an unobtrusive way. Ensuring that traders can remain focused on the task in hand.
The functionality which allows addition and removal of indicators is particularly user-friendly. As is the ability to zoom in and out in the same chart/time-frame.
Given that the MT4 platform is the most popular retail trading platform in the world a lot of traders will already be familiar with the benefits of using it. Available in downloadable or web-browser based format, the LCG version of the platform offers the top grade execution, analytical tools and reliability which many have come to appreciate. The range of indicators is almost endless. The standard package includes over 30 charting tools such as Bollinger Bands, RSI, MACD, Stochastics, Moving Averages and Money Flow Index.
The Oscillators on offer are designed to allow traders to find the turning moments ahead of the actual move. Trend indicators help to assess the price direction and detect the turn moments and tend to operate as lagging indicators which confirm a price move.
Another benefit of the extensive MT4 'community is that there is an almost limitless range of third-party indicators on offer in the MQL5 online store. Many of these are also provided free of charge and the ones that do levy a charge are competing in a very tough market place which requires them to be worth the money if they are to thrive.
The MT4 dashboard can be customized to suit personal taste and the razor-sharp charting tools help it stand out when compared to some other platforms in the market which can sometimes appear a little 'fuzzy'.
Customer support can be reached via Live Chat, telephone and email. Our testing established the service offered to clients was top-grade. Staff were informed and professional. Response times were super-fast and although not tested we did note that it's possible to contact the brokers dealing desk direct should an urgent situation arise.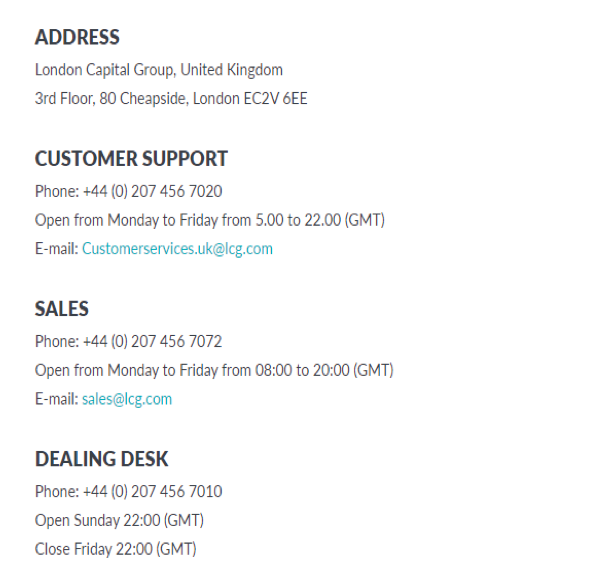 Most impressively the support is Available 24hrs a day and virtually 24/7 from 8am Saturday to 10pm Friday. This makes LCG one of the few brokers offering this level of coverage and would likely be of particular interest to traders who have a 'day job' and need to interact with broker support on weekends.
The Analysis & Research section of the site earns LCG bonus points. It offers a range of services specifically designed to support traders of all abilities. The Latest News section provides a summary of recent news events and offers pointers on how these could develop into trading ideas. Strategy planning is also helped by the Market Insight and Week Ahead videos which pick out upcoming events. These are of such value that the only criticism would be that it would be beneficial to clients if there were more on offer and if the Blog was updated more frequently.
LCG deserve credit for the high number of forex markets on which they offer detailed Technical Analysis. Their chart-based trading ideas cover on markets as varied as EUR/INR and TRY/JPY.  As a lot of brokers and research sites tend to focus on major currency pairs the provision of user-friendly Technical reports in more diverse areas of the market is a neat feature and could open the door to trading opportunities.
More fundamental aspects of trading are also covered. The Glossary, Trading Guides and Trading Videos form a comprehensive package which is ideal for beginners but also has enough weight to be of use to more advanced traders.
As LCG offer more instruments than most other brokers its good to see they support traders develop an understanding of what the markets entail.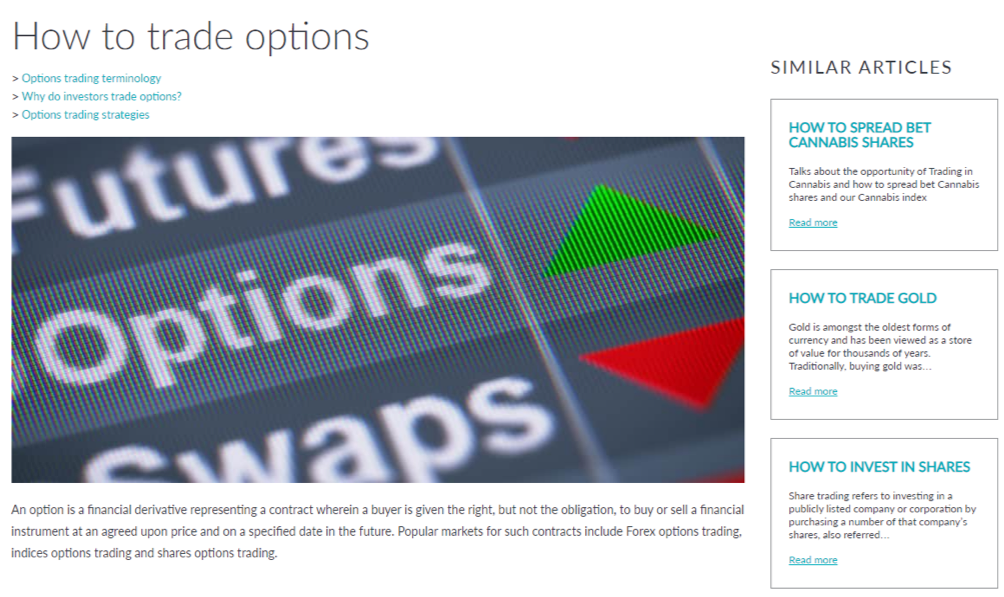 Ensuring that they cover all aspects of trader support LCG also offer Seminars and Webinars to their clients. These cover topics ranging from how to get the most out of the trading platforms to current market trends. As webinars are a very efficient means of improving understanding, LCG's decision to offer them ensures traders are fast-tracked to being put in a position to trade the markets.
LCG offer a range of accounts that is greater than most of the peer group. Its definitely an advantage for their clients to be able to select the best fit for them.
Opening an LCG account takes a few minutes to do. There is no minimum deposit and cash transfers can be processed using all major debit and credit cards, bank transfer and online payment services Skrill and Neteller.  The firm states it typically processes withdrawal on a same-day basis and once authorised can take up to 3 – 5 working days to register in a clients own bank account. Withdrawals via Bank Transfer are free of charge but there are charges for payments using 'express' style services. To ensure the process remains economically viable there is a minimum withdrawal amount and this cap is currently set at £50.

There is CFD trading, Islamic accounts and Spread-betting accounts for those in a domicile which permits it. There is also a Professional account which offers more experienced traders a range of features tailored to suit them. It is also possible to delegate account management to a third party. Completing a Power of Attorney form allowing a nominated individual, friend, family member or business partner to manage the account on your behalf. Their privileges are limited to trading activity and moving funds in, and more importantly out remains under the control of the account holder.
Something that LCG offer and not all brokers do, is the ability to open and operate more than one account and trade with more than one LCG entity.
Demo accounts are available on both the MT4 and LCG Trader platforms and offer the exact same trading experience as a live account and area a useful tool for those looking to explore what the LCG trading service feels like.

As MT4 is a third party platform users wanting to trade the web-browser version are required to set up a separate demo account to use MT4 platform. This is straightforward enough but worth knowing for those looking to follow this link to try it out.
The helpdesk offered excellent guidance to our testers so that they could navigate to that particular platform.
"You will need to access to MyLCG portal. On the menu of the left side you will see the option Create Account. You can select demo account and platform MT4.
The password you can change it anytime from MyLCG portal, and that password you can use it to access to MyLCG and to your platform MT4."
We do feel site functionality could be upgraded to make this a 'click-through' from the main platform.
The minimum system requirements are in line with industry standards:
Windows 2000 / XP / Vista / Windows 7
2 .0 GHz or faster CPU
512 MB RAM (1GB recommended)
Screen resolution 1024×768 or higher
Modem/connection speed 36.6 Kbps or faster
Google Chrome/Internet Explorer version 7.0 / Mozilla FireFox 2.0 or later (Chrome recommended for the best trading experience)
Order execution
The layout of the LCG Trader execution interface ensures it gives traders everything they could need at point of trade.
It also has some neat risk management functions to help traders avoid fat-finger error and offers all the standard stop-loss functionality that would be expected of a high-grade platform. The market flow monitor and option of one-click trading functionality being nice touches which take the LCG Platform execution experience up to the next level.
Time of trade support is boosted by the inclusion of the Trading Central monitor. Being able to access more detailed trading analysis from this well-regarded third-party provider ensures traders can run a second check of their ideas before pulling the trigger.
Calendar and Market Information monitors also form part of the execution dashboard. Information is power so providing such a comprehensive suite of resources to their traders means LCG score highly in this category.
The MetaTrader trading platform is a long established and much loved trading platform. Its popularity across the globe has formed something of a virtuous circle with its functionality being user tested by millions of traders for many years. As a result the reliability and functionality of the execution interface is a finely-tuned piece of kit.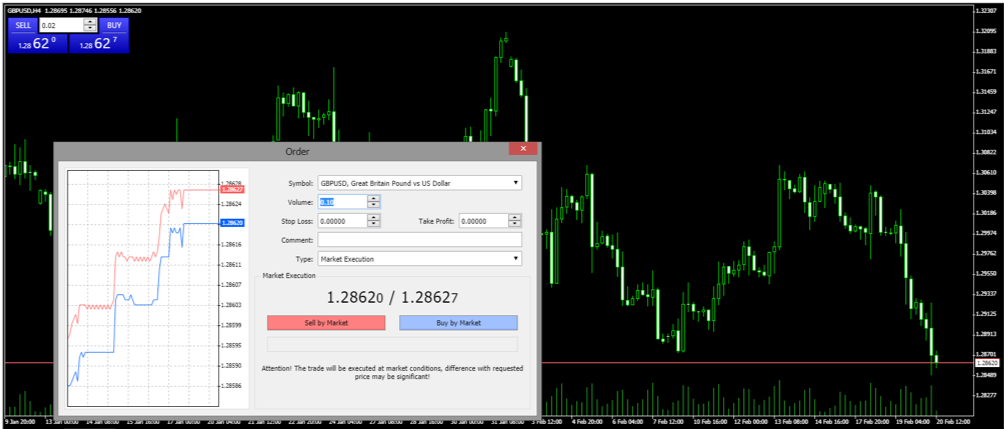 At a high level it offers a crisp aesthetic which when being used feels sharp and responsive. Risk management tools are close to hand. Stop-losses, one-click trading direct from charts, take-profits, right-click trading and price alerts / price notifications are all on hand to the trader at time of trade.
One feature that our testers found appealing was the MetaTrader 4 MultiTerminal which allows traders to simultaneously manage and trade on multiple MT4 accounts. Managing strategies and profit allocation of this kind is a useful tool for those times when traders have to look back and assess their performance.
For traders and institutions who trade large volumes and maintain an account balance in excess of $10,000 (or equivalent) LCG offers its professional ECN forex trading service. This comes complete with low commissions and volume discounts. This service is provided through the LCG Trader platform.
What do you think of our LCG broker review so far?  Do you have experience of trading with LCG?  If so please let us know?
LCG offer mobile trading for those using iOS and Android devices. There is also a very useful tutorial which introduces clients to the mobile trading experience including how to use risk management tools on handsets.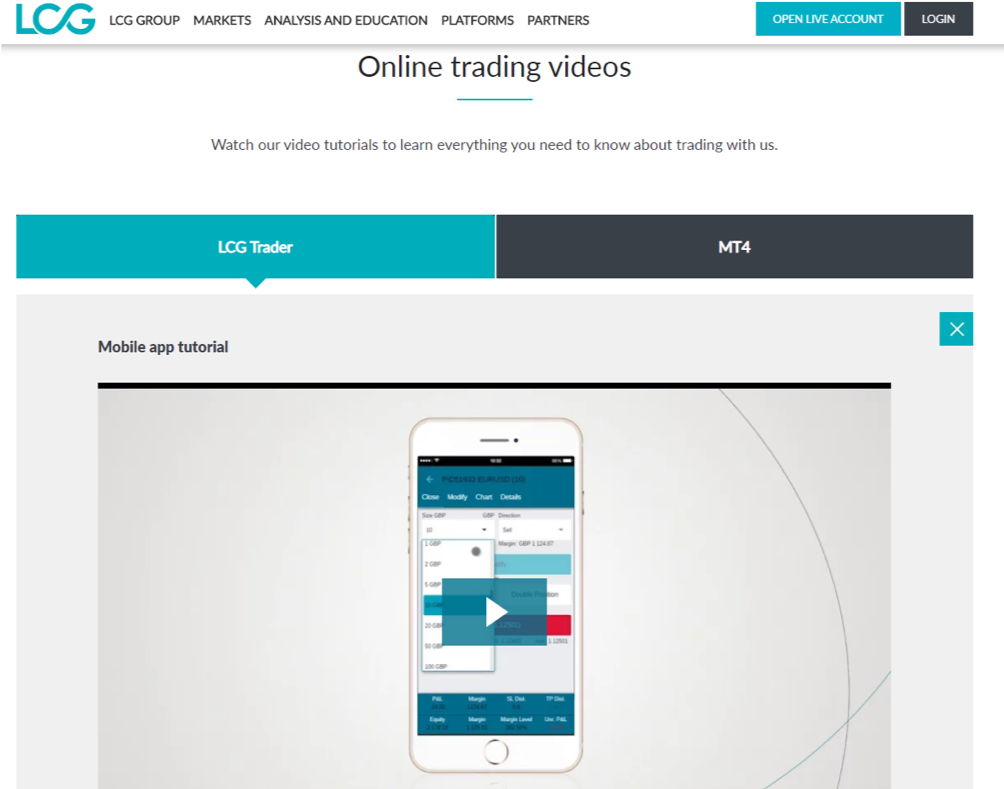 Both the LCG Trader and MT4 platforms convert well to the mobile environment and carry over from the desktop format nearly all of the useful charting tools and indicators on offer there.
Charting analysis, one-tap trading and high-speed execution are all possible and particularly user-friendly for those uses who take a bit of time to build a watchlist. It is also possible to expand charts into full-screen mode to take advantage of maximum available screen space.
Robo Trading
By offering MetaTrader MT4 LCG are providing clients with access to the highly regarded Expert Advisors package. Traders are able to design, test and implement their own trading models and can use the MQL Wizard to take some of the leg-work out of the process. Bolting trading models onto the trading system is also very straightforward. There is also the option to run models of third-parties. Something that might appeal to those looking for a more hands-off approach to gaining exposure to the markets.
Another advantage of using MQL5 language is the ability to work with the Depth of Market and access the tick history back-data. This means strategies can be developed based on price change and deal volume. MetaEditor even offers debugging and strategy testing where new models are applied to historical situations to establish how they performed.
The MT4 / Expert Advisors set up is particularly appealing to those looking to trade automatically. Given this fact its not particularly surprising, and actually quite a good idea, that the LCG Trader platform has functionality designed specifically for more hands-on traders.
Crypto Currency
Crypto trading at LCG is limited to its global clientele. Those domiciled outside the UK and EU and falling under the authorisation of the Securities Commission of The Bahamas can trade the markets offered (there are a lot of them) but customers covered by FCA and CySEC are restricted. This will disappoint some but is a timely reminder that LCG take their compliance and regulatory responsibilities very seriously.
All fans of the crypto markets will be pleased to know that the firm does offer research on the sector. Even those not directly trading the asset group can take the opportunity to keep up with how crypto plays a role in the ever-changing financial markets.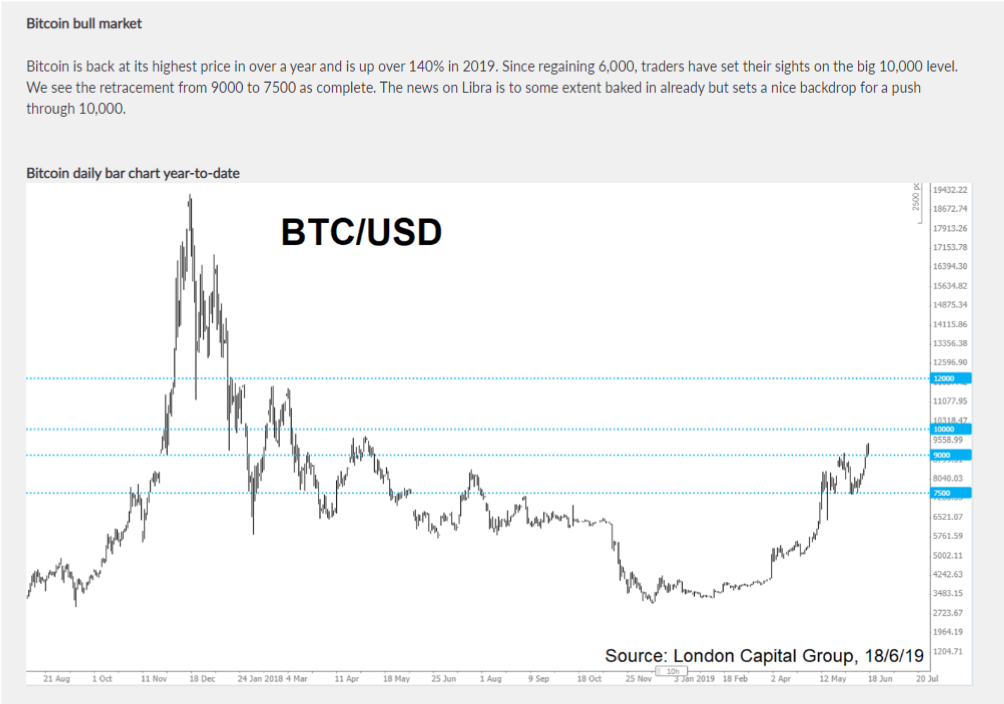 What do you think of our LCG broker review so far?  Do you have experience of trading with LCG?  If so please let us know?
Regulatory details
London Capital Group Prohibited Countries
Australia | Belgium  | Canada  | New Zealand  | Singapore  | United States
LCG score very highly in terms of their regulatory structuring. Placing money with a third party comes with some risks which LCG have purposefully set out to minimize.
As a global firm, operating in international markets LCG have adopted the approach of gaining licenses and authorisation from three global regulators. Clients will come under the jurisdiction of one of three highly regarded regulators. That allocation of client to regulator being determined by the domicile of the account holder.

The firm is regulated by the Financial Conduct Authority (FCA) in the UK. The Cyprus Securities and Exchange Commission, better known as CySEC, is the financial regulatory agency of Cyprus. Clients out of the UK / EU zone fall under the license of Securities Commission of The Bahamas.
The wide range of account types means traders do need to keep an eye on what protections may be waived in the pursuit of more direct access to the markets. There is an inevitable trade off between risk and potential reward. Trading using ECN technology for example means Professional clients trade off greater market access for the loss of negative balance protection. The ability to use guaranteed stop losses also depends on what account is selected.
Funds remain under the protection of the The Financial Ombudsman of the Republic of Cyprus, if you are registered under LCG CY and the Financial Ombudsman Service if you are registered with LCG UK. These provide €20,000 per person Investor Compensation Fund cover and £85,000 Financial Services Compensation Scheme cover, respectively.
A full breakdown is provided and is available here
LCG scores highly in terms of due diligence. One cautionary flag which did crop up during this review was that in 2018 the parent company de-listed from the AIM market on the London Stock Exchange and relisted on NEX Exchange Growth Market with the ticker LON: NXG.
London Capital Group Limited (LCG) is a company registered in England and Wales under registered number: 3218125. LCG is authorised and regulated by the Financial Conduct Authority (FCA) under the firm reference number of: 182110. The registered address for LCG Group and LCG is: 80 Cheapside, London EC2V 6EE.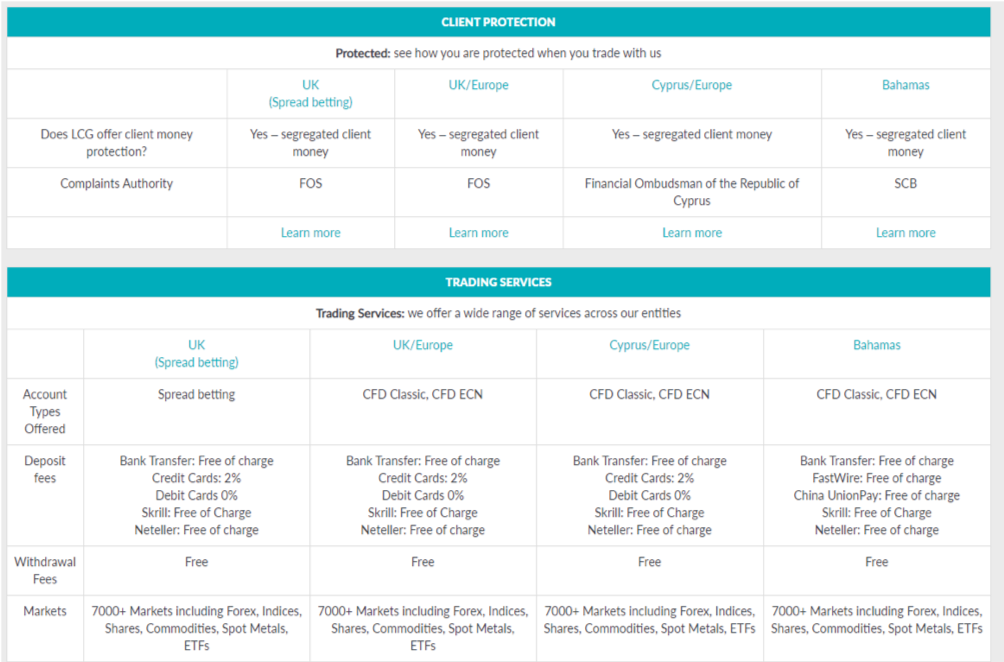 Transparency is always welcomed and clients of LCG can access a whole library of regulatory and compliance documentation. Forms detailing all the ins and outs of the trading process are clearly laid out and available at a click of a button. The Key Information documents are an example of how seriously the firm takes its responsibilities. As well as satisfying the firms regulatory conditions they are also a useful resource for those designing new trading strategies. Double-checking how the details of how the platform and markets works is always worthwhile and having the information clearly laid out helps with carrying out that task.
Final Thoughts
Our LCG Broker Review has found that the suite of products offered by LCG is very appealing. Time and resources have obviously been invested in what has become a service that is tailored to help traders get into the markets with confidence.
The background structuring includes authorisation from top-tier regulators. From that starting point, it's possible to select an account type and trading platforms that meet specific preferences. There are in excess of 7,000 instruments and standard pricing terms are competitive if not market-leading but LCG is not competing on price alone. Those who focus solely on price could consider the Professional account will tick a lot of boxes for more advanced traders.
LCG is an all-round service aimed at giving traders what they want and need to succeed.
---
Before you go…. have you spotted any data in our review which you think is inaccurate? If so please tell us 
FAQ
We Compare Brokers are proud of our LCG review. From the trades to the platforms, we have tested everything to give you peace of mind.
GO TO THE compare brokers
Ratings
Commissions & Fees
Platforms & Tools
Customer Service
Research
Ease of Use
Mobile Trading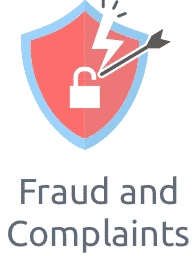 What is your experience with this broker?
With over 4,000 brokers active globally, it's good to share your experience with others. Spread the word on good or bad brokers. Disclaimer: Comments on this site are not the opinion of WeCompareBrokers and we are not responsible for the views and opinions posted by site users. If you are unhappy with any comments, please email complaints @ wecomparebrokers.com
Important: You (the person writing the comment) are responsible for any comments you post and use this site in agreement with our Terms.
Please select the second broker
Get Further Details About To Your Inbox