Trade Nation Broker Review
Address: 9th Floor, 30 Crown Pl, London EC2A 4ES
Spread
Fixed – Trade Nation platform | Variable – MT4 platform (current promotion – zero spreads, $0 commission)
Max. Leverage
1:30 in the UK. Other countries have different leverages
Deposit Protection
£85,000 deposit protection under UK regulation. Customer Money accounts segregated.
Min. Deposit
None
Spread
Fixed – Trade Nation platform | Variable – MT4 platform (current promotion – zero spreads, $0 commission)
Max. Leverage
1:30 in the UK. Other countries have different leverages
Deposit Protection
£85,000 deposit protection under UK regulation. Customer Money accounts segregated.
Min. Deposit
None
Deposit Protection
Min. Deposit
Likes
Easy to understand spread prices
No minimum deposits
In-depth FAQ section to help new traders
Excellent customer support
Dislikes
 UK traders can't use the rewards programme due to regulation
Trade Nation is a broker that was formed in 2020. It's located in London and is operated by Finsa Europe Ltd. It is the rebranding of Core Spreads, which operated until 2019. Finsa Europe Ltd is a well-regarded company and the rebrand means that Trade Nation is able to move forward with a name that is more globally recognised.
Trade Nation is growing in terms of its reputation, with there being talk of it being put forward for industry awards in the near future. Core Spreads did manage to win a best forex broker award in 2017, so Finsa Europe Ltd does have form for bringing in awards.
There's a number of different options offered by Trade Nation for traders. It has fixed spreads in place on its proprietary cloud platform, which means that there's no confusion about the costs for opening and closing positions. Trade Nation offers CFDs and Spread Trades across several different asset classes including equity indices, FX, individual shares and commodities. It means that there's a good range of choice for traders with costs kept relatively low.
Trade Nation ensures that traders are kept safe and secure when trading. There's a number of different features in place to ensure that traders don't have to worry when using Trade Nation's services. The site has an SSL certificate in place, which is vital for the encryption of incoming and outgoing data. It also has deposit protection under the its UK licence and segregates customer money from operational funds. The customer service at Trade Nation is also excellent, with it guaranteeing that it will use real people and never bots.
Trade Nation doesn't charge a fee to traders when making deposits or withdrawals. This is an obvious positive as it means that traders won't have to work out the profit margin while also taking extra fees into account. There are no commissions on trades when trading at Trade Nation. In fact, there are just two areas where fees come into play.
The first is through spreads. At Trade Nation, the spreads are fixed and are generally at a low level on its proprietary platform. MT4 users have variable spreads, but a current promotion has set the spread at zero, with $0 commissions. A high leverage account will have lower margins in place, but UK traders only have access to the low leverage account due to regulation. This means that even though the spreads are fixed for both accounts, UK traders will have slightly higher margins than traders in other territories.
There is an overnight financing charge for traders who hold positions overnight. This obviously increases the costs on long-term holds.
Outside of the UK and Australia, traders can also benefit from the firm's very generous loyalty program. You can earn a significant cashback reward of up to 20% of your spread traded each month. The pay rates vary from 2% to 20%, depending on the number of points earned. The credit is applied to the next month's trades. There is an upper limit of US$2,500 per month.
On the whole, the fees in place at Trade Nation are very low. This makes it one of the most competitive brokers in the market.
Platforms and Tools
Trade Nation offers traders two distinct platforms to trade with. The first is MetaTrader 4 (MT4). It's always a positive to see this available to traders due to it being the industry standard. MT4 doesn't just allow traders to make lightning-fast decisions on trades and positions, but it also has a number of analytical tools in place to make it easier for traders to find out any information they feel will help them with their trades. It features plenty of different indicators, customisation options and trading robots. Traders can also change the layout to be how they prefer, meaning that it can be fully crafted to each individual's needs. For tech-savvy and experienced traders, there is also a programming language available that allows for the opportunity to create code snippets that will carry out certain trading actions based on market conditions. Spreads are variable, but a current promotion has set the spread at zero, with $0 commission.
There's also a Trade Nation platform available. While it's slightly different from what MT4 offers, it still gives traders a range of features that make it extremely useful. While experienced traders might lean towards MT4, Trade Nation is excellent for beginners, and there are a number of different videos available on the Trade Nation site to teach traders how to use it. Spreads are fixed at low amounts, with $0 commission.
Markets
There's a big range of choice available for traders with the markets. There are lots of different FX pairs for traders to use. EUR, GBP, USD and other pairs are all on offer, giving more than 30 different pairs in total.
Traders are also able to trade with a massive range of indices. It covers a lot of different choices, with traders able to trade in metals, differentials, energy, bonds and more. Trade Nation makes it clear to traders when they are able to trade the different indices, so there is no confusion about what can be traded and when.
Trade Nation also allows traders to trade a wide selection of shares. Just like the other trading options, this covers a range of different choices. It's also made perfectly clear when the shares can be traded and when the different exchanges are open.
There's excellent customer service available at Trade Nation. It offers both the ability to get in touch via email and through a dedicated phone number. What's great to see is that Trade Nation makes it clear that it doesn't use chat bots. Whenever customers have an issue, they will always be talking to a real person. This ensures that the level of support that is offered is always at a much higher level than sites that use chat bots.
The support is available 24/5 to traders. It starts being offered at 22:00 GMT on Sunday and closes down at 22:00 GMT on Friday. During this time, emails can still be sent, but they won't be read until the support starts up again.
The research that's offered by Trade Nation is okay, but it is slightly behind some other sites on the market. It allows beginner traders to access a number of different beginner articles that teach the basics of trading. This covers four main areas:
CFD Trading
Forex Trading
Spread Trading
Trading Signals
In the beginner section, there is also a 'how to get started trading' article and a very detailed FAQ section. The FAQ section covers a number of different areas. While it helps beginners with details that are related to starting out trading, it also has a number of different answers to important questions. If beginner traders are struggling with aspects relating to how Trade Nation operates, then it can easily be fixed here.
Trade Nation also has a more advanced research section that covers the latest news, explanations from experts on trading issues, and stories from traders. It offers more of a blog and article style of research than other sites on the market. Trade Nation also provides free daily trading signals, which cover major index, currency, and commodities markets.
Because Trade Nation also offers MT4 as a trading platform, there are a lot of analytical tools here that can be used for research of the markets. This won't be too useful for beginner traders at first, but for more experienced traders, this can provide some very useful help. There is a demo account available so that traders can get used to how the platform works and start to learn the basics of trading.
While there is a fair amount of research available here, it doesn't quite have the quality that other sites offer. There's not much in terms of an educational curriculum, and dedicated videos for traders are only offered in the platform section. This means that in terms of overall help for traders, it doesn't quite match up to the best brokers out there. This is a little bit of a negative, but on the other hand, it doesn't actually impact on the actual broker section of the site. It does mean that traders will need to visit other sites in order to carry out detailed and in-depth research, but this is a minor issue.
The Trade Nation website is quite nice-looking. It is not overly bright and is very easy to read. Navigation is relatively simple, with drop-down menus appearing when you hover over the different headers at the top of the page. There is a bit of lag when scrolling down the page. This comes from the header following you and it creates some issues with placement on the site. However, it is relatively easy to make your way around the site, and once you get used to the lag, it doesn't provide too much of a problem.
By using either MT4 or the Trade Nation bespoke platform, traders are able to easily access the trading options on offer. This means that single-click trades can be carried out with low fixed spreads on the Trade Nation platform and variable spreads on the MT4 platform (current promotion – zero spreads with $0 commission). The analytical tools are also easy to access when using either platform that's on offer.
There are high levels of security in place. This starts with the SSL certification. This is one of the most important aspects of website design as it provides encryption instantly to all connections. On top of this, Trade Nation also has £85,000 compensation scheme under UK regulation, so traders contracting with the UK entity are protected if the broker was to go into liquidation.
It's easy to get access to the legal section at Trade Nation with links available at the bottom of the page. There's also a page covering all of the regulatory information as well as a quick snapshot of regulation info at the bottom of the page.
While it would be nice to have a bit more choice, such as an Islamic account, Trade Nation does keep things simple with just a single trading account. While there are benefits to just a single account being offered, it does have drawbacks.
There's also very easy-to-use support, with all details available to traders through the Trade Nation website.
It's very simple to create an account with Trade Nation. The 'Join us' button at the top right-hand corner of the screen will take traders to a new page. Here, they will have to enter their name, username and password. As long as the username is unique, this will take traders to another page where they will have to enter more information. Once this has been processed, there is a small verification period where traders will have to provide information to prove who they are. This is due to the Know Your Customer (KYC) protocols that are in place. This may seem annoying, but it's good to see that Trade Nation takes the security of its customers seriously as well as abiding by the regulations that are in place.
Once traders have an account and it has been verified, they will be able to begin trading. Deposits can be made using a number of different payment methods. It should be noted that there is no minimum deposit, but traders do have to have sufficient funds on account to cover the margin requirements of trades they wish to place.
One area that is a little bit of a hassle is the withdrawal process. Withdrawals are made to the method that was used for deposits. However, if multiple deposit methods are used, the withdrawal will be split up between the different methods in order to cover the deposit amounts. This can lead traders to sometimes wonder where their money is, so it's important to check over the different methods after making a withdrawal.
There are four different countries in which Trade Nation is available: the UK, Australia, The Bahamas and South Africa. There is a loyalty scheme available to traders – however, the FCA prohibits this form of reward for UK traders, so it's not available in the UK.
The mobile trading at Trade Nation is fantastic. As standard, MT4 is available to be used through a mobile app. This provides the vast majority of the features that it offers on desktop. It does work better on tablets due to the larger screen, but with modern mobile phones offering bigger screens than ever, this isn't much of an issue anymore. The Trade Nation app is also available and it offers a very smooth performance. It's just as simple to use as the desktop version and is extremely responsive. Just like the desktop options, the Trade Nation app is probably better for beginners, while the MT4 app will offer more experienced traders a better option.
Robo Trading
When it comes to robo trading, there isn't a dedicated option for this in Trade Nation itself. However, the ability to use this feature is offered by MT4. There are a number of built-in robo traders in the MT4 platform, but on top of this, there's also the ability to code your own robo traders. This is obviously only for experienced traders who are also very tech-savvy. There is also the ability to purchase robots, which means that if another trader has developed a successful robot, it can be added to your MT4 platform. This means that experienced traders who don't have the coding skills to develop their own platforms will still be able to add high-performing robo traders.
Crypto Currency
Crypto is an area that Trade Nation doesn't really cover. This is a bit of a negative as crypto is definitely a growing market.
Regulatory details
Trade Nation is regulated by four different regulators across the four different territories that it trades in.
In the UK, it is regulated by the FCA with the reference number 525164
In Australia, it is regulated by ASIC with the reference ACN 158 065 635, AFSL No. 422661
In South Africa, it is regulated by the FSCA with the reference FSP No 49846
In The Bahamas, it is regulated by the SCB with the reference SIA-F216
It shows that it takes regulation seriously and will abide by the legislation in place depending on the territory in which it is operating.
Final Thoughts
While Trade Nation may appear to be a new broker on the market, it actually has a number of years' experience through its previous incarnation. With a number of different regulatory licences in place, it shows that it is both trustworthy and secure. It has also managed to win awards in its previous incarnation.
There are some negatives in play that drag it down a little bit. The site can be a little bit clunky when scrolling, but this doesn't actually have an impact on trading, so it's not too big a deal. Customer service not being 24/7 is also a drawback. The lack of crypto trading options is also something that could dissuade traders, especially as crypto trading is becoming a hot topic. The loyalty scheme not being available in the UK is also a little bit of a negative.
On the whole though, Trade Nation offers a good choice for traders. There's a good range of different instruments, low fees with fixed spreads, and two excellent platforms from which to choose. No minimum deposit means that the barrier to entry is much lower than a lot of other traders. This means that overall, traders have some great options when trading with Trade Nation and beginner traders are particularly well looked after here.
FAQ
Welcome to the We Compare Brokers Trade Nation review. We break down exactly what this broker has to offer in our in depth analysis below.
GO TO THE compare brokers
Ratings
Commissions & Fees
Platforms & Tools
Customer Service
Research
Ease of Use
Mobile Trading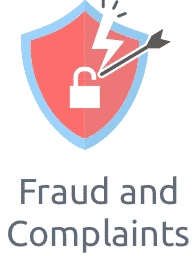 What is your experience with this broker?
With over 4,000 brokers active globally, it's good to share your experience with others. Spread the word on good or bad brokers. Disclaimer: Comments on this site are not the opinion of WeCompareBrokers and we are not responsible for the views and opinions posted by site users. If you are unhappy with any comments, please email complaints @ wecomparebrokers.com
Important: You (the person writing the comment) are responsible for any comments you post and use this site in agreement with our Terms.
Please select the second broker
Get Further Details About To Your Inbox