T1Markets Broker Review
Address: T1 Markets is the trading name of General Capital Brokers Ltd. 29, Theklas Lysioti Street Cassandra Centre Office 202 Limassol, CY-3030, CYPRUS
forex
stocks
cfd
crypto
commodities
Spread
From 0.03 pips
Max. Leverage
1:500
Deposit Protection
€20,000 EUR
Min. Deposit
$200 USD
Spread
From 0.03 pips
Max. Leverage
Instrument specific rates not specified
Deposit Protection
€20,000 EUR
Min. Deposit
$200 USD
Spread
From 0.03 pips
Max. Leverage
Instrument specific rates not specified
Deposit Protection
€20,000 EUR
Min. Deposit
$200 USD
Spread
From 0.03 pips
Max. Leverage
Instrument specific rates not specified
Deposit Protection
€20,000 EUR
Min. Deposit
$200 USD
Spread
From 0.03 pips
Max. Leverage
Instrument specific rates not specified
Deposit Protection
€20,000 EUR
Min. Deposit
$200 USD
Likes
Market leading web-trader platform
Research and learning tools have a focus on trade-idea generation
User-friendly site layout ideal for beginners
Dislikes
Live Chat support response times weren't great
Demo account requires full onboarding to be completed
Introduction
T1Markets is a relative newcomer to the broking sector but has an approach which will make it very popular.
The service is based on providing a top-grade platform, thousands of tradable markets and a new take on research which includes providing clients with lots of exclusive trading ideas.
On top of that has the strength and security that comes from being regulated by a tier-1 regulator, CySEC (Cyprus Securities and Exchange Commission)
T1Markets is the trading name of General Capital Brokers Ltd (GCB) with Registration Number HE345774 regulated and authorised by the Cyprus Securities and Exchange Commission under license number 333/17.
The fee structure and T&Cs section at T1Markets is exceptionally easy to understand.
The three accounts, Silver, Gold and Platinum have their terms laid out side by side making a comparison very easy to do. The headline rates on spreads, which start at 0.03pips also ensures a positive result when compared to some other brokers.
The terms on the Pro account are even more eye-catching.
In line its peer group the broker T1Markets uses variable spreads. This allows the broker to offer its clients tighter spreads when market conditions allow.
It's also the case that all charges are incorporated into the headline spread. The fact that there are no additional commissions or charges to factor in making break-even analysis a much simpler task.
T1Markets provide their clients with the desk-top-downloadable and the browser-based access-from-anywhere version of MT4, the world's most popular retail trading platform. Whichever you choose, just log in and gain first-class access to the markets.

There Web-Trader version of MetaTrader's flagship platform is packed with all the functionality and gadgets of the desktop version. The MT4 default settings include more than 30 technical indicators including Fibonacci retracements and moving averages. All designed to give you the optimal analysis of trading conditions.
The MT4 platform has been dominant for many years. Its popularity based off the combination of razor-sharp graphics and trading tools which are tried and tested. On top of that are a list of instruments tailored to finding trade entry and exit points.
The execution interface is highly adaptable and the epitome of reliable. With millions of users having tested the platform for more than a decade it has been tested to destruction and still does the job for the majority of traders in the market. Other features include:
Multiple chart windows to compare various assets
Real-time balance level
Updates on trading conditions
In-platform price alerts
1 tap account switching
Despite being developed some years ago MT4 still sets the benchmark for a lot of trading dashboard functionality. The ability to switch monitors and adjust indicators is seamless. If you are going to get to know and trade off one platform then the web-based MT4 would probably be the one to choose.
One strong point relating to MT4 is the ability of traders to run their own automated models. Those with their own algorithmic programs, or indeed those of others they are 'copying' can use MT4 to take a more 'hands off' approach to trading.
Markets
Considering T1Markets are something of the new kid on the block they've certainly announced their presence by offering a comprehensive range of markets to trade. From forex to stocks and commodities to crypto. All the major asset groups are covered.
There are more than 45 forex pairs to choose from and includes some of the more popular exotic blends such as CAD/JPY.
Crypto is where T1Markets stand out. The firm offers more than 30 cryptocurrency markets which makes it a natural home for traders looking to gain access to a wide range of digital-currency markets.
Indices – Over 20 major world indices, from ASX100, DAX 30, and DOW 30 to FTSE 100, NASDAQ 100.
Stocks – More than 45 stocks and shares traded in super-friendly CFD format.
Metals – T1Markets offers more than 20 metal markets including CFDs in gold, silver, and platinum.
Commodities – more than 20 markets including oil and soft commodities.
Our testing format found the customer service provided by T1Markets to be satisfactory. Staff were professional and knowledgeable but response times, particularly using Live Chat were longer than industry average.

As mentioned previously the firm is a relatively new operation and some teething problems can be expected and it can only be imagined this feature of the service will benefit from an upgrade. The support team are contactable from 07.00 – 17.00 GMT which also falls short of the 24/5 which has become something of a market norm.
Saying that some brokers don't offer telephone support so T1Markets gain points there and the email contact option is a nice fall-back for more detailed and less time-sensitive queries.
Support and website language options include: English, Spanish, Portuguese, Italian, German and Swedish.
There is plenty of research and leaning material for beginner and more advanced level traders. One positive note is that it is heavily weighted towards trading and trade ideas.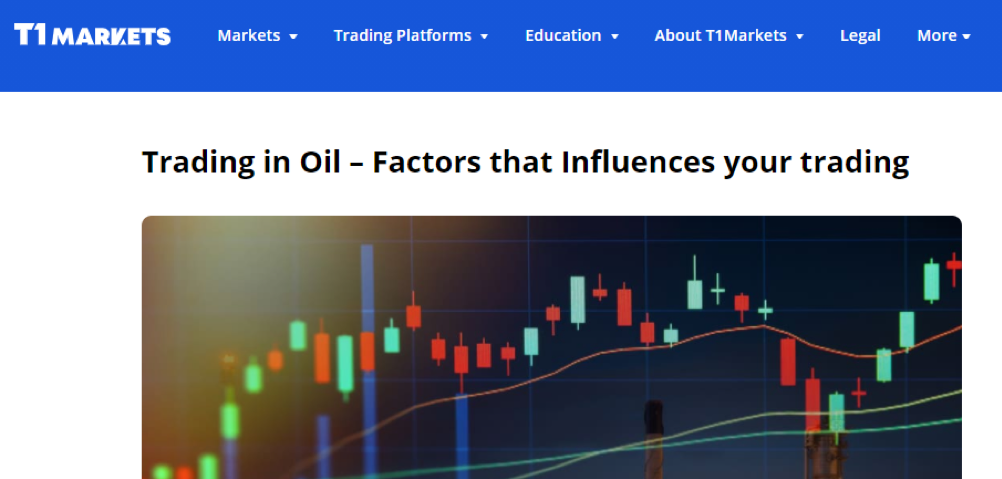 There is an abundance of "How things work …" style material available in the video-based VOD section.
The list of training aids extends to ebooks, tutorials, webinars an economic calendar and a section specifically covering earnings season.
Although all of the material mentioned so far is a great support package for traders the jewel in the crown is the Signal Centre software package found under the 'Trading Signals' tab on the Learning homepage.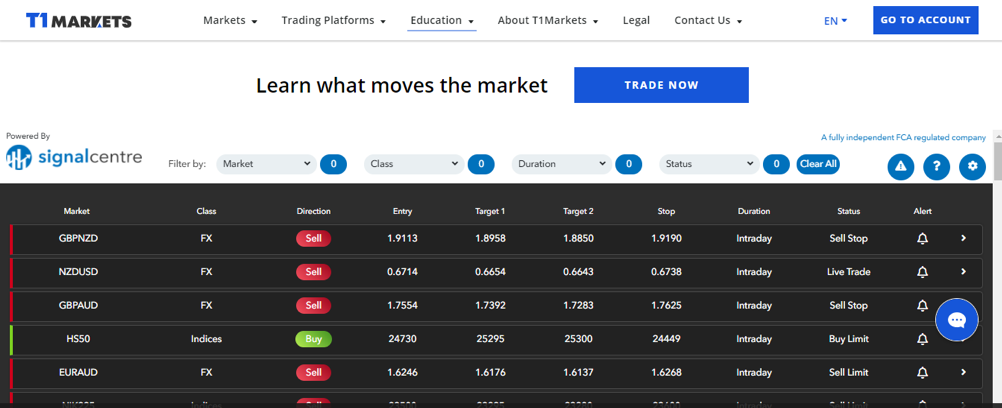 This monitor scours the markets for price data and uses that information to project the direction of the next move. It is free to use and covers markets from NZDUSD to the HS50 Hand Seng equity index.
Filters allow you to dice and slice the data to your personal taste and get a professional insight into the markets you want to trade.
It is a great tool that will be welcomed by all grade of trader and justifies the broker's claim that their research is "ground-breaking".
The registration process is very user-friendly. There are drop down bars to offer clarity on what is required and these were very effective at speeding things up.
The help was most welcome because with one eye on demonstrating good compliance the broker does require you to complete onboarding to access the Demo account. There are benefits from doing this. As and when you come to switch to Live trading all the ground work has been done.
You are not required to fund your account, just complete the onboarding process. Whilst this ticks the boxes in terms of compliance reporting it can be slightly frustrating to fill in the required forms when really all you want to do is test the systems.
Those systems to test are though worth the time and effort. T1Markets offer traders a very user-friendly suite of reports. Trading history reports cover your trade operations. This includes numbers of lots and all the details of your trading history and allow you to remain in complete control of your profit and loss reporting and analysis.
One other benefit of competing the somewhat daunting onboarding process is that you are then allocated a dedicated account manager. This means a helpful member of the T1Markets team will call you soon after you've completed the form filling to guide you onto the platform.
Funding of accounts can be done using the usual mainstream payment providers but T1Markets also offer clients a wide range of other payment options. These range from Bank Transfer, credit and debit cards to more bespoke systems such as Klarna.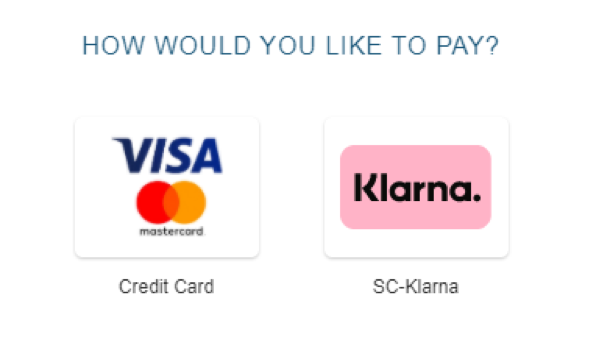 Payment methods available include:
Visa / Mastercard
Neteller
Skrill
Wirecard
DECTA
Orangepay
Trustly
VPay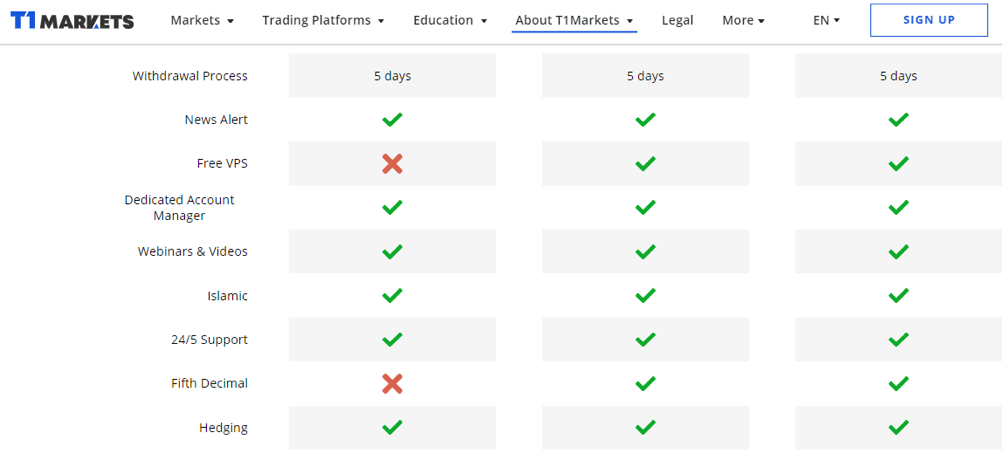 Account funding can be done using GBP or EUR and the minimum balance is £195 and €215.
Order Execution
The quality of the trade execution interface is one of the reasons MT4 is such a popular system.
Trade instruction options extend to Instant Execution, 1-click trading, 2 markets, 4 pending and 2 stop orders and not forgetting the trailing stop function.
Those trading manually will soon come to appreciate the industrial ruggedness of the execution process. It's possible to build more complex orders but pulling the trigger on a trade has a reassuringly robust feel to it.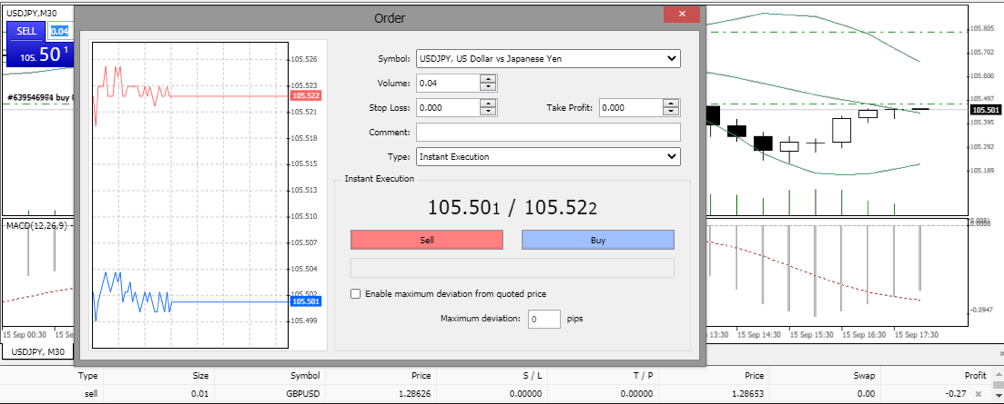 The automated trading functionality covered in the Robo-Trading section outlines how the MT4 platform is the industry standard in terms of automated trading.
Account holders at T1Markets can even take this further and utilise the VPS trading systems of the broker. There is value in seeking out whatever competitive advantage you can so having this option is a great feature. Depending on which account option you select you might even get the VPS service free of charge.
Silver:
Free Virtual Private Server (VPS): No
Swap discount: 0 %
Spread: 0.07
Leverage: 1:200
Gold:
Free VPS: Yes
Swap discount: 25 %
Spread: 0.05
Leverage: 1:400
Platinum:
Free VPS: Yes
Swap discount: 50 %
Spread: 0.03
Leverage: 1:500
Leverage terms are in line with the market standard. T1Markets operates under license from an EU regulator so leverage is capped at 1:30 for beginner accounts. Those who apply for Professional trading accounts can scale up their risk return and trade leverage up to 1:500.
The T1Markets mobile trading experience is delivered via the MetaTrader App. This is can be downloaded for no charge and is compatible with Android and iOS devices.
Like the big-screen platform, the mobile version offers a smooth trading experience laid over incredibly powerful trading software.
Most of the 30 standard issue indicators and charting tools are included.  There are also 24 of the most popular analytical objects.
Channels, Gann, Fibonacci and Elliott Waves can all be applied and its possible to open up to 10 windows at any one time.
As the web-trader version of the full MT4 platform is available through any browser it is also possible to log on via any internet browser, on any device.
Robo Trading
MetaTrader 4 has for some time been seen as the market leading platform for automated trading. Not only does the technical architecture form an ideal place for algo models but the continued success of the platform has led to a community of traders building up around the platform.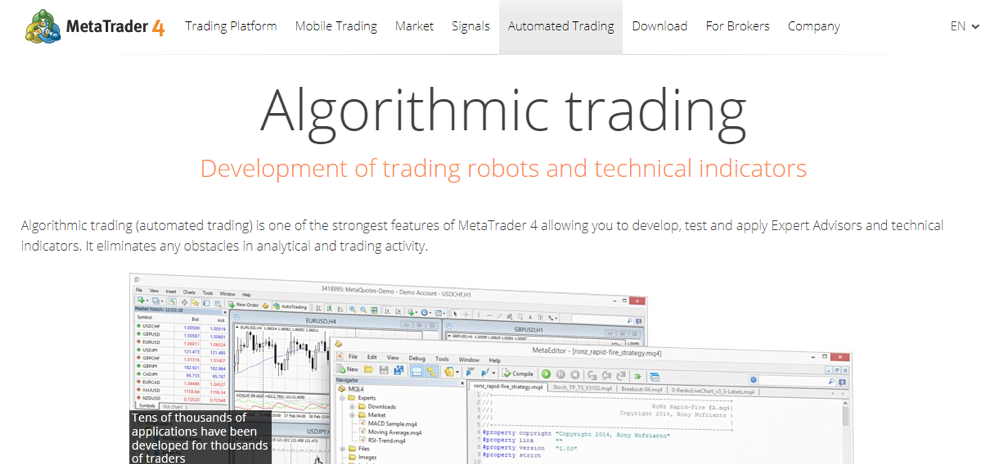 The MQL5 site supports those willing to learn about Robo trading or indeed share ideas they have developed. Some tools and strategies are offered free of charge and all lead to a more hands-off style of trading.

The Expert Advisors service allows MetaTrader users to take trading signals from third parties and apply them to their account. This is by no means risk free but can be an interesting angle for beginners to pursue.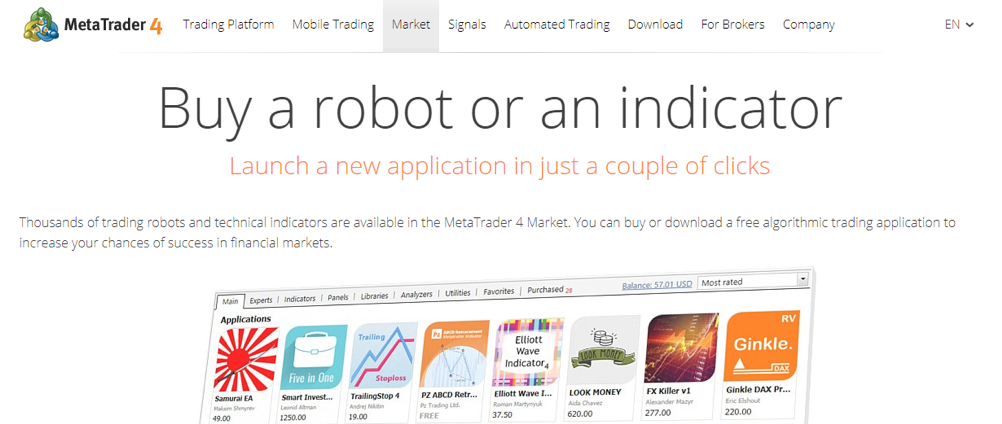 Crypto Currency
There number of cryptocurrency markets offered by T1Markets will catch the eye of those who favour trading digital currencies. With over 30 markets to choose from its possible to catch trends in the mainstream coins such as Bitcoin and Ethereum but also take positions in specialist alt-coins.
All these markets are known to have extreme price volatility but although it's very much a case of 'buyer beware' that volatility can transfer into significant profits if you call the trade right.
The fact that cryptos at T1Markets can be traded as CFD's means the process of taking a position is very user-friendly and even opens up the opportunity for selling-short as well as buying-long.
Regulatory details
T1Markets Prohibited Countries
Standard ESMA terms apply
T1Markets is the trading name of General Capital Brokers Ltd (GCB) with Registration Number HE345774 regulated and authorized by the Cyprus Securities and Exchange Commission under license number 333/17.
CySEC is regarded as a Tier-1 regulator and the license obtained by T1Markets means they can 'passport' their services into other EU countries. More importantly, clients in EU countries will as a result benefit from regulatory protection.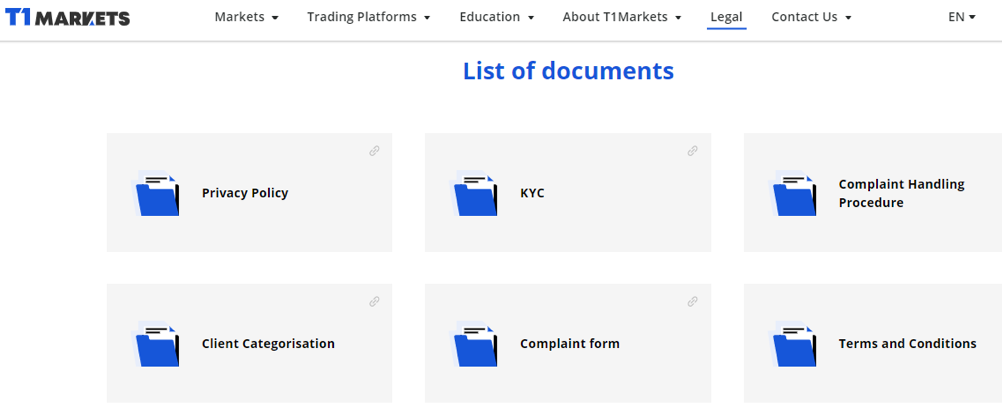 There are 22 documents in total covering topics ranging from the 'Complaint Handling Procedure' to 'Key-Information' on stocks.
When it comes to client protection transparency is the main thing and T1Markets are certainly that.
Even a cursory glance through the library of docs shows the firm is aware of the need to not only be regulated but to take that responsibility seriously.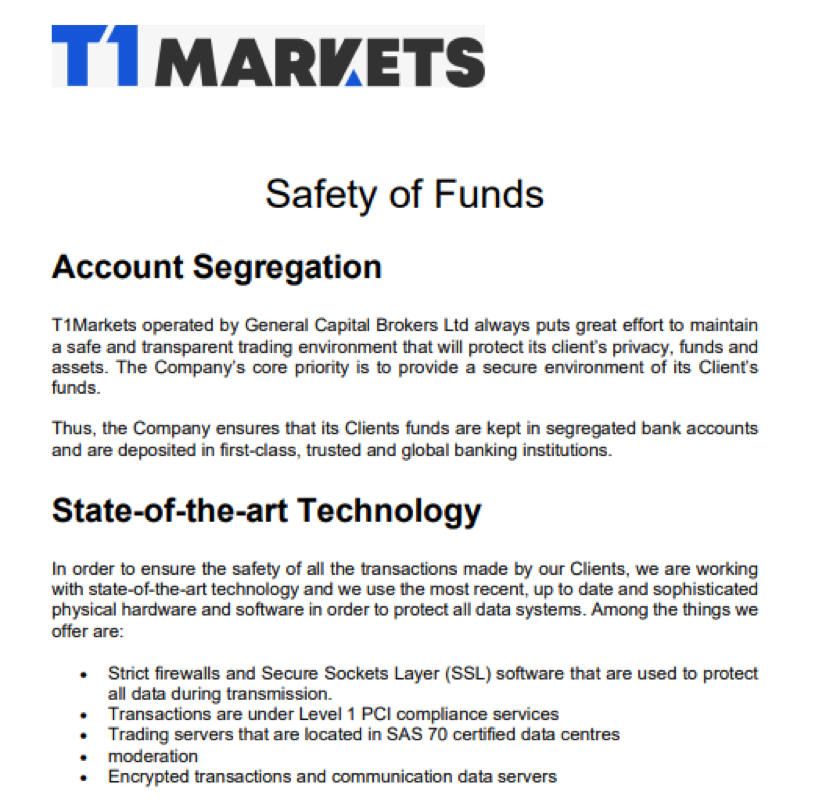 Client funds are protected by standard CySEC protocols and the firm also prides itself on the level of cyber-security is has put in place to protect its platform.
Final Thoughts
T1Markets is a relatively new broker and it shows. There are a lot of really neat innovative features and the whole trading experience is a smooth ride which has been designed using the latest software tools. There are also a few (but not many) areas of the service which we expect to be upgraded as things settle down.
One notable plus point, particularly for those who are new to trading is the research section. The Signal Centre dashboard going someway to answering the question often asked by beginners – how do I spot the time to trade?
Signal centre offers not only trade entry points but also Target 1 and Target 2 exit points as well.
The regulatory protection is as good as it could be. As a broker starting out there is only need for one regulatory license and the CySEC protection is completely appropriate for its current client base.
---
Before you go…. have you spotted any data in our review which you think is inaccurate? If so please tell us 
FAQ
Welcome to the We Compare Brokers T1Markets review. We have covered all brokerage aspects in detail to help you make the right decision.
GO TO THE compare brokers
Ratings
Commissions & Fees
Platforms & Tools
Customer Service
Research
Ease of Use
Mobile Trading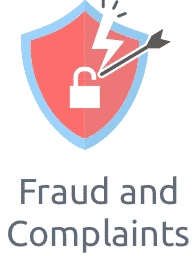 What is your experience with this broker?
With over 4,000 brokers active globally, it's good to share your experience with others. Spread the word on good or bad brokers. Disclaimer: Comments on this site are not the opinion of WeCompareBrokers and we are not responsible for the views and opinions posted by site users. If you are unhappy with any comments, please email complaints @ wecomparebrokers.com
Important: You (the person writing the comment) are responsible for any comments you post and use this site in agreement with our Terms.
Please select the second broker
Get Further Details About To Your Inbox