XM Broker Review
Address: Cyprus: 12 Richard & Verengaria Street, Araouzos Castle Court, 3rd Floor, 3042 Limassol, Cyprus. Australia: Level 13, 333 George Street Sydney, NSW 2000, Australia.Belize: No.5 Cork Street, Belize City, Belize, C.A.
forex
stocks
cfd
commodities
**Trading Point of Financial Instruments Ltd is a member of the Cypriot Deposit Guarantee Fund (ICF) which protects clients funds up to €20,000 EUR.
Spread
Variable
Max. Leverage
30:1*
Deposit Protection
€20,000 EUR**
Min. Deposit
$5 USD
**Trading Point of Financial Instruments Ltd is a member of the Cypriot Deposit Guarantee Fund (ICF) which protects clients funds up to €20,000 EUR.
Spread
Variable
Max. Leverage
1:888 Pro
Deposit Protection
€20,000 EUR**
Min. Deposit
$5 USD
**Trading Point of Financial Instruments Ltd is a member of the Cypriot Deposit Guarantee Fund (ICF) which protects clients funds up to €20,000 EUR.
Spread
Variable
Max. Leverage
1:888 Pro
Deposit Protection
€20,000 EUR**
Min. Deposit
$5 USD
**Trading Point of Financial Instruments Ltd is a member of the Cypriot Deposit Guarantee Fund (ICF) which protects clients funds up to €20,000 EUR.
Spread
Variable
Max. Leverage
1:888 pro
Deposit Protection
€20,000 EUR**
Min. Deposit
$5 USD
Likes
Meta Trader MT4 and MT5 platforms
Excellent and engaging research materials
Negative Balance Protection
A global outlook – regulatory framework includes ASIC and CySec
Automated trading via MetaTrader
Dislikes
A mediocre number of markets to trade
Pricing at times wider than it might be
Not a publicly listed company
No Crypto offering
Our XM review was carried out by an expert trader examining the platform, costs, instruments and benefits of trading with XM.com.  XM operates globally and has over 2,500,000 clients. Founded in 2009 their growth has been largely driven by doing the simple things well. In a very competitive sector, the XM group have thrived by offering a high-level service and providing it within a straight forward framework.
Demonstrating its international appeal the firm is regulated and authorised by a range of financial authorities including ASIC in Australia (Trading Point of Financial Instruments Pty Limited), by CySEC in Cyprus (Trading Point of Financial Instruments Ltd) and by IFSC (International Financial Services Commission – 000261/106) in Belize (XM Global Ltd). It has a variety of trading names across different markets, the extent of the XM network being demonstrated by the fact the group has clients in more than 196 countries and offers client support in over 30 languages.
Client focus is important and our XM review writer says that it is at the forefront of XM.com's priorities. The firm sets out to ensure its reporting is transparent and that clients receive the best service possible regardless of the size of their account. There are opportunities for traders to attend roadshow events and meet face to face with XM staff.
The straightforward support extends to the trading experience. There are over 1,000 instruments available to trade using market-leading platforms. Account registration and administration is designed to be as low-maintenance as possible and clients benefit from negative balance protection.
There is an extensive range of research materials available and 24/5 customer support. Novice and experienced traders alike will find the functionality of the site helps them get to where they want to be.
XM's 2 million-plus client base represents a significant achievement for any broker. Recognition though also comes in the form of the many industry awards XM has won. Showing no signs of resting on their laurels the group has continued to collect prizes including in 2019, Best Broker award by FinTech Age Awards 2019, Best FX Broker, Europe by World Finance Awards 2019 and Best FX Broker, Australasia by World Finance Awards 2019.
The commissions and fees vary across the different XM accounts. In an effort to offer clients an extensive choice of account profiles XM offer four accounts types under its Australian regulatory umbrella and four more under the Cyprus one. Potential clients therefore have some work to do to run a comparison but are helped by XM presenting the information in a clear and transparent way.
XM Group insertion request:
"XM Group (XM) offers its clients 4 types of account: MICRO, STANDARD, ZERO and ULTRA LOW with low spreads. The MICRO account allows you to operate with micro lots, lower level of risk and it has minimum initial deposit of $5. The STANDARD account allows you to operate with standard lots and it has minimum initial deposit of $5. The XM ZERO account allows you to operate with standard lots, lower spreads starting at 0 pips and it has minimum initial deposit of $100. XM ZERO account has a $3.5 commission per $100,000 traded. Finally, the XM ULTRA LOW account allows you to trade with either micro or standard lots, lower spreads starting from 0.6 pips and it has minimum initial deposit of $50. XM Ultra Low and XM Zero accounts are not applicable to all entities of the Group."

— XM Group —
Spreads across all assets are variable. The minimum spread is zero pips and can be found in the more liquid markets such as EUR USD. The pricing in forex markets goes to five not four decimal points, the 'Fractional Pip-pricing' offering traders the benefit of trading the markets without the bid and offer prices being rounded up too hastily.
Our XM Broker Review has shown that XM relays to its clients the price that it sees reported in the market site, this absence of 're-quoting' helps users of the platform keep trading costs as low as possible. The use of variable spreads also helps in terms of order quality, during peak volatility the spread may widen (compared to a fixed spread) but should still be effective.
The below table gives an idea of the layout of the XM's pricing schedule which shows them to be in line with their immediate peer group. The only downside of such thorough transparency is that there is a lot of information for new clients to analyse. It's worth the time though.
What do you think of our XM review so far?  If you have any experience of XM please share it below to help other traders make an informed choice.
XM clients are provided with the ever-popular Meta Trader platforms (MT4 and MT5) which can be downloaded as a desktop version or accessed through the Webtrader format. The latter can be accessed through any internet browser and offers a very similar trading experience to the downloadable version.
Meta Trader has the uncanny knack of being very accessible to the beginner but also having enough to offer to keep even the most experienced trader happy. There are a range of nice-to-have options such as 'one-click trading' and that the service is available in over 40 languages. The real strength of the Meta Trader platforms is the powerful software tools on offer, especially the Indicators. Analysis done using Meta Trader 5 can take advantage of 38 technical indicators and 44 graphic objects.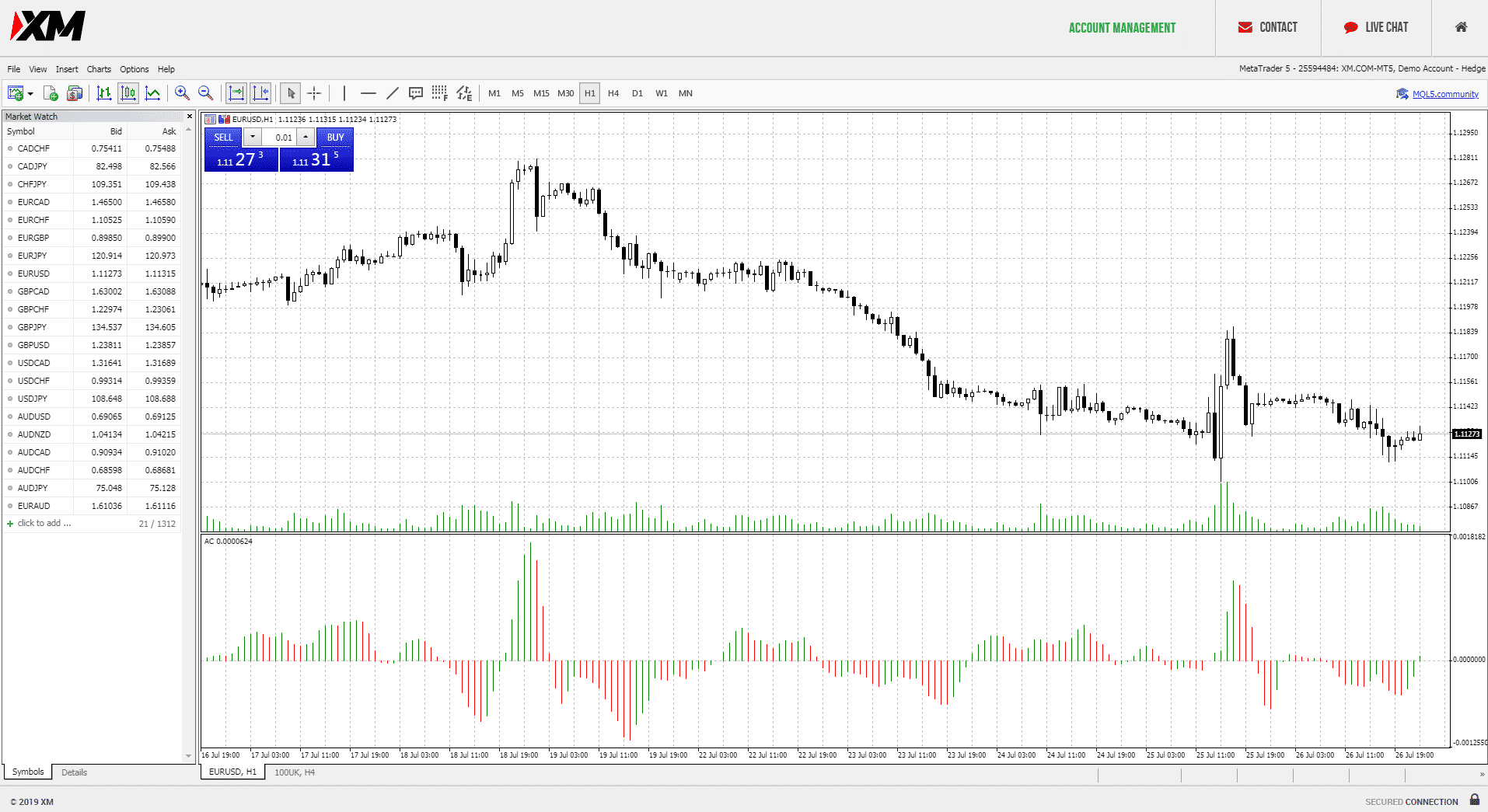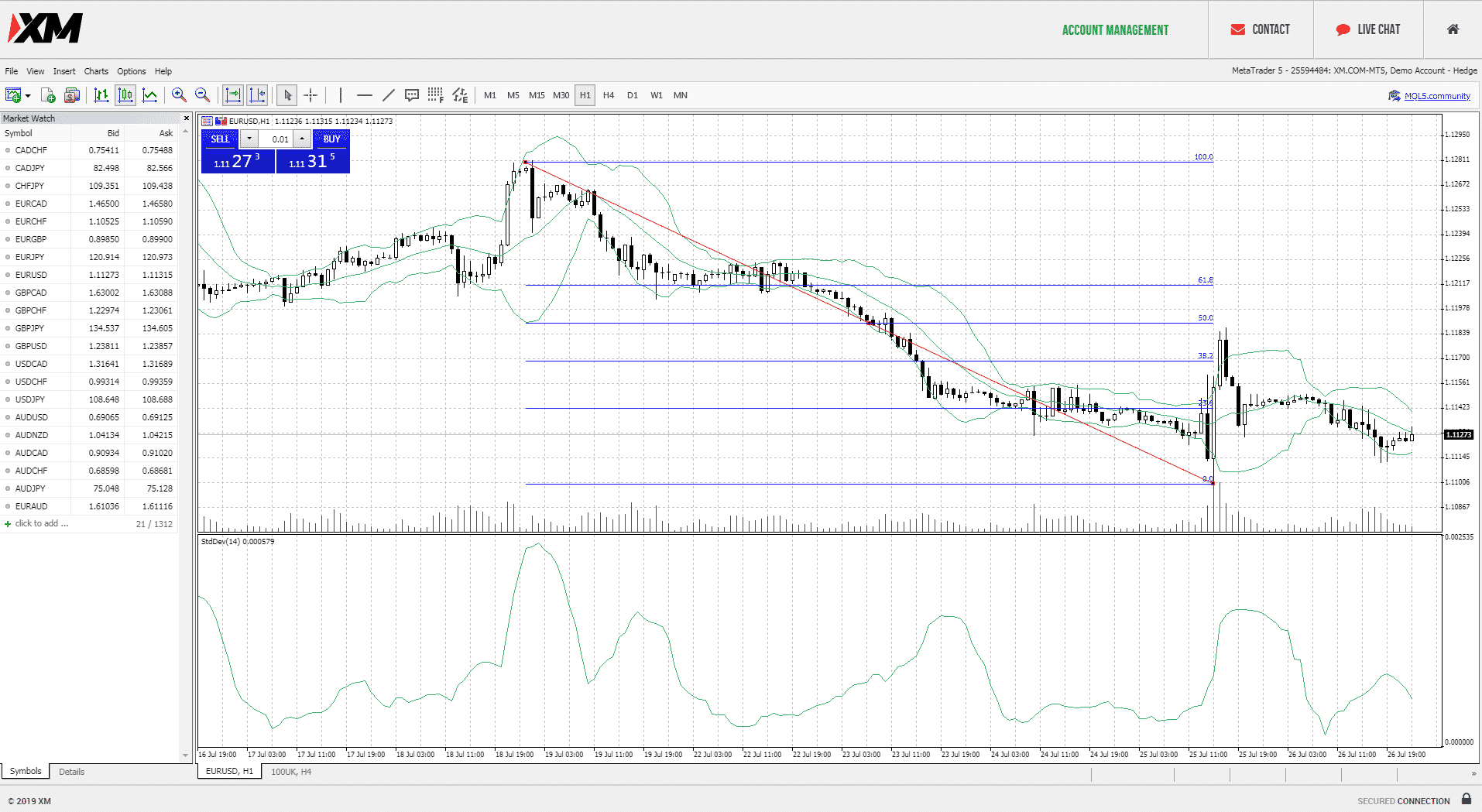 Meta Trader 4 comes with 30 built-in indicators and in excess of 2 000 free custom Indicators. There are also 700 paid for Indicators, all allowing traders to analyze the market to their preferred level of complexity. In addition to these Indicators there are 24 analytical objects such as lines, channels, the Gann and Fibonacci tools.
Meta Trader platforms are renowned for their support of automated trading programs. Traders looking to hook up their own models to the platform are only a click away from the MTQL5 site that provides extensive resources to help traders take up this option. Those looking for a more hands off approach can take advantage of the MT automated trading program Expert Advisors where signals can be provided (at cost) to client accounts.
Despite all the powerful software, the trading interface is uncluttered. The combination of ease of use and powerful software tools helping keep Meta Trader platforms the most popular retail trading platforms in the world.
Are you finding our XM Broker Review Useful?  Please do let us know, we listen to all feedback and questions.
Customer Support is provided whenever the markets are open. The global network of support that runs on a 24/5 basis is offered in over 23 languages.
The FAQ section of the site is well thought out and likely to address a lot of issues. Those that do need further assistance can access it through Live Chat, email or by telephone. During testing we found the support staff to be informed, responsive and customer focused. Issues, including those that were more technical in nature, were usually resolved at the first time of asking.
What do you think of our XM review so far?  If you have any experience of XM please share it below to help other traders make an informed choice.
Our XM reviews have shown that XM provides a comprehensive suite of research and educational materials.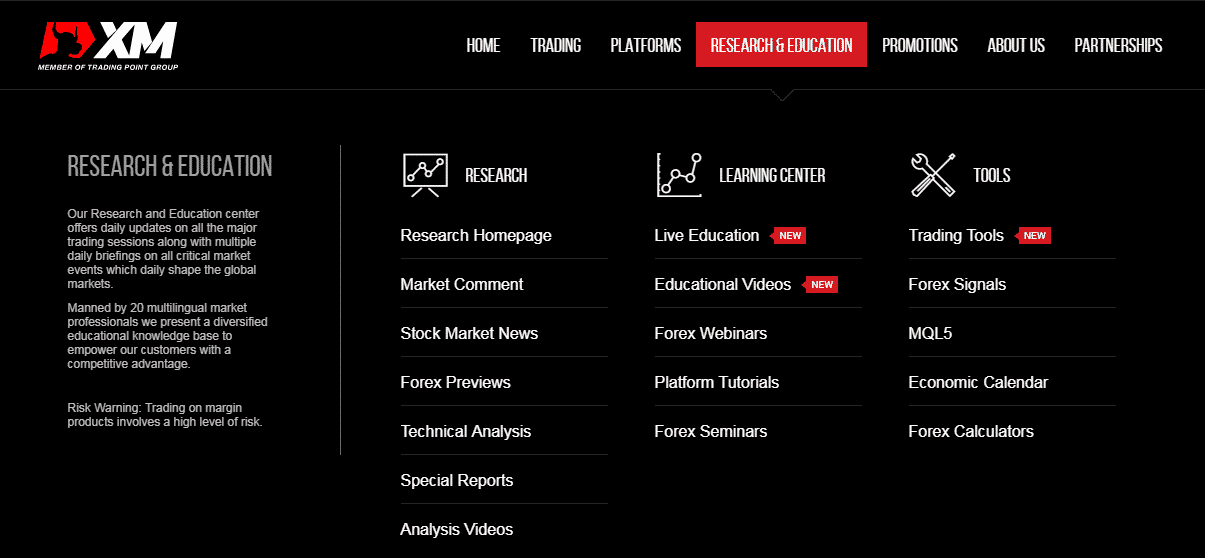 Research is very current and has a feel of keeping up to date with recent news events. The XM analysts are providing analysis based on both Technical and Fundamental approaches.
The research and analysis notes cover general market trends but also dig down to specific asset classes. They are provided in a variety of formats including very useful 'The Week Ahead' style videos designed to make traders aware of the events that might impact their positions.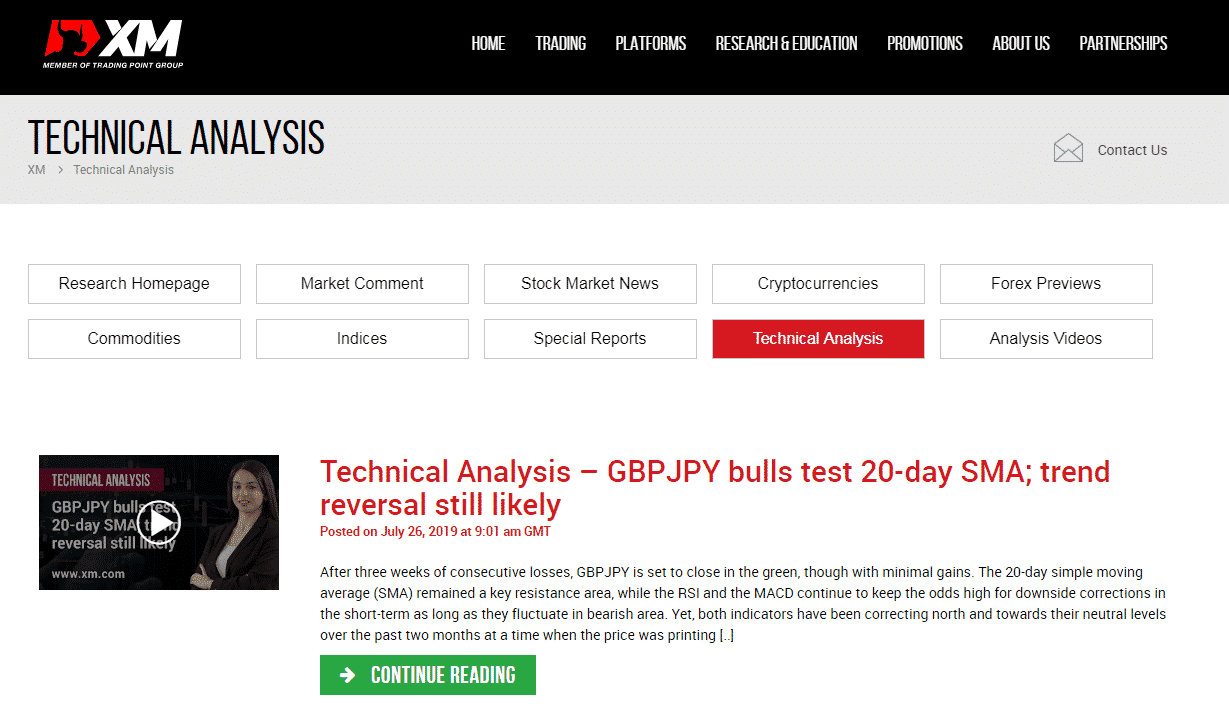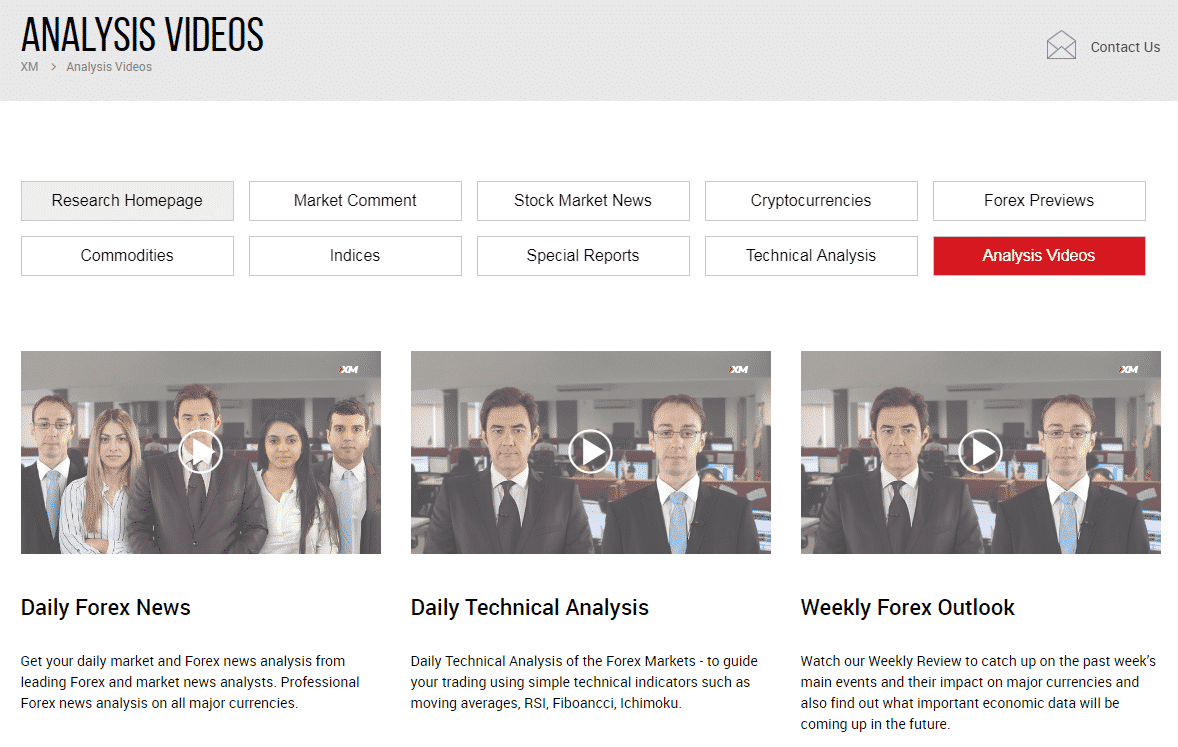 XM Group gain points for remembering to provide materials for more experienced traders as well as newbies.  The 'Education Room' for example provides an insight into a live trading room experience.
Provision of an Economic Calendar is fairly standard but the XM Forex calculators, including Pip Value Calculators are a nice touch. In fact, the layout of the whole research and learning section makes trader development easy and as it's free to access is certainly worth a look and can be accessed here, https://www.xm.com/research#.
Financial news and alerts tools are also provided by MetaTrader 4. When these are combined with the XM research package it all adds up to the XM service offering clients the tools needed to keep up with the latest market events and ideas.
Are you finding our XM Broker Review Useful?  Please do let us know, we listen to all feedback and questions.
XM Group has tailored its account types to match each region that it operates in. All accounts deliver a trading experience that is provided through the Meta Trader group platforms. The number of available markets exceeds 1,000 and covers a range of assets that confirms XM as a multi-asset class of broker.
There are in excess of 55 forex pairs available to trade, supporting those that want to access Major, Minor and Exotic currency pairs.
Currently CFD equity markets total 1,203 and single stock markets range from to A&NZ Bank in Australia to Sandvik in Sweden. Equity indices can be traded as well – there are 18 Cash CFD markets and 12 Futures CFDs.
Soft commodity markets are traded in CFD form and range from Cocoa to Wheat, there are also 5 Energy markets available and Spot Metals as well.
The range of assets is less than might be found at some brokers, but more than at others. One particularly neat feature of the WM site is the terms and conditions are clearly laid out and easy to digest.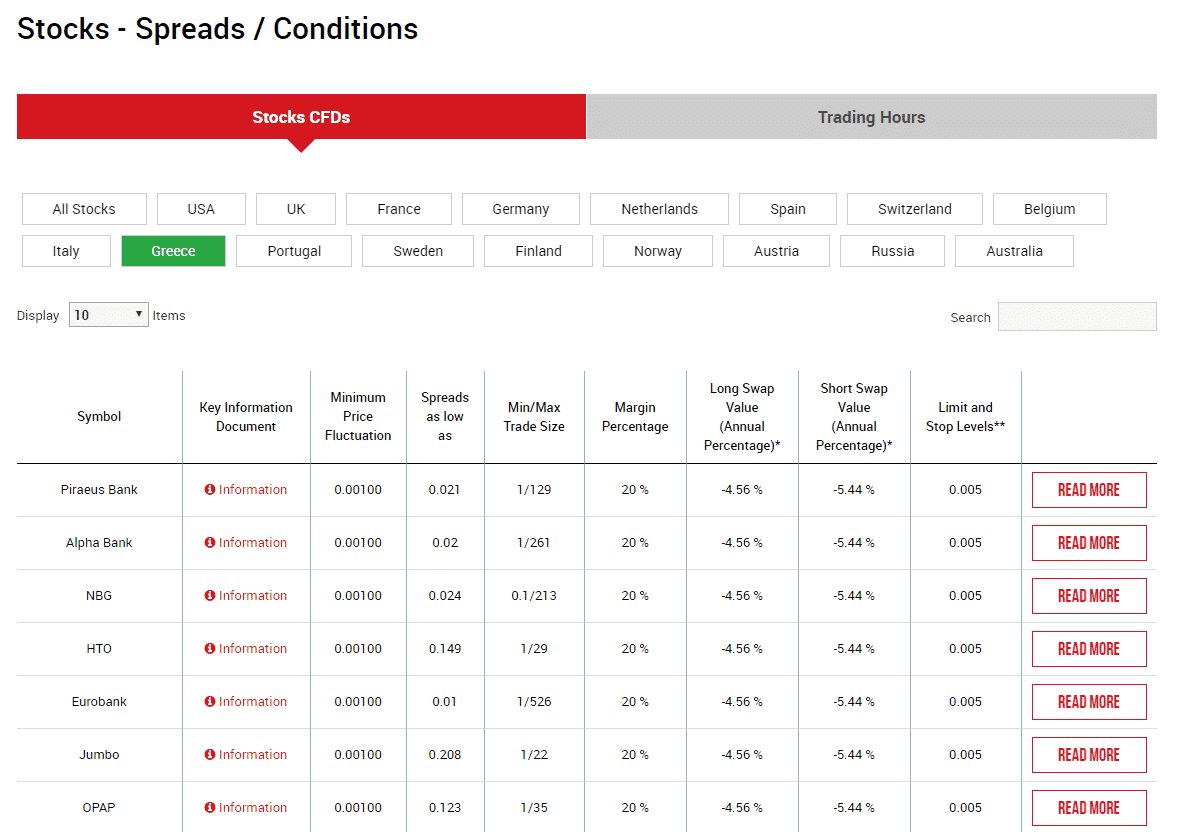 Clients are offered a choice of four accounts: XM Zero, Micro, Standard and XM Ultra Low. Accounts availability depends on the clients country of residence.
All new clients are able to set up a free demo account, the process taking only moments to complete. Even traders on the Demo version of the service can gain exposure to the many supporting functions such as Economic Calendars, trading indicators, research notes and educational/informative webinars. A plus point for XM is that their Demo account does not have an expiry date. Our XM Broker Review writer fully tested the Demo account.
Clients who maintain a balance of US$ 5,000 or equivalent are eligible to request a free VPS account. There are some volume related terms and conditions that most active traders will comply with.
The XM App is free to download and available in both Demo and Live account format. It is available in iOS and Android format for Tablet and Smartphones.
The Meta Trader desktop platform is all about supporting traders, helping them analyse the markets and seamlessly execute trades. The mobile app also works off those same principles.
Meta Trader 5 for iPhone/iPad provides 30 indicators. Meta Trader 4 for Android and iOS Apps is supported by 30 technical indicators and 24 analytical objects such as lines, channels, geometric shapes, as well as Gann, Fibonacci and Elliott tools. To ensure all this information can be used effectively the screen can be set to Landscape as well as Portrait format.
The mobile experience offers more than just trading. Among other things, it's possible to connect to brokers' services, analyse markets, use their powerful charts and technical indicators, and view the history of your trading operations.
Are you finding our XM Broker Review Useful?  Please do let us know, we listen to all feedback and questions.
Robo Trading
Automated trading through the use of algorithmic models is one of the strongest features of Meta Trader 4. XM Clients can develop, test and apply technical Indicators and Expert Advisors.
Expert Advisors (EAs) are programs that run on the MetaTrader 4 platform which 'listen' to the markets. They report trading opportunities that match predetermined parameters (set by the trader) and either notify the trader or execute automatically.
To help traders develop their own programs there is a built in Meta Editor tool which includes support tools such as a debugger. Subsequent stages involve the testing of the strategy and fine-tuning / optimization.
The good news for those that master the process is that there is always the option of selling profitable models to other traders.
It is currently not possible to use XM Group accounts to link up with third party Copy Trading platforms such as Zulu Trade.
[Copy Trading comes with specific risks associated with account holders giving up a degree of control over their trading decisions]
What do you think of our XM Broker Review so far?  If you have any experience of XM please share it below to help other traders make an informed choice.
Regulatory details
XM Prohibited Countries
Aland Islands  |  American Samoa |  Belize |  Canada |  Caribbean |  Netherlands |  Cuba |  French Southern Territories |  Guam |  Guernsey Heard Islands & McDonald Islands |  Iran |  Isle of Man |  Israel |  Japan |  Jersey |  Kosovo |  Liberia |  Myanmar |  New Zealand |  North Korea |  Northern Mariana Islands |  Palau |  Puerto Rico |  Saint Barthelemy |  Saint Martin |  South Sudan |  Syrian |  Arab Republic |  United States |  Virgin Islands, U.S.
The group is authorised and regulated by Cyprus Securities and Exchange Commission (Cysec), Australian Securities and Investments Commission (ASIC) and International Financial Services Commission (IFSC). Client accounts will fall under one of these regulatory umbrellas depending on the domicile of the user. The Cysec and ASIC rubber stamps are significant as these have a very strong reputation.
XM provides some risk mitigation tools as part of the standard service. The Negative Balance Protection, for example, means traders cannot lose more than they deposit. This attention to Operational risk is a good thing but is tempered by the fact that the Regulatory framework whilst very good is a little distance off being of the very highest grade. For example, both ASIC and CySec offer less protection on client funds than the Financial Conduct Authority does in the UK. Other marks against XM group are that they are not and bank and nor are they a publicly-traded company which means they are not subject to the same amount of scrutiny and reporting conditions than if they were listed on an exchange.
Are you finding our XM Broker Review Useful?  Please do let us know, we listen to all feedback and questions.
Final Thoughts
Our XM Broker review has illustrated their global popularity is based on them providing their clients with high-quality trading experience. The much loved Meta Trader platforms are an ideal route into the markets. It's the most used retail trading platform in the world so ticks most boxes for most people.
The trading experience is excellent. In some markets, the XM Group has very competitive pricing but across the board, they would be described as in line with their peer group in terms of fees and commissions. There are a host of additional extras which will appeal to many traders. Negative Balance Protection is provided, the trade execution policy is on the side of the client and the research and educational materials are engaging and comprehensive in nature.
The number of non-forex markets available will be sufficient for the vast majority of traders though some might find the coverage isn't quite extensive enough.
The Demo account does not have a time limit and is free to use. This means it is easy to try out the XM Group service and find out just how convenient and client-focused it is.
We do hope you have found our XM Broker Review useful?  If you have any experience of XM please share it below to help other traders make an informed choice.
See our broker vs broker comparison: Pepperstone compared to XM
---
Before you go…. have you spotted any data in our review which you think is inaccurate? If so please tell us 
FAQ
We Compare Brokers are proud of their XM review. All platforms from customer care teams to the trades, have been robustly tested.
Latest Broker News
XM Live Education – Educating through Interactive Webinars  
XM is a popular trading platform that is used around the world and offers multiple options to trade. As we all know that the coronavirus pandemic has greatly affected all economic activities around the world, trading has also affected a lot and some sort of uncertainty prevails in the market. In order to keep the traders well informed about the situation, XM has come up with a brilliant idea named XM Live Education.
As the name suggests, XM Live Education is a program that consists of daily webinars. The webinars are available in 19 languages and covers three categories or rooms, as mentioned in the program. These programs include XM Live, Basic Room, and Advanced Room. The XM Live is an introductory room where you can learn about the products and services offered by XM. Here you will find walkthroughs, interviews, and live Q&As.
The Basic Room is the best for those stepping into the world of trading. In this room, expert instructors introduce the traders to the basics and various trading strategies. Traders also have the option to ask questions and get answers in real time. The Advanced Room is for experts or intermediate traders who want to learn about the analysis methodologies to improve their skills and enter into debates to know the actual reasons for the fluctuations.
In a recent initiative especially implemented during the COVID-19 outbreak, the company at its sole discretion, has capped the spread in certain financial instruments to protect the traders from huge losses during the market movement.
GO TO THE compare brokers
Ratings
Commissions & Fees
Platforms & Tools
Customer Service
Research
Ease of Use
Mobile Trading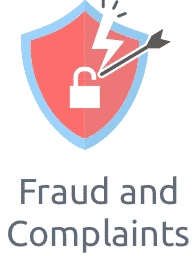 What is your experience with this broker?
With over 4,000 brokers active globally, it's good to share your experience with others. Spread the word on good or bad brokers. Disclaimer: Comments on this site are not the opinion of WeCompareBrokers and we are not responsible for the views and opinions posted by site users. If you are unhappy with any comments, please email complaints @ wecomparebrokers.com
Important: You (the person writing the comment) are responsible for any comments you post and use this site in agreement with our Terms.
Please select the second broker
Get Further Details About To Your Inbox