Take Me To Broker
Cryptoassets are highly volatile unregulated investment products. No EU investor protection. Your capital is at risk.
eToro USA Broker Review
Address: eToro (USA) 221 River St 9th floor, Hoboken, NJ 07030
Spread
0.31
Max. Leverage
1:1
Deposit Protection
Min. Deposit
$50
Open Demo Account
Cryptoassets are highly volatile unregulated investment products. No EU investor protection. Your capital is at risk.
Visit Broker
eToro USA LLC does not offer CFDs and makes no representation and assumes no liability as to the accuracy or completeness of the content of this publication, which has been prepared by our partner utilizing publicly available non-entity specific information about eToro. Your capital is at risk.
Likes
Easy to use web interface
Innovative social trading feature
Competitive fee structure
Ease of onboarding
Wide range of cryptocurrency markets to trade
Available in USA
Dislikes
Poor customer service response times
System outages
Platform has minimal advanced level functionality
Not many trader offers
Currently limited to self-trading of crypto but that is due to change as new products and markets come through the pipeline
Review Sections:
Open Demo Account
Cryptoassets are highly volatile unregulated investment products. No EU investor protection. Your capital is at risk.

Our eToro review
This eToro broker review will take an in-depth look at the background of the broker and its platform trading tools. Using our multi-pointed approach, we compared eToro's trading styles, markets, trading tools and trader charts with other stock trading, CFD and forex broker. We would like to hear your feedback on your experiences with the company at the end of our eToro review, as this will help other traders make an informed choice.
The eToro broker platform has over 10 million clients from over 140 countries, including 40 states and 2 territories of the USA.
eToro is available to US residents in: Alabama, Alaska, Arizona, Arkansas, California, Colorado, Connecticut, Florida, Georgia, Indiana, Iowa, Kansas, Kentucky, Maine, Maryland, Massachusetts, Michigan, Mississippi, Missouri, Montana, New Jersey, New Mexico, North Dakota, Ohio, Oklahoma, Oregon, Pennsylvania, Rhode Island, South Carolina, South Dakota, Utah, Vermont, Virginia, Washington, Washington D.C., West Virginia, Wisconsin and Wyoming.
Real trading is also available to residents of the Northern Mariana Islands and the United States Minor Outlying Islands.
Its global success stems from it having an innovative approach that offers clients the ability to trade their own account or Copy Trade and follow the signals of others. Founded in 2007 in Tel Aviv by David Ring and Israeli brothers Yoni Assia and Ronen Assia, the platform has developed a reputation for combining a user-friendly experience with market-leading ideas.
Originally founded as a pure Forex brokerage eToro now offers its clients a much more comprehensive and varied service. Account-holders in the US will find they cannot (yet) access all the services that traders in other regions can. The platform is being rolled out in the US on a state by state basis but the markets they can currently trade benefit from the same neat functionality and form the first step. We're told by the company that a whole lot more is 'coming soon'.
One of the platform's best features is eToro's patented CopyTrader™ technology, which enables clients to compare top traders' performance and choose to replicate their trading activity automatically and in real-time. This is a key part of the service and is in the pipeline due for release in the USA at a future date. Until that roll-out, clients can only trade their own account in cryptocurrencies.
The collaborative and expansive approach goes one step further as the platform facilitates the sharing of trading ideas with other users and this informative and educational service is already available in the US.
Offering an easy to use web-based platform with a good choice of cryptocurrencies reflects the approach that has made eToro one of the most popular brokers in the world. Judging by the number of industry awards the firm has gained its efforts are also held in high regard by their peer group. US traders are for now able to acquaint themselves with the site functionality and self-trading services and to look forward to the roll-out of additional functionality.
With eToro, there are no separate trading commissions or fees applied to accounts.  During our broker review, we found that brokerage fees are instead included within the bid-offer spread.  One consequence of this is that eToro spreads might at face value look wider than those at some other brokers, particularly those that charge commissions separately.
Bid offer spreads on Bitcoin are 0.75% and Ethereum, Litecoin, Neo and Bitcoin cash all have spreads of 1.9%.
There are also charges associated with Crypto conversion and Crypto transfer but these are all laid out in a very transparent manner.
The eToro site itself advises clients to ensure they keep up to date with the changes that will occur from time to time. Fees and charges relating to trading and non-trading activity can change with very short notice.
When all costs are analysed on an aggregated basis eToro performs well in comparison to its peer group. The inclusion of an 'inactivity fee' for accounts that are dormant for 12 months or more is never going to be popular with traders but is becoming standard market practice. Withdrawal fees have been a more contentious issue and the companies policy on them is regularly altered. As with all brokers, users would do well to make sure they are abreast of the latest copy of the terms and conditions.
The eToro platform has a simple layout which allows smooth navigation through the separate sections.  Particularly eye-catching is the News Feed area where comments and opinions of other traders mingle with official announcements.
The site is cleverly designed and whilst offering access to a lot of information the dashboard manages to maintain a clean attractive appearance.
The platform eToro uses is web-based and this fits in well with the position eToro has taken in the trading world. Rather than go head to head with other brokers in terms of advanced software tools, they have instead catered to their target audience. Less is more, and beginner or casual users can easily navigate to a part of the site they want to get to.
In terms of features, the platform has basic charting functionality that is simple to use and has an intuitive feel to it. eToro also offers the core technical indicators ranging from Moving Averages to Bollinger Bands and Stochastics. The more experienced trader whilst able to get by, may find the range of indicators somewhat limiting.
Demo accounts allow users to get an improved understanding without putting real money at risk. Switching between the eToro Demo and Live accounts is as easy as clicking a toggle button so even experienced traders can revert back to Demo mode when experimenting with new strategies.
Our own experience of the site is that it's as reliable as any other.  There is however a range of online comment referring to the site at times, freezing or becoming unresponsive. There would appear to be too many people voicing this viewpoint for it to not be the case.   Without access to the performance data it's hard to categorise the extent that this is an issue but not being able to access your positions would be an uncomfortable situation for any trader.
There is also an eToro app for mobile use which we cover later in the review.
Customer service at eToro is available 24 hours a day, Monday to Friday and is multi-lingual.  Whilst the provision of 24/5 support gives a degree of comfort, the support desk does have a reputation for slow response times and this was confirmed to be the case during our own testing.
The Help and Education section of the site is the only one where navigation becomes counter-intuitive. It's possible to feel that instead of being led in the direction of the support desk you are instead being led in a loop back to the FAQ heavy Help Section. Our testing of this part of the site found it to be particularly frustrating.  Traders holding positions in fast-moving markets do need to sometimes be able to get quick answers to their questions and eToro could do more to make this possible.
Some traders suggest using social media is the best way to engage with the help desk, others point out that the performance levels improve once traders are up and running rather than trying out the platform on a demo account basis.  This might well be the case but it's very easy to feel members of the trading community are having to work too hard to find out how to best access support.
The written responses we received from the eToro customer service team were succinct and fully addressed all our issues; there was no need for us to ask any follow-up questions.  Whilst the response was therefore of sufficient quality the turn-around time was measured in hours rather than minutes.
What others say
"etoro's webtrader is great for new traders. If I didn't have etoro's webtrader to help me, I don't know what I would have done." – Caroline1s, eToro user on https://www.dailyforex.com/etoro/user-reviews/32
"Etoro's OpenBook is the best trading platform I have ever used. It has got to be the greatest social trading platforms ever created. Through etoro's openbook I can see what other traders are doing and copy them. I just hope they know what they are doing." Elizabeth Jamison on  https://www.dailyforex.com/etoro/user-reviews/32
"Looks like this broker is competitive compared to other companies. On other side, the trading software and services are far more appealing and easier to use than in other companies." David_SW on https://www.forex-ratings.com/forex-reviews/etoro/
"I used different platforms over time. Etoro is simply the best and easy to use for newcomers." Pierre on https://www.forex-ratings.com/forex-reviews/etoro/
I opened a ticket and waited for their customer support team response for almost 1 week. One week after they responded your transfer might take up to 10 days. – Manoj Kumar Jain on https://www.forexfraud.com/forex-broker-reviews/etoro
Products and markets offered
US eToro clients are currently limited to trading cryptocurrency markets, only. There is talk of other markets and products being rolled out but traders that do want to trade crypto are fortunate that eToro offer 15 markets. This is significantly more than some other brokers.
In line with the other top grade brokerage platforms eToro does not offer much in the way of trade offers. This aligns the broker with current 'best practice' and steers it towards improving the skills of its traders. There may be the occasional trader contest and the 'eToro Clubs' regime allocates certain administrative style privileges according to how much capital a client holds in their account.  There are five tiers of membership and the additional extras range from being provided a dedicated account manager to being invited to attend a two day off-site eToro conference, the 'Diamond Gala Event'.
Research and Learning
eToro does provide a range of free materials to help with research and learning but it's a long way from being considered as a market leader in this area.   Those articles and training videos that are to be found, share the attractive formatting found elsewhere on the site but the actual range of materials can only be described as limited.
One helpful tool is the 'Guide' section where users are taken on a two minute introductory tour of the site.  Set in the style of an automated Q&A section it goes as far as outlining how to execute a trade.  It's another example of the innovative nature of the platform and even more experienced traders will ultimately save time if they take the tour.
Basic tools such as an Economic Calendar are available and undoubtedly provide valuable support to traders but services such as this are now expected as standard.  Whilst the education and learning resources available are satisfactory there is little chance of them being described as exceptional.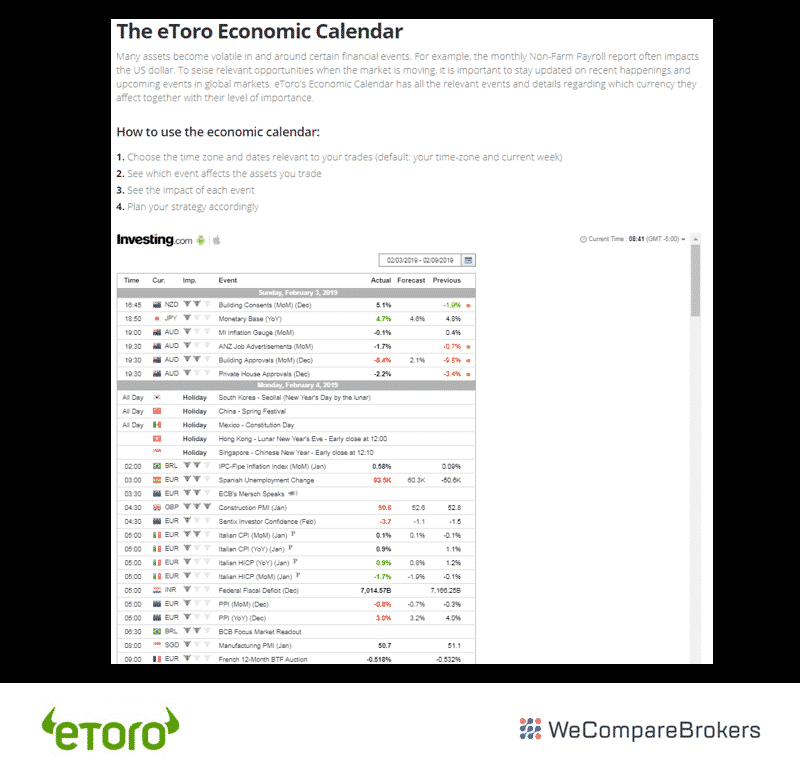 There is some third-party research available through the site.  It tends to covers such topics as market sentiment but these reports and in-house Daily Reports are lightweight in nature.  Advanced traders in particular would likely prefer to base their strategies on reports that are more substantial in nature.
Customized alerts.
The cryptocurrency market is fast moving — and keeping pace with very volatile price action can be challenging. With sudden moves forming a considerable risk to your capital knowledge becomes power. eToro clients get customized notifications about coins on your watchlist, and have access to real-time, relevant, and easy-to-read market data at any time.
Overall, while the resources available to traders are useful, they are fairly basic, and the limited amount of genuine market research or insight may be a problem for some.
The Guide function is an automated tour of the basic features of the site and takes about 2 minutes to run through. This is optional rather than compulsory though would certainly benefit the novice trader and is a nice tool to have available. One area outlined during the Guide tour is the demo account.  The Guide shows how toggling  to enter the Virtual Portfolio area allows new users to walk through simulated execution of a trade.
Other areas of the site are easy enough to get to grips with and the structure of the layout means it's hard to imagine it ever feeling cluttered.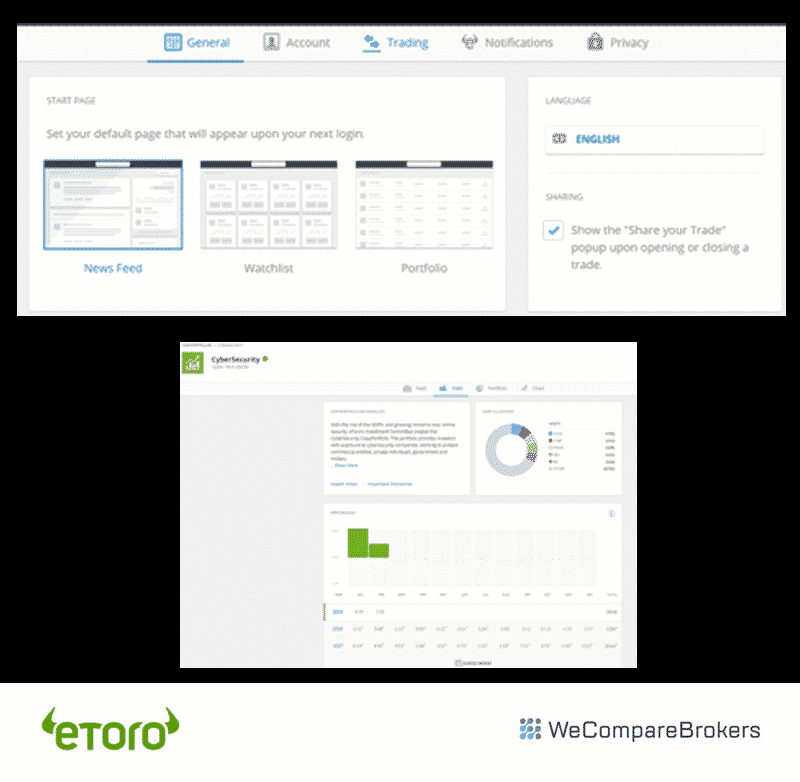 Opening a Demo account is very easy to do and provides access to most of the sites functionality.  The site leads new users to 'complete their profile' and gain extra user privileges.  The effort appears to have been made to make this a relatively painless experience and the extent of the requests for documentation whilst time consuming, should be interpreted as eToro demonstrating good governance.
Onboarding and trading the Real or Virtual Portfolio is straightforward and introduces users to the intuitive functionality of the platform.  There is some online comment shared among the trading community that refers to the withdrawal of funds not being as smooth a process as deposits. Whilst it appears a valid enough concern and demonstrates the need for thorough due diligence we did not experience that particular problem during this review.
Order Execution
The eToro site prides itself on its layout design and this carries over into the area of Order Execution.
Stop Loss and Take Profit fields are a prominent part of the interface rather than an afterthought and trade parameters can be set using cash values (amount) or instrument nominal (units).  A particularly positive feature is that leverage rates can be varied on each trade.
What do you think of our eToro review so far?  Please review our review by using the comments box below.
eToro provides mobile trading apps for both iPhone and Android devices. Traders using the mobile apps will benefit from the trading functionality being the same as that of the desktop trading platform.
Although user friendly, it is still a little basic for the more tech savvy professional trader. Users may also find that some of the icons and buttons are not optimally laid out on the mobile apps which can get a little frustrating.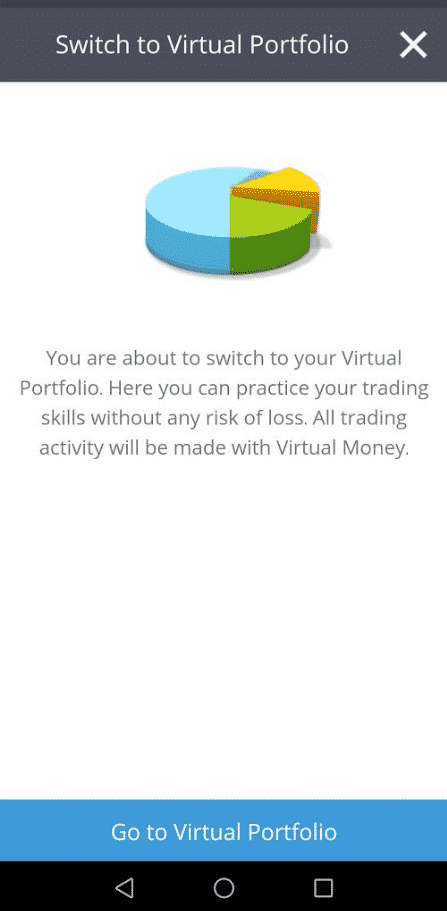 Overall though, the mobile apps that you can use with this broker are well-designed on the whole and allow traders to access their account wherever they may be.  The clean functionality of the trading platform comes across particularly well on a smaller screen.
The integrated Wallet App is specific to trading crypto. Crypto can be transferred seamlessly from the eToro platform, without any need to remember multiple credentials or keys. Users can store multiple cryptocurrencies, convert between coins on the fly, and send or receive transfers with ease.
Robo Trading
When it comes to automated trading, the CopyTrader feature is a big selling point of the eToro experience. As it is yet to be rolled out in the US, then clients there are unable to take advantage of it. It will be interesting to find out if users think it worth the wait as a lot of industry analysts think this tool is where eToro really stands out from the crowd.
One neat feature of the non-US version of eToro is that the Demo account environment supports Copy Trading which gives traders the option to become familiar with the process before allocating capital. We are still waiting for confirmation as to whether US clients will also be able to trade using CopyTrader in demo accounts.
Crypto Currency
Cryptocurrency trading has been possible on eToro since 2013 and the firm has invested heavily to maintain its position as a market leader.  eToro stand out in terms of the number of markets they offer their clients and an additional plus point is the extra information that is provided to support traders https://www.etoro.com/en-us/trading/markets/.  Through the first half of 2019 we've again seen the pioneering approach of eToro as they have rolled out cryptocurrency trading and crypto wallets in the United States.
The crypto markets on offer include the more established names such as Bitcoin but also includes markets that some other brokers don't offer. There are 15 markets for Coins which include Bitcoin, Ethereum, Ripple, Dash, Litecoin, Ethereum Classic, Cardano, Iota, Stellar, EOS, Neo, Tron, XCash and Binance Coin. There are also 14 markets in Crypto-Crosses which trade coin vs coin and the markets area available to trade on a 24/7 basis.
The platform also allows traders to trade a basket of cryptocurrencies as one product. The innovative CryptoPortfolio™ is a one-of-a-kind cryptoasset allocation product that allows diversification of 'single-name' risk: a ready-made and balanced portfolio of top-performing cryptocurrencies, regularly rebalanced by eToro for optimal gains.
The dramatic price fluctuations associated with these markets can lead to significant losses as well as gains and therefore leverage is limited to 1:1. This leverage ratio is in line with other well-established brokers and including trading costs in the bid / offer spread, means that the pricing levels can be easily compared against other platforms.
As with other markets, the eToro site supports the exchange of news and opinion so that traders can take on the input of traders from over 140 different countries. There is also a daily crypto specific blog report that many will find useful as it offers an insight into the crypto markets https://www.etoro.com/blog/market-insights/daily-cryptocurrency-tracker/.
The commitment that eToro have shown to this sector of the markets was recognized at the 2019 Online Personal Wealth Awards where they were awarded the price for Best Cryptocurrency Trading Platform.
[Update: eToro's commitment to cryptocurrency trading is exemplified by them announcing another crypto to trade. On 5th August 2019 they introduced markets in Tezos, the 16th largest cryptocurrency in the world by market cap]
Regulatory details
eToro USA is a new service and conforms to the laws of the USA for the products it trades. Note that the regulation for the USA are very different than Europe and there is no deposit protection.
Final Thoughts
As one of the more established FX and CFD brokers, eToro has developed a reputation of being a natural home for the casual or less advanced trader. A market leader in terms of copy and social trading means it has a committed following from the group of traders who prefer a more hands-off approach.  On analysis of our eToro broker review, we found that the platform though is not only about copy trading and the self-trading area of the site offers a good range of assets and markets to trade and with competitive pricing.
With an easy to use and visually appealing web-based platform, many traders will find this one of the most user-friendly brokers around. Web-based platforms are also good for any trader who does not want the hassle of downloading separate charting software, just beware the reported problems other traders have flagged up with the platform freezing at times.
The real downside with this broker is perhaps the lack of appeal it has for more experienced or tech savvy traders. It is certainly not as advanced in terms of charting and research as other brokers on the market. Another major bugbear is the customer service levels and slow response times that many users report.
On the whole though, this eToro review has found it a reliable and enjoyable option to consider. The many awards it has gained including the 2015 and 2017 Best of Show titles among others certainly seem to confirm this. Here at WeCompareBrokers, we think it is a professional website with functionality designed to appeal to newer traders.
Please ensure you leave us feedback at the end of our eToro review detailing your experiences.  This will help other traders make an informed choice.
Their Most Recent Risk Warning – April 2020
eToro USA LLC does not offer CFDs and makes no representation and assumes no liability as to the accuracy or completeness of the content of this publication, which has been prepared by our partner utilizing publicly available non-entity specific information about eToro. Your capital is at risk
See how eToro compares with other brokers:
---
Before you go…. have you spotted any data in our review which you think is inaccurate? If so please tell us 
FAQ
Our eToro US review has been written by industry experts. For your peace of mind, we have tested all aspects from trades to platforms.
Latest Broker News
eToro managing director on what's next for its freshly launched crypto exchange, the inevitability of hacks, and high hopes for stablecoins.
eToro's U.K. managing director, Iqbal Gandham, discusses the company's plans for its month-old crypto exchange aimed at professional traders

He says the aim is to list "many" tokens, having already launched the first Chinese Yuan-backed stablecoin, with listing guidelines expected in Q2

Gandham praised Binance for its handling of a cyber-attack last week, noting "if you're online, you're going to get hacked"
GO TO THE compare brokers
Ratings
Commissions & Fees
Platforms & Tools
Customer Service
Research
Ease of Use
Mobile Trading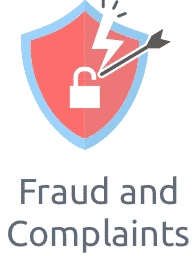 What is your experience with this broker?
With over 4,000 brokers active globally, it's good to share your experience with others. Spread the word on good or bad brokers. Disclaimer: Comments on this site are not the opinion of WeCompareBrokers and we are not responsible for the views and opinions posted by site users. If you are unhappy with any comments, please email complaints @ wecomparebrokers.com
Important: You (the person writing the comment) are responsible for any comments you post and use this site in agreement with our Terms.
Please select the second broker
Get Further Details About To Your Inbox